Rosemary Leaves (Rosmarinus Officinalis) - Herbal Remedy for Skin Conditions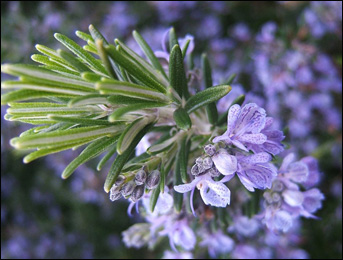 Botanical name - Rosmarinus officinalis
Family name - Labiatae
Other Name - Rosemary
Uses of Rosemary Leaves
Aches
Boost memory
Cough
Blood pressure
Skin conditions
Epilepsy
Hair problems
Indigestions
Urinary problems
How to Use in Different Diseases?
It is also improve memory, relieve muscle pain and stimulate the circulatory, nervous systems and rheumatism.
It acts as an expectorant and hence useful for cough, asthma and other respiratory disorders.
It is useful for boost concentration and memory.
It promote increased blood and lymph flow.
Rose water r improve the skin conditions.
It is to treat digestive disorders, epilepsy and headaches.
A tea is useful for urinary disorders.
Rose water oil is useful for hair problems.
Parts Used
Leaves and whole plant
Dose
Tea - 2 to 4gm
Oil - Twice daily
Water - Twice a day
Preparations
Tea, Oil, Water