Sahacharadi Thailam | Herbal Massage Oil – Benefits, Usage and Indications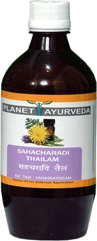 Ref. Text - ( SAHASRAYOGAM )
Action : This oil is anti-inflammatory and anti-rheumatic and is excellent for muscles and as a pain reducer (it's great for people of old age). It helps heal tremors and convulsions, gynecological diseases and muscle or nerve damage.
This oil is especially good for Vata and Kapha types.
Indication : Anti Rheumatic, Anti Inflammatory Tremor, Convulsions, Wasting, Mental disorders, Gynaecological diseases.
Applications : in all types of Vatha diseases especially related to lower limb.
Indications & Uses
Note : External use only.
Usage : For external use only.
SALE PRICE
For Price Quote Kindly Mail Us at - herbalremedies123@yahoo.com
Packing Size
200 ml. Herbal Oil in Pet Bottle.