Salacia oblonga (Saptarangi) - Usage, Dosage and Benefits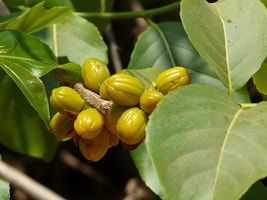 Latin name - Salacia oblonga
English name - Salacia
Indian name - Saptrangi
Introduction
Salacia oblonga is a woody plant found in the forests of Sri Lanka and India. The roots and stems of Salacia oblonga have been used extensively in Ayurveda and traditional Indian Medicine for the treatment for Diabetes.
Chemical Constituents
Salacia Oblonga contains two potent a-Glucosidase inhibitors: Salicinol and Kotalanol
Parts Used
Bark of the tree.
Benefits Salacia oblonga (Saptarangi)
Major use of Salacia oblonga is in Diabetes. Superior in terms of safety compared to chemically synthesized products, Salacia Oblonga is an effective anti-diabetic agent.
It is used in traditional Indian medicine to treat diabetes seems to lower blood sugar and insulin levels in a manner similar to prescription drugs, in a new study reports. Researchers gave extracts of the herb Salacia oblonga to 39 healthy adults, and the results were promising. The largest dose of the herb extract - 1,000 milligrams - decreased insulin and blood glucose levels by 29 and 23 percent, respectively. "These kinds of reduction are similar to what we might see with prescription oral medications for people with diabetes," said Steve Hertzler, a study co-author and an assistant professor of nutrition at Ohio State University. Salacia oblonga, which is native to regions of India and Sri Lanka, binds to intestinal enzymes that break down carbohydrates in the body. These enzymes, called alpha-glucosidases, turn carbohydrates into glucose, the sugar that circulates throughout the body. If the enzyme binds to the herbal extract rather than to a carbohydrate, then less glucose gets into the blood stream, resulting in lowered blood glucose and insulin levels. "Lowering blood glucose levels lowers the risk of disease-related complications in people with diabetes," Hertzler said. "Also, poor compliance with diabetes medications often hinders the effectiveness of these drugs. It may be easier to get someone to take an herb with food or in a beverage, as opposed to a pill." The study appears in a recent issue of the Journal of the American Dietetic Association.
Dosage
Saptarangi Powder: 3-6 grams per day.
To buy Saptarangi Powder, please visit store.planetayurveda.com/products/saptarangi-powder