Saw Palmetto - Effective Herb for Benign Prostatic Hyperplasia (BPH)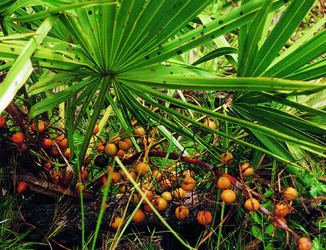 What is Saw Palmetto?
Saw Palmetto is a small palm like tree and bears dark red berries. It is a wonderful herbal supplement for the treatment of various ailments. Saw Palmetto herb can help relieve discomfort and male performance problems. This herb has been considered as an aphrodisiac and sexual rejuvenator. Some herbalists value it as a treatment for impotence. The properties Saw Palmetto have been well researched and the herb is popular in the treatment of prostate related problems. Enlargement of the prostate gland affects millions of men and causes difficulty in urination and a sensation of swelling in the low pelvis. Saw Palmetto Capsules are prepared from the pure extract of Saw Palmetto herb. It inhibits the active forms of testosterone in the body, thereby stimulating prostate cells. This helps to reduce multiplication of prostatic cells and reduces enlargement of prostate glands.
Saw palmetto is an excellent herbal supplement for both men and women. It is also popular for hair loss treatment and ovarian cysts treatment. It is a natural remedy for increasing breast size in women. It has been revealed that Saw Palmetto blocks the effects of testosterone and thus reduces male pattern hair loss. Saw Palmetto has been traditionally used for the treatment of acne, breast feeding, bronchitis, cancer, cystitis, diabetes, diarrhea, excess hair growth, prostate enlargement, high blood pressure, hormone imbalances impotence, inflammation, laryngitis, menstrual pain, ovarian cysts, polycystic ovarian syndrome, reproductive organ problems, sexual vigor, sperm production, testicular atrophy and uterine disorders.
Saw Palmetto is pure Ayurvedic and herbal product prepared by Planet Ayurveda that gives countless benefits. It is prepared with pure standardized extract of best quality Serenoa repens.
Saw palmetto extract is an extract of the fruit of Serenoa repens. It is rich in fatty acids and phytosterols. It has been used in traditional, eclectic, and alternative medicine for a variety of indications, most notably benign prostatic hyperplasia (BPH). It reduces the levels of DHT and helps to control various male and female health issues.
Unique Feature of Our Product
We are using 100 % vegetarian capsule shells made from plant cellulose and not from hard gelatin which are low in cost and are made from chemicals+ cow cartilage+ pig intestines.
We are using standardized extracts in our 100 % natural herbal supplements and not regular extracts.
We are filling 500 mg standardized herbal extracts in our vegetarian capsule shells while many other manufacturers are filling 150 mg herbal extracts only.
Our products are 100 % natural supplements, made from pure natural herbal extracts in 1000 mg quantity in each capsule shell.