YOUR CREDIT CARD TRANSACTION IS SECURE
All our International transactions are handled by the American Credit Card Payment Gateway Delaware based company ccnow.com of USA. Our online retailer (www.ccnow.com) does not keep any credit card information/particulars in their database and the information is retained only till the execution of the order.
CCNow, Inc.
333 Washington Ave. North
Suite 300
Minneapolis, MN 55401
United States
Toll free No. 1 877 226-6977
Is My Credit Card and Bank Account Number Secure?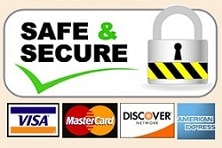 All transactions are secured, powered by SSL encryption capable of processing Credit Card transactions insuring that the information is encrypted before it is transmitted.
We do Not Disclose Your Personal Information
We respect your privacy and will not for any reason release your name, street address, telephone number or e-mail address without your consent. Your particulars may be used by us only to contact you regarding the status of your order or rare occasional promotional offers on our range of products.