Shatavari (Asparagus Racemosus) - Herb to Improve Overall Female Health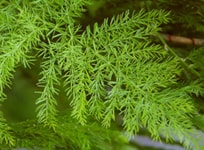 Shatavari is a female tonic in a form of herb. If a mother is searching a way or a herb how to increase breast milk and how to improve natural lactation then Shatavari is the herb of choice to improve breast milk production naturally. It is nature's best nourishing herb and is full of natural anti-oxidants and micronutrients.
Scientific Name: Asparagus racemosus
Family: Asparagaceae
Common Name: Satavar, Shatavari, Asparagus
Part Used: Tuberous roots
Shatavari herb works naturally without causing any side effects to the mother and the baby but also improves lactation, provides strength to the uterus and improves overall health of the mother. Shatavari Capsules contain 500 mg standardized extract in vegetarian capsules without any preservatives or chemicals or raw herbs. It is purely an effective herbal supplement for improving overall health of females especially after childbirth and to improve breast milk production.
Shatavari is useful in following conditions other than improving natural lactation:
Fatigue, anxiety in Females
General Weakness, restlessness in females
It is free from hormones and works naturally to give strength to the female reproductive system and natural cycles.
Useful in anemia, painful menstruation, uterine fibroids, ovarian cysts, irregular painful menstruation.
Menopause, Weak bones in females, Low bone density
It does not impair any hormonal balance and can be used along with other ongoing medicines.
Shatavari is also referred to as Indian asparagus, is a woody climbing plant that typically grows in shady areas of tropical regions including India, Asia, Africa and southern most China. This plant grows all over India in tropical areas and is found in Himalaya's up to an altitude of 1300-1400 meters. Shatavari herbal plant is an armed climber, growing 1-2 meters in length. The leaves are green, shiny, small, and uniform and like pine needles.
Medicinal Uses of Shatavari Herb
Asparagus rhizomes and root is used ethno-medically to treat urinary tract infections, as well as kidney and bladder stones and especially arising from congestion around the heart.
The rhizome is a soothing tonic that acts mainly on the circulatory, digestive, respiratory and female reproductive organs.
It is taken internally in the treatment of hyperacidity, stomach ulcers and bronchial infections.
The whole plant is used in the treatment of diarrhoea, rheumatism, jaundice, diabetes and brain complaints.
Bark of the plant is antifungal and anti-bacterial (Anti-dysentery).
Root promotes lactation in mothers and appetite and nourishment in children.
It is used in treating acidity and hair tonic.
General debility
Sexual debility
Poor reproductive system
Low female libido
Inflammatory conditions, especially genito-urinary
Intestinal and gall bladder infections
Weak response to sexual stimuli
Depression, nervousness and anxiety
Conditions that require overall female body enhancement
Shatavari Capsules
Shatavari (Asparagus racemosus) has been used in India from thousands of years for its therapeutic and tonic properties. It is an all-round tonic and rejuvenative which can be given to a person with any type, constitution, males or females, youngsters or elders. Indeed, Shatavari is the Universal Rasayana (Rejuvenative). The name Shatavari is symbolic which means one who possesses one hundred husbands.
It has various synonyms like Atirasa (very juicy), Narayani (from which famous preparation Narayana massage oil is manufactured), satpadi (possesses hundreds of roots), suksma patra (has tiny leaves etc.).
Charaka has categorized it as balya (promoting strength) or a tonic, vaya sthapana - promotes longevity, sukra janana (spermatogenic), Also, he has cited it as a rejuvenative to rasa and mamsa dhatus (body tissues) and mamsavaha srotasa (channels).
Susruta has mentioned it as sukra sodhana - purifies the sperms or semen. Whereas, it is quoted as vajikara - augments the sexual vigour and quantity of semen (Sarngandhara Samhita). It is also classified as samsamana - neither it aggravates nor it eliminates the doshas from the body, but simply pacifies the aggravated doshas especially, pitta, therefore restoring the normal balance.
Uses of Shatavari
Female Tonic
Shatavari can be taken in almost all menstrual problems including amenorrhea and dysmenorrheal. This wonderful medicinal herb is prescribed to treat hot flushes during pre-menopausal phase and acts as an effective female hormone balancer. Shatavari enhance the production of estrogen in females that would otherwise trouble the female during the post menopausal phase featuring dryness of vagina.
Increases Fertility
Shatavari literally means to have 100 spouses and Ayurveda says that such term is given because the herb provides a great strength to the female making her capable of generating hundreds, thousands of healthy ova so best for female fertility.
Shatavari is one of the choices of herb to care infertility. Many sexologists and infertility specialist recommend Shatavari capsules to the female who is planning to conceive. In teenage, it helps in producing quality female hormones and in adult, it helps in ovulation and fertilization. Shatavari nourishes female's womb & ovum, prepares the women organs for pregnancy & prevents miscarriage. Shatavari herb is the best for female fertility.
Shatavari - A Woman Friendly Herb
Shatavari is the unique herb that can be used by females of all age. The herb is very helpful in treating leucorrhoea (a white discharge) and is believed to be useful in treating decreased libido. Even in females with hysterectomy (removal of uterus) or oophorectomy (removal of ovaries), Shatavari works wonderfully as in such cases, there is a deficiency of estrogen as a major complication. Shatavari capsules are very effective as they contain phytoestrogen (the plant estrogen) that normalizes the estrogen levels in the female. Shatavari can also be taken during excessive bleeding and bloating.
It is also a primary rejuvenative for pitta. It supports healthy and normal blood flow through the reproductive system. It supports normal hormone utilization and hormone blood levels. Shatavari's antioxidant properties help maintain cell integrity.
Breast Enlargement and Breast Milk
Shatavari is one of the most essential herbs for breast development. Also, in post-partum phase, Shatavari can be prescribed to produce more breast milk as it promotes lactation.
Infections
Shatavari capsules have anti-fungal effect. The herb stimulates the macrophage action and hence helps in battling against various candida infections. This medicinal herb is found to have effects on the macrophages production as the capsules increase the immunity and simultaneously destroys harmful microorganisms.
Emotional Disorders
The product can also be taken by a middle aged female where irritability, anger, jealous, nervousness, insomnia are quite common complaints. Shatavari capsules are thought to overcome negative emotions due to hormonal imbalance in the female and to promote positive thoughts and emotions by its soothing effects, it can also be taken for mood swings disorders.
Gastric Problems
It is a remedy for a wide array of health conditions including gastric ulcers and dyspepsia (stomach pain caused by ulcers or acid reflux disease). The powdered dried root of Shatavari has historically been used in Indian medicine to make a juice that is used to care ulcers (small holes in the gastrointestinal tract) and gastroparesis (a condition in which the stomach takes too long to empty its contents). Gastroparesis can cause heartburn, abdominal pain, vomiting and diarrhea.
Purported Benefits
There are number other claimed benefits associated with the use of shatavari. They include assertions that it acts as a diuretic and can rid the body of excess fluid. The boiled leaves of shatavari have been touted as a treatment for conditions ranging from headaches, fever and coughs to diabetes, rheumatism (painful condition of the joints or muscles or connective tissues) and hormonal imbalances.
In addition, Shatavari is also found to have a very good source of essential elements like zinc, calcium and vitamins like B complex.
Dosage
1-2 capsules twice on a daily basis with meals. Natural products treat not just the symptoms but the body as an entire and take time for absorption and results.
Nutritional value: Asparagus is low in calories, contains no fat or cholesterol, and is very low in sodium. It is a good source of folic acid, potassium, dietary fiber, and rutin.
Other Ingredients
Silica pouch (to Absorb moisture in the bottle), vegetable cellulose based capsule shells.
Free from artificial colors, chemicals and preservatives.
No common allergens yeast, wheat, soy and milk.
Hypo-Allergenic
To buy Shatavari Capsules, please visit store.planetayurveda.com/products/shatavari-capsules.