GENERAL PROPERTIES AND USES OF SHIRISH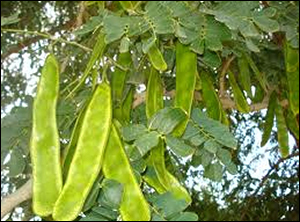 Latin Name: Albizia lebbeck
Family Name: Leguminosae-Mimosoidae
SYNONYMS:
Sanskrit - Shukpriya
Hindi - Siris
MORPHOLOGY OF THE HERB
It is a tall tree of 50-60 feet height and can be found commonly growing by the road side. The flowers are yellowish- white, fragrant growing in clusters of 15-40 pedicellate flowers. The pods are flat and oblong, papery when ripe, swollen and dehiscent.
OCCURRENCE
It is found extensively in the Indian subcontinent and parts of south-east Asia and northern Australia. In Himalayas, it is found up to the height of 4000ft. It can bear a variable diversity in climatic conditions although it grows best in areas of reliable rainfall. It also grows on a wide range of soil types.
Other species of SHIRISH
PROPERTIES
Guna (Quality) - Laghu (light), Ruksha (dry), Tikshna (piercing)
Rasa (Taste) - Kashaya (astringent)
Virya (Potency) - Ishad ushna (Slightly hot)
Vipaka (After taste) - Katu (pungent)
PARTS USED
Bark, seeds, leaves, fruits
DOSAGE
POWDER - 3-6 gm.
JUICE - 10-20 ml.
DECOCTION - 100 ml.
EFFECT ON THE THREE DOSHAS
It balances all the three doshas i.e. Vata, Pitta and Kapha.
GENERAL PROPERTIES AND USES OF SHIRISH
Shirish has a general anti-inflammatory and analgesic effect on the body. Its paste is applied at the site of inflammation, in case of wounds, lymphadenitis and skin diseases.
In case of dental problems, the decoction of the bark is used as gargle.
The powder of the seeds of Albizia lebbeck is used for the purpose of treating blood disorders, erysipelas and inflammatory skin conditions.
The decoction of its leaves is used as eye drops in case of night- blindness.
In case of toxicity by venoms, Shirish can be used as a powerful antidote. Shirish as its prime effect is a very effective anti-dote for a large number of venoms from animal or plant origin.
As it vitiates kapha dosha, shirish is used in all kinds of cough, cold and chest congestions. In case of chronic congestion Nasya (nasal administration of shirish plant extracts) is also given.
Seed powder of Shirish can be given with milk as an aphrodisiac.
The powder of shirish seeds are used in skin diseases.
CLASSICAL REFERENCE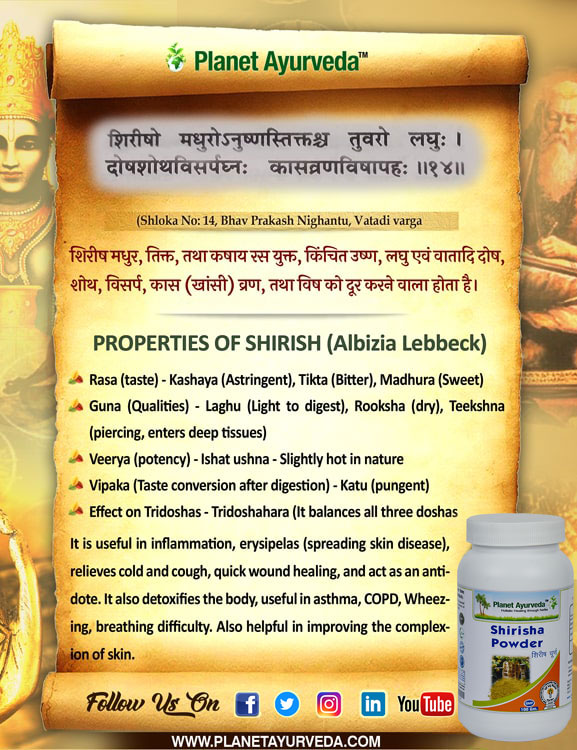 To buy Shirisha Powder, please visit store.planetayurveda.com/products/shirisha-powder
EFFECT ON TOXINS AND VENOMS
It is a broad spectrum anti-dote and has proved equally good in venoms of animal and plant origin.
Planet Ayurveda has tried to encompass the beneficial properties of shirish herb in the form of a very effective herbal anti-allergic formulation known as ALLER-G CARE POLY HERBAL CAPSULE.
WHAT IS ALLERGY?
In this Era of rapid advancement in technologies, industrialization and urbanization of the world, there is one health condition that has risen beyond controllable limits amongst the human population. It is the hypersensitivity or allergic reaction. It may occur in any form mild, moderate or severe and almost always lasts a lifetime. The irony is that no modern medicine offers a suitable care to this rapidly progressive problem from which not many are able to escape today.
OCCURENCE
An allergic reaction can occur suddenly at any point of time. It is said that as many as 30-35% people suffer from any form of allergy at some point of time in their lives. Earlier the incidence was limited to just developed countries but now it's a common problem across the globe.
Especially due to the rapid industrialization, the atmospheric air composition has greatly altered in terms of the particulate matters that remain suspended in it .Most of which comes from the exhausts of the various industries and automobiles and many other ways by which harmful gases and particles are released into the atmosphere.
This has led to an alarming rise in the number of respiratory disorders and allergic conditions related to it. Similar is the case with the skin allergies, as it is one organ that is continuously in contact with the atmosphere and the harmful pollutants suspended in it.
Not only this, the depleting nutritional status of the population at large has steadily declined leaving them more susceptible to irritation by harmful allergens.
HOW ALLER-G CARE CAPSULE CAN HELP IN DEALING WITH ALLERGY
Aller-G Care Capsules is a distinctive blend of herbal extracts derived from four popular medicinal herbs stated in Ayurveda. Aller-G Care capsule shows very effective results in patients of skin and respiratory tract allergies.
CONTENTS
Haridra (curcuma longa)
Neem (Azadirachta indica)
Shirish (Albizia lebbeck)
Ashwagandha (Withania somnifera)
DOSAGE
1-2 capsules twice daily, after meals. The dosage in children less than 12 years is 1 twice daily. The capsules can be opened and the content can be poured into 1 teaspoonful of honey and mixed well and then later fed to the child.
To buy Aller-G Care, please visit store.planetayurveda.com/products/aller-g-care
USES OF ALLER-G CARE CAPSULES
These are the best herbs described in Ayurveda for the treatment of skin inflammations and inflammatory conditions in general, which most commonly result from allergic reactions. They are also potent natural anti-allergic medicinal herbs and have shown excellent results in conditions like allergic rhinitis, sinusitis, Asthma, Pollen allergy and dust allergy.
Allergy Care Capsule can be used in combination with other Planet Ayurveda herbal formulations (Allergy Care Pack) to provide a permanent care to many skin and respiratory allergies.
As an additional effect these herbs help in the removal of toxins that accumulate in the body as a result of the improper digestion of food particles. These toxins are the major factors which lead to a weakened immune system and in turn create perfect grounds for any disease to set in.
DOSAGE
Aller-G Care: Capsules, twice daily with plain water after meals.
Pranrakshak Churna: 1 teaspoon full, twice daily with plain water after meals.
Tulsi Capsules: 2 Capsule, twice daily with plain water after meals.
Curcumin Capsules: 2 Capsule, twice daily with plain water after meals.
To buy Allergy Care Pack, please visit store.planetayurveda.com/products/allergy-care-pack