ZINGIBER OFFICINALE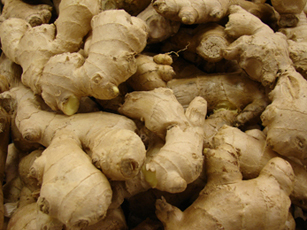 Common names of Zingiber officinale
Zingiber officinale is a flowering plant, which is commonly known as ginger. It belongs to the Zingiberaceae family. The Indian name of this plant is dry ginger or sonth or Adrak.
Occurrence of Zingiber officinale
In the first century AD, Zingiber officinale was exported to Europe via India, as a result of spice trade. It was extensively used by the romans. India is the largest producer of this plant. This plant is indigenous to south china, Spice Islands and other parts of the Asia and West Africa.
Description of Zingiber officinale Plant
Zingiber officinale has a thickened and branched rhizome which looks like a swollen hand. The outer layer of the rhizome is brown in color and the center is of pale yellow color with a spicy lemon like scent. The outer layer of rhizome is usually removed before use. Pseudo stems (shoots) arise from the buds of the rhizome and are up to 1.2 m tall. These pseudo stems are wrapped tightly around one another and are formed from a series of leaf bases. Leaves are narrow and green in color.
The flowering heads of this plant are like cone shaped and are composed of a series of leaf like bracts which are green to yellow in color. The pale yellow color flowers that are formed from the outer edges of these bracts, has yellowish dots with a purplish lip.
Ayurvedic Energetics of Zingiber Officinale
Related dhatu- Shukra
Action- Aphrodisiac, carminative, diaphoretic, digestive, stimulant, expectorant.
Effect on dosha- VK-, P+
System Affinity- Digestion, liver, circulation, immune system, lungs, colon, heart, joints.
Energetics- Pungent, Sweet/hot sweet.
Parts used of Zingiber Officinale
Roots (Rhizome)
Uses of Ginger
Ginger is used as a spice to add flavor in cooking, for centuries. The fresh stem of this plant is used as a main ingredient in many dishes, in Asia. In European cooking, ginger is more popular as powdered spice while in Britain, it is popular as gingerbread. Ginger oil and oil resin are other common uses of this ginger to flavor ginger beer and ginger ale. It is even used as an ingredient in cosmetics, perfumery and medicines. This ginger is pickled to make beni shoga and gari, in Japan. It is used as raw or grated ginger in tofu or noodles. In India, ginger is used as one of the main ingredients in the cooking of thicker gravies for vegetarian dishes, as well as in many other non-vegetarian dishes such as meat based.
Constituents Present in Zingiber Officinale
Non-volatile phenolic compounds gingerol, gingeridione and shogaol are the pungent principles present in the ginger. Volatile oils, acric soft resin, resin insoluble in oil and ether, starch, gum, lignin, vegeto matter, acetic acid, and acetate of sulfur are other constituents that are present in this plant. The characteristic odor, color and pungent taste of the ginger is due to the mixture of non-volatile phenolic compounds.
To buy Sounth Powder, please visit store.planetayurveda.com/products/shunthi-churna