Thuja (Arborvitae) - Herbal Remedy for Menstrual Disorders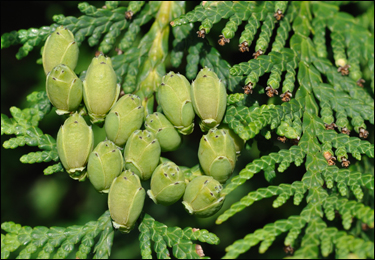 Botanical Name: Thuja occidentalis
Family Name: Cupressus
Other Name: Eastern White Cedar, Northern White Cedar, Yellow Cedar, Tree of Life, Arborvitae, Swamp Cedar
Uses of Arborvitae
Cough
Cold
Asthma
Bleeding
Eczema
Menstrual disorders
Inflammations
Uterus related problems
Warts
Diarrhea
Bed wetting
Health Benefits of Arborvitae
Thuja tea is useful for cough, asthma, cold and other lungs congestions. Taken twice daily.
An infusion is to treat itching, cut and other skin conditions.
It is a smooth muscle stimulant with a specific reflex action on the uterus and menstrual problems.
It is also useful for gout, arthritis pains.
It acts as an antiseptic and anti-inflammatory and hence useful for wounds, cut, bleeding and reduce swelling in the body.
A tincture form may also applied warts.
It is the best remedy for menstrual disorders.
Parts Used
Whole plant
Dose
Infusion - 15ml
Tea - 2 to 4gm
Tincture - 2ml
Preparations
Infusion, Tea, Tincture