Tinospora Cordifolia (Giloy) - Uses, Benefits, Dosage and Indications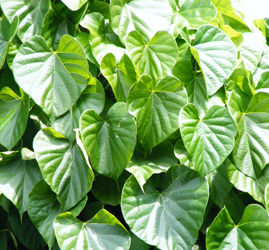 Scientific Name: Tinospora cordifolia
English Name: Gulancha tinospora
Sanskrit Name: Guduchi, Giloy
Description of the Herb Tinospora Cordifolia
It is a climbing shrub. Barks are gray-brown or cream-white and warty. Leaves re broad, pointed at the tip and having margin. Small flowers appear in summer and fruits in winter. The plant climbing on a neem tree is considered to be therapeutically more useful.
Distribution
It grows in tropical and sub tropical regions up to an altitude of 300 meters.
Uses of Giloy
Useful herbal remedy for infections, recurrent fevers
Giloy is useful immunomodulator- useful in low immunity
Giloy is useful for cancer of all types
Giloy is useful in High uric acid
Giloy is useful in all types of flu
Part Used of Giloy
Stem
Phytochemicals in Giloy
Its principal constituents are tinosporine, tinosporide, tinosporaside, cordifolide, cordifol, heptacosanol, clerodane furano diterpene, diterpenoid furanolactone tinosporidine, columbin and b-sitosterol.
Medicinal Properties of Giloy
It is Ant periodic, Antipyretic, Diuretic and Anti-inflammatory. It is a constituent of several compound preparations. It is used in fever, urinary disorders, dyspepsia, torpidity of the liver, skin diseases, secondary syphilis, rheumatism, constipation, tuberculosis, leprosy and general debility. It is also used in treatment of rheumatism and jaundice. It is a blood purifier and may be useful in AIDS and other immune diseases also. It is also being proposed for cancer patients before and after chemotherapy.
Indications for Use of Tinospora Cordifolia Herb Powder
It is a very useful treatment for gout and high uric acid.
It is a natural blood purifier and is very useful for skin problems like Acne, Psoriasis, eczema, Lichen planus and others.
It is an immunomodulator and is useful for immunity deficient conditions like AIDS and other auto-immune disorders.
Our herbal powder Navkarshik Churna contains this herb and other useful herbs for gout. You can buy this powder at our website
Effective for many types of cancers
Effective detoxifying herb, useful in urinary tract infections. The stem decoction is used to imrove resistance to recurrent infections. Giloy is excellent for jaundice, Gout, Skin diseases, Cancers, Rheumatism and other diseases mentioned above.
To buy Giloy, please visit store.planetayurveda.com/products/giloy-capsules.