Tribulus Terrestris (Gokshura) - Tribulus Terrestris Uses and Benefits for Men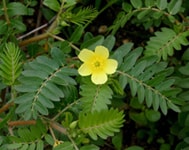 Latin name - Tribulus terrestris
English name - Puncture vine
Indian name - Gokshur
Tribulus terrestris, the Latin name for puncture vine, has gained popularity in the past decade among male athletes who attempt to build muscle by increasing testosterone production.
Tribulus terrestris Plant
Tribulus terrestris grows naturally in North and South America, Australia, Europe, the Middle East, India and Africa. It is considered a noxious weed that grows along roadsides and in vacant lots. In fact, its seeds are sharp and painful to step on, and its fresh leaves are toxic to livestock, especially sheep, when consumed in large quantities. The berries and aerial parts of Tribulus are the parts most often used in traditional medicine for a variety of ailments including colic, headache, nervous disorders, constipation, and sexual dysfunction.
Chemical Constituents
The Tribulus berries and aerial parts contain a number of different substances including saponins, glycosides, flavonoids, alkaloids, resins, tannins, sugars, sterols, and essential oil. The steroidal saponins, including protodioscin, are considered the most active components. Protodioscin is also one of the precursors of the DHEA, which is a marker for ageing. Thus Tribulus is a very useful anti-ageing herb.
Tribulus terrestris Benefits
1. Tribulus may increase testosterone levels indirectly by raising blood levels of another hormone, luteinizing hormone (LH). LH is produced by the pituitarygland and plays a role in regulating natural testosterone production and serum levels by "turning on" natural testosterone production in humans.
2. One study found Tribulus to be an effective aphrodisiac. Sexual behavior and intracavernous pressure (ICP-blood flow into the corpus cavernosa of the penis) were studied to understand how Tribulus stimulates sexual arousal.
Tribulus also Benefits a Number of Other Health Concerns:
Reduces cholesterol levels
Reduces triglycerides
Has antioxidant properties
Reduces serum glucose levels
Helps treat hypertension
3. Tribulus is a proven Anti-aging herb to support Male Sexual function and testosterone Production.
Tribulus terrestris Uses and Benefits Male
As natural Herbal Viagra Alternative.
Natural herb to enhance Male Performance
Natural Male Stamina Enchancer
Very useful among Herbs for Premature ejaculation.
Dosage
Tribulus Powder - 3-6 grams per day.
To buy Tribulus Powder, please visit store.planetayurveda.com/products/gokshura-powder.
Tribulus Power Capsules
Heightened sexual pleasure !!
Enhanced performance !!
Boosts stamina and vitality !!
Increases libido !!
Improves the health and functioning of the sexual organs
Effetive herbal supplement for Erectile dysfunction, premature ejaculation and low sperm count !
Tribulus Power is not only useful in premature ejaculation or erectile dysfunction but also beneficial for people suffering from weakness due to diabetes, prostate enlargement, urinary tract obstructions or weakness due to any other reason as this herbal supplement nourishes the entire system as well as male reproductive system.