What are the Uses and Health Benefits of Western Stoneseed (Lithospermum Ruderale)?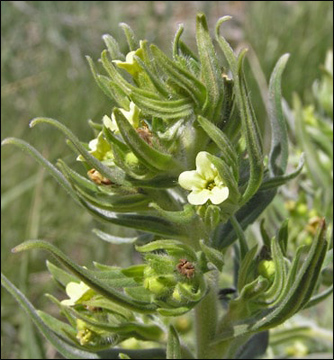 What is Western Stoneseed?
It is an effective herb used to treat kidney disorders, diarrhea, internal hemorrhagic conditions, and rheumatic joint pains, eliminates the oestrus cycle, and reduces the weight of thymus and pituitary glands.
The botanical Name of Western Stoneseed is Lithospermum Ruderale and it belongs to family Boraginaceae. Other common names are the Western stone seed, western Gromwell.
Its habitat is fairly dry places and widely spread in Western North America- British Columbia to California. The species is hermaphrodite (it has both male and female organs) pollinated by insects. It is grown in light (sandy), medium (loamy), and heavy (clay) soils and prefers mostly well-drained soils and suitable pH is acid, neutral and basic soils. It prefers dry or moist soil. It is grown up to 30 cm. It cannot be grown in the shade.
What are the Medicinal uses of Western Stoneseed?
It acts as an anti-rheumatic, Diuretic, Astringent, contraceptive, antioxidant, anticancer, antipyretic, and vulnerary.
It is the most effective herb used for constipation.
It is useful in acne, burns, and cancer.
What are the Therapeutic uses of Western Stoneseed?
Rheumatoid Arthritis
This herb as an anti-inflammatory as well as an analgesic properties that alleviate the inflammation as well as pain. It also reduces the degeneration of joints and patient starts getting relief in a shorter period of time. This anti-inflammatory action can manage the chronic pain, inflammation as well as swelling tied to rheumatoid arthritis.
Osteoarthritis
Like rheumatoid arthritis, in osteoarthritis, this herb acts as an anti-inflammatory as well as an analgesic that reduces the pain as well as inflammation. It usually involves the superficial joints such as knee as well as joints of hands.
Cancer
It acts as a natural anti-cancerous agent, by protecting the healthy cells in the body against the damage caused by free radicals. It stimulates the natural ability of the body by inducing apoptosis and destroys the cancer cells and limits the growth and spread of cancer in the body. It can be used as an adjuvant therapy and can be used in combination with conventional cancer treatments like Radiation Therapy and chemotherapy. It is helpful in other Cancers of the body, like colon, breast, ovaries etc. It improves the results and helps in fastest recovery of the patients.
Toxins
Toxicity occurs due to the consumption of contaminated food, water, and other products. Symptoms do not arise immediately after the consumption of food and water, its long-term exposure leads to severe health problems. This leads to severe health problems like cancer and heart problems. This herb neutralizes the effect of toxicity by acting acts an antioxidant and helps in [preventing long-term complications that occur due to long-term exposure of toxins that are present in our daily lifestyle.
Contraceptive
This herb acts as a contraceptive that prevents the pregnancy. It contains both progestin as well as estrogen hormones that inhibits the release of luteinizing hormone and follicle stimulating hormone from the pituitary gland in the brain. It acts as a hormone inhibitor.
Astringent
This herb acts as an astringent that causes constriction of mucous membrane and exposed tissues of the body that often used in reducing mucous secretions as well as blood serum. Lotion of this herb is used to reduce bleeding from the minor abrasions and also used as a cosmetic that for those patients who have oily skin, to make their skin less oily.
Vulnerary
It acts as a vulnerary that brings healing to wounds and inflammation.
Internal Hemorrhagic Conditions
This herb is rich in vitamin K supplements that is a blood clotting vitamin, which treats moderate to severe bleeding that activates blood clotting proteins.
Different Preparations made by Western Stoneseed
Decoction, tonic
Doses of the Different Preparations of Western Stoneseed
Tonic: 5 to 10 ml
Decoction: 5 to 10 ml
Oil: Should be taken twice daily