Wild Yam (Dioscorea Villosa) - Benefits, Uses, Herbal Products & Dosage
Introduction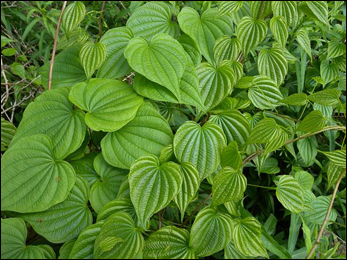 Medicinal properties of wild yam are famous since ancient times. Presently, it continues to be a popular medicinal herb. Though, wild yam has gradually become a rare plant in the wild because of over-exploitation and currently most of the wild yam roots available are commercially cultivated.
It is the member of Dioscoreaceae family that contains about 750 species of flowering plants. It is also a member of Dioscorea genus, contains about 600 species spread throughout tropical and warm temperate regions of the world.
Names
Botanical Name - Dioscera villosa
English names - Yam, Colic root, Aluka, China root devil's bones, Mexican wild yam, Rheumatism root, Yuma
Chinese - Shan yao
French - Igname
Spanish -   Nyam silvestre
Swedish - Vildjams
Italian - Batata
Classification
| | |
| --- | --- |
| Kingdom | Plantae |
| Phylum | Magnoliophyta |
| Class | Monocotyledons |
| Order | Dioscoreales |
| Family | Dioscoreaceae |
| Genus | Dioscorea |
| Species | Villosa |
Habitat
It is native to North and Central America. This perennial, twining vine grows in damp woodlands and thickets. This plant flourishes in sunny conditions and rich soil.
Description of Plant
It has a woolly reddish-brown stem, which grows from 1 to 6 meters long and broad. Ovate leaves are 5 to 15 centimeters long and about three-fourths as wide. Flowering occurs in the month of June and July, bearing small, greenish-yellow blossoms, which produce three-winged capsules containing winged seeds. The plant has a slender, knotty, matted, tuberous rootstock, which is helpful for many ailments related to the spleen, kidneys, lungs, and stomach.
Plant Parts Used
The roots and rhizome.
Therapeutic Uses & Benefits
Painful menstruation - This herb acts in an amazing way to relax the muscle tissue.   It aids the uterus to work more efficiently during menses. Hence in painful menstruation (dysmenorrhea) and chronic pelvic pain use of this herb is quite effective.
Uterine cramping or spasm - It works well for reducing muscle spasm of the uterus, fallopian tubes and ovaries.  It supports healthy uterus functions thus provide relief in uterine cramping or spasm.
Ovarian cysts - This herb has a wonderful action on the ovaries as it helps to nourish them.  Amazing properties also aid to reduce the ovarian cyst pain.
Urinary tract infections - Wild Yam is often used to treat urinary tract infection pain as well.
Pain Reduction from Pelvic Surgery - This herb has been found to be effective at decreasing the pain, especially nerve pain from any kind of pelvic surgery like ovarian cyst, endometriosis, uterine fibroid etc.
Afterbirth Pain - Antispasmodic action of this herb helps to reduce after birth pains by relaxing and reducing uterine cramping.
Digestion Aid - This herb also provides good digestive health. It helps to alleviate the flatulence and improves the function of the liver and gall bladder.  Additionally its use is very beneficial to treat digestive disorders like gallbladder, inflammation, irritable bowel syndrome (IBS) and diverticulitis.
Regulate the blood Sugar and Cholesterol levels - Use of this herb is known to be quite good to maintain healthy blood sugar and cholesterol levels.
Arthritis – Anti-inflammatory action is quite effective in reducing painful inflammation in the joints due to rheumatoid arthritis.
Traditional Uses
Traditional use of Wild Yam's is done to manage the several problem.
Antispasmodic properties helps to easing menstrual cramps, ovarian cyst pain, uterine pain any kind of muscular spasm and colic, like intestinal and bilious coli and flatulence.
Used to treat irritable uterus and threatened miscarriage with uterine contractions.
Its use is good for neuralgia, nervousness, restlessness and other nervous conditions.
Anti-inflammatory action of this herb is good to provide relief in rheumatoid arthritis. 
It can also help to relieve bilious colic, hepatic congestion, and gallstones.
Wild Yam has also been used to treat digestive disorders including gallbladder inflammation, irritable bowel syndrome (IBS), and diverticulitis.
It is good to lower blood pressure and also helps to maintain the healthy cholesterol levels in the blood.
Planet Ayurveda Products, Which Contain Dioscorea Villosa
As of now there are no Planet Ayurveda products which contain Dioscorea Villosa. But the below mentioned other products of Planet Ayurveda are useful in some conditions for which Dioscorea villosa is used.
Hakam Churna by Planet Ayurveda is a wonderful herbal supplement in the form of a powder to relieve painful joints, back ache, morning stiffness, Osteo and rheumatoid arthritis, cervical spondylitis and other painful inflammatory conditions.
Indications
Arthritis
Infrequent bowel movements
Indigestion
Flatulence
Spondylitis
Sciatica
Dosage: 3-5 grams of this powder should be consumed with hot water, two times in a day. It should preferably be taken only after meals. The patient is requested not to exceed the recommended dosage.
This herbal product is prepared from the pure extracts of two herbs – Shallaki (Boswellia serrate) and Haridra (Curcuma longa). These herbs possess the anti-inflammatory properties which helps to reduce inflammation and pain in different kinds of body pains.
Indications
Painful menstruation
Joints pain
Back pain
Gout
Sciatica
Cervical spondylitis
Ankylosing spondylitis
Osteoarthritis
Rheumatoid arthritis
Dosage - 1 capsule two times a day, with plain water, after meals.
Curcumin capsules are prepared from the standardized extract of the herb Curcumin. Use of this herb is quite effective in various inflammatory conditions like rheumatoid arthritis, osteoarthritis, joint pains etc. Curcumin, bio active compound found in turmeric is loaded with anti-inflammatory and anti-arthritic properties which help to alleviate pain and inflammation.
Indications
Arthritis of All types – Osteoarthritis, Rheumatoid, Ankylosing, Psoriatic
Recurrent Sinusitis
Allergies
Asthma
Chronic Rhinitis
Eosinophilia
Diabetes
Strains
Sprains
Sports injuries
Cancers of All types
Alzheimer's disease
Prostate enlargement
Inflammatory conditions of any organ
Dosage - 1-2 capsule two times a day, with plain water, after meals.
This herbal remedy is reared from the nature's best digestive herbs. It is pretty effective in treating stomach related problems. It has a laxative action on stomach which helps to eliminate waste from the body.
Indications
Constipation
Stomach pain
Gas
Bloating
Heart burn
Dosage - 1-2 capsule two times a day, with plain water, after meals.
Planet Ayurveda's Yograj Guggul has anti-inflammatory, antibacterial, anti-tumor and stimulant properties. It can relieve abnormal tear of joints, ligaments as well as, the structure surrounding the inter-vertebral joints.
Indications
Fibromyalgia
Muscles cramps
Cervical spondylitis
Morning stiffness
Rheumatoid arthritis
Gout
Dosage - 1-2 tablets 2-3 times a day, with plain water, after meals.
Planet Ayurveda's Triphala Guggul has antibacterial, anti-allergy antiseptic, and anti-diuretic properties. It helps to completely get rid of constipation. Use of this medicine is also good to reduce the cholesterol levels and improve the heart health.
Indications
Constipation
Healthy cholesterol levels
Anal fissure
Anal fistula 
Pile mass
Renal stone pains
Dosage - 1-2 tablets two times a day, with plain water, after meals.
Planet Ayurveda products are manufactured as per the traditional Ayurvedic science, using only pure and natural herbs; no chemicals or preservatives are used in any of our products. Our products are also never tested on animals and are made under the most stringent quality guidelines. So opt for Planet Ayurveda herbs and supplements for a healthier you.