Planet Ayurveda in Slovakia and Czech Republic

Slovakia is a landlocked country in Central Europe, which is bordered by Ukraine to the East, Austria to the west, the Czech Republic to the northwest, Poland to the north. It is mostly mountainous. The capital of Slovakia is Bratislava, which lies on the border with Austria and Hungary. It is stretched on the banks of the Danube river.
Slovakia is famous for the largest castle Medieval Spis Castle, which was included in the UNESCO List of World's Cultural and Natural Heritage. There are more than 6000 caves discovered in Slovakia.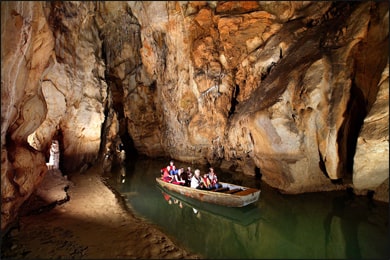 In this modern lifestyle, life has become busy and stressful due to continuous work, lack of sleep and wrong dietary habits. The incidence of lifestyle diseases such as diabetes, obesity, cardiovascular diseases is on the rise and prevalence of these diseases has reached at an alarming stage.
Ayurveda (an ancient system of medicine) is recognized as the foremost life science. It dates back to ancient Indian civilizations that prevailed around 5000 B.C.

In Ayurveda, there are ways to prevent and manage lifestyle disorders. The whole world is being attracted towards its potential as Ayurveda has a holistic approach of treating the patient as a whole. This beautiful science aims at providing physical, mental and spiritual health to the patients. Therefore, Ayurveda is a wonderful option for life style disorders. It is based on the use of herbs, hence it has no known side effects.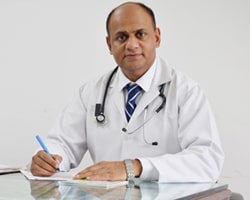 Dr. Vikram Chauhan (MD Ayurveda) has an aim of spreading Ayurveda throughout the world. He has an interest in sharing the knowledge and benefits of Ayurveda and intends to provide best quality of natural supplements around the globe.
He runs Ayurvedic Center by the name Planet Ayurveda. He has a dream of spreading awareness about how to live healthy and happy life by following Ayurvedic principles. He has successfully treated a number of patients of Ulcerative Colitis, Idiopathic Thrombocytopenic Purpura (ITP), Liver Cirrhosis, Atoptic Dermatitis, Irritable Bowel Syndrome (IBS) and other chronic conditions.
Planet Ayurveda is a trusted name in the field of Ayurveda and offers a wide range of herbal remedies and dietary supplements which are 100% natural, free from chemicals and preservatives and highly effective as well.
Planet Ayurveda manufactures herbal remedies with strict adherence to ancient Ayurvedic principles.
All the herbal products of Planet Ayurveda are manufactured using the standardized herbal formulas and all products have certifications of authenticity.
The wide range of Planet Ayurveda's herbal products includes Herbal Capsules, Herbal Oils, Herbal Tablets, Cosmetic products etc.
Planet Ayurveda offers best range of herbal supplements to maintain the overall health.
Planet Ayurveda has tied up with Ms. Viera Spackova in Slovakia to cater the requirements of patients in the Czech Republic and Slovakia. Patients can co-ordinate with her to get Planet Ayurveda's products in Slovakia.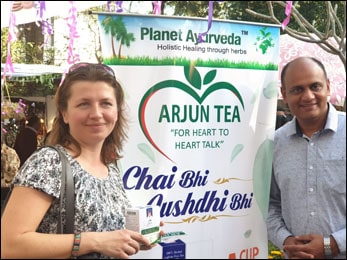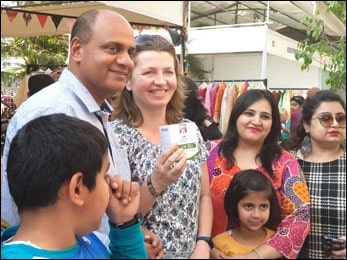 Dr. Vikram Chauhan (MD Ayurveda) with Ms. Viera Spackova
Planet Ayurveda has a goal that people of Slovakia should also get the health benefits of Ayurveda and enjoy healthy life.
It is very important that people of Slovakia should include common Ayurvedic products in their lifestyle such as Curcumin Capsules, Vara Churna, Tulsi Capsules etc. to protect themselves from various complicated health issues.
Click here to read / download Products Catalog of Planet Ayurveda in Slovak Language online.
Herbal Products Available in Europe for Various Health Issues
Review for Planet Ayurveda Products
Photo Gallery
Celebration of Holi at Planet Ayurveda Centre, India

Dr. Vikram Chauhan (MD-Ayurveda) during Ayurvedic Consultations in Bratislava, Slovakia, Europe