WHAT ARE THE HEALTH BENEFITS OF CHICKWEED (STELLARIA MEDIA)?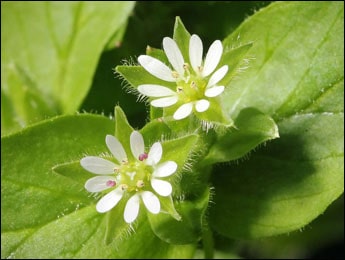 What is Chickweed (Stellaria Media, Buch-Bucha)?
Chickweed is the herb which is known and used for its different purposes. This herb has small juicy, fleshy and soft leaves which are spread out to the ground with star - shaped white flowers. It is 8inch by height and 1ft by width. The herb needs partially moist and well-drained soil to grow. The herbal plant can be harvested anytime from early spring to summers until the herb is ready to be used. The Chickweed pacifies the Pitta and Kapha dosha among the tridosha in the body and is bitter in taste. The common name of chickweed is mouse-ear, satin flower, star weed, starwort, tongue grass, white bird's-eye, winter weed, and chickenwort.
Classification:
Kingdom: Plantae
(unranked): Angiosperms
(unranked): Eudicots
(unranked): Core Eudicots
Order: Caryophyllales
Family: Caryophyllaceous
Genus: Stellar
Species: S. media
Is Chickweed Edible for Humans?
Yes, the herb is edible and is good in taste like corn silk, and good for use as it has ascorbic acid, beta-carotene, magnesium, Gamma-linoleic-acid, zinc, calcium and few more.
What are the uses of Chickweed Tea and How is it Made?
Chickweed is an herb which is full of vitamins and flavonoids in good amount. As per its property, it is a helpful herbal remedy for asthma, cough, constipation, fever, obesity. It also increases appetite. Chickweed is commonly used in tea form.
If you don't get fresh chickweed, a drink of the dried leaf can be made with 1 Tbsp. of the herb per 1 cup of water. Let this brew steep for 4 to 8 hours in order to extract the most minerals out of it.
If you are willing to purchase a tincture of chickweed, make a point it should be made with the fresh plant, rather than the dried plant.
Instructions:
Boil the water and remove it from the flame and pour it into a cup Add Chickweed fresh leaves or dried in the cup with hot water Steep it for 5mins and strain it. Drink and serve hot.
What are the Benefits of Taking Chickweed?
Constipation
Stomach, bowel problem
Cough
Kidney
Burn
Inflammation
Scurvy
Acne
Obesity
Blood disorder
Asthma
Lung disease
Psoriasis
Rabies
Itching
Joint pain
How can Chickweed be used as Poultice and How is it Made?
The herb can be crushed and directly applied to bruises and aching body parts to help ease tension or lessen inflammation.
How to be used:-
2 cups packed of Chickweed herb
1-2 tbsp. Aloe Vera Gel (if possible fresh)
Instructions:
Grind the Chickweed till it is soft and a pulp like consistency. Add the Aloe Vera to the pulverized Chickweed and mix well. Apply the mixture to the area needing treatment. Allow it to soak into and penetrate the skin for at least 20 minutes.
*Cover the Poultice up with a gauze or cloth to keep it intact on the desired area.
Is Chickweed Good for Weight Loss?
Chickweeds are very beneficial and used for different purposes. It is also helpful in weight loss due to its diuretic and laxative action. The herbaceous properties of it allow the breakdown and digestion of fat particles to affect weight loss by soothing the hunger pangs.
Take herbal Chickweed tea or decoction
Chew the fresh edible leaves in the morning empty stomach.
Is Chickweed Good for Skin Disorder?
It is also used in treating skin disorders like eczema, minor wounds, rashes, and varicose veins. It has the property of anti-oxidant, anti-inflammatory, and analgesic because of which it cures the inflammation, itching pain and dryness of the skin. It can be used in form of decoction, juice or made into an ointment or cream. Even the infused oil of chickweed can be added to the bathwater because it will help in controlling and managing the symptoms of eczema. It is also used for treating insect bite.
How is Chickweed Good for Joint Pain?
Chickweed has anti-oxidant, anti-inflammatory, and analgesic properties which reduces the inflammation and gives relief from joints pain and stiffness. Give a warm compress with the decoction of chickweed on the inflamed, stiff, and painful joint.
What are the Health Benefits of Chickweed?
A decoction made of the whole plant is taken internally as a post-partum depurative, emmenagogue, glactogogue and circulatory tonic. It is also used to relieve constipation.
An infusion made of the dried herb is used in cough and hoarseness of voice and is beneficial in the treatment of kidney complaints.
It can be used as a medicinal poultice and will relieve any kind of roseola infection in children and is effective wherever there are fragile superficial veins or itching skin conditions.
Chickweed water is used as an old wives remedy for obesity
Chickweed in tea form is exceptional for use as an acne wash, and it can even be added to a bath to help with burns, sores, rashes, and boils.
It is helpful in gum bleeding
Consumption of chickweed ease the problems related to stomach
Beneficial in maintaining urine health and treats the urinary tract infection (UTI) and cystitis.
Acts as a tonic for lung congestion and problems related to it.
Due to its anti-inflammatory property, it reduces internal and external swelling.
As it has astringent property so helpful in healing acne and pimples.
The external use of the herb is effective in treating sores, boils, and burns. Chickweed has a soothing effect on skin inflammation.
The decoction or the tea made of chickweed had Diuretic properties which remove and cleans the toxins from kidney and intestine.
Parts Used
Herb
Dose
Decoction - 5 to 10ml
Infusion - 15ml
Tea - 2 to 4gm
Formulations
Decoction, Infusion, Tea, Poultice
Contraindications
Always use under the supervision of the physician.
Overdose leads to nausea, vomiting, and diarrhea.
Not safe for pregnant woman, lactating mother, and kids.