9 Days Navratri Fast Special Diet Chart & Recipes MORNING TO EVENING DIET PLAN
EARLY MORNING
Milk/ Fruit/ Soaked Nuts
BREAKFAST
Almond-apple milkshake / Kuttu Paneer chilla / Amaranth Dosa with coriander and mint chutney / banana mashed with yoghourt / Sabudana khichdi / Makhana Khichdi
MID MORNING
Coconut water / Fruit lemonade / roasted makhana / fruits / Chamomile tea / freshly churned chaas
LUNCH
Rajgira roti and bottle guard vegetable / baked sabudana tikki with yoghurt and cucumber salad / Boiled potato vegetable with sangraha roti / samak rice / dahi aloo chaat / makhana kheer / samak rice dhokla
EVENING
Ginger mint tea / tea or coffee without sugar / peach tea / roasted makhana / baked banana chips with coconut water / curd, makhana and roasted peanuts chaat / fruit salad
DINNER
Pumpkin and bottle gourd soup / Dry fruit milk / paneer with makhana / baked potato cutlets / amaranth cheela with paneer stuffing / rajgira roti with cucumber raita / samak rice with added peanuts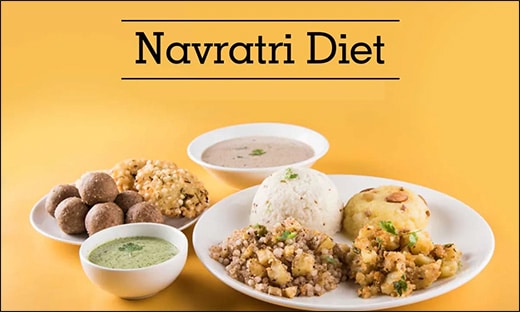 COMMON FLOURS TO BE TAKEN IN NAVRATRI
Buckwheat Flour (कुट्टू का आटा): The qualities of Buckwheat flour are hot, dry, and heavy. This can even be taken by the one who has diabetes, excess weight, heart disease, constipation, and excessive Kapha dosha.

Better to avoid it if you have conditions such as Ulcerative Colitis, IBS, GERD, Acidity, and other pittaj conditions as it is hot in potency.

Water Chestnut Flour (सिंघाड़े का आटा): This flour is astringent, sweet has cooling properties. So this can be taken by the one who needs something for pacifying pitta dosha. You can avoid this flour if you have Rheumatoid arthritis, gout and other vataj conditions.
Amaranth Flour (राजगिरा का आटा): This flour is rich in fibre so if somebody wants to lose weight then they can consume this flour during navratri. Other than that, this flour increases kapha and pitta dosha due to this avoid taking it in conditions such as Ulcerative colitis, acidity, bloating and other conditions which are caused due to increased kapha and pitta dosha.
Barnyard Millet (सामक के चावल): Can be used in navratri diet. It is a coolant in nature so it pacifies pitta dosha and is easy to digest. This is healthy for the digestive system and maintains good health. The barnyard millet can be taken by anybody.
COMMON SALADS AND VEGETABLES TO BE TAKEN IN NAVRATRI
Yam (रतालू): It is pungent, astringent, hot and Kapha vata shamaka. Due to such properties, it is beneficial in patients with piles. And it could be avoided in patients with Ulcerative colitis, IBS, Skin conditions, and various pittaj conditions.
Lemon (नींबू): Lemon is sour, piercing, and pitta vardhaka in nature. So people with pittaj conditions like heartburn, acidity, skin conditions, and various autoimmune conditions must have to avoid taking lemons.
Taro Root (अरबी): It has hot potency but is unctuous in nature. It should be avoided by people with constipation as it is heavy to digest. On the other note it improves overall strength and boosts immunity.
Tomatoes (टमाटर): As per Ayurveda this vegetable is tridosha vardhaka but especially pitta dosha. This vegetable reduces the digestive fire thus causing indigestion so it's better to avoid it if you have any kind of digestion-related problems.
Spinach (पालक): It is slightly pungent, sweet, of cold potency, and laxative in nature nourishes the body and balances the pitta dosha. This plant can be used to detoxify the body, is good for asthma patients, and may help with bleeding disorders.
Potatoes (आलू): Potatoes are a rich source of bioactive compounds, and have a potential anti-tumor action on cancer cells. Eating potatoes might help lower the risk of type 2 diabetes.
Pumpkin (कद्दू): This plant is sweet in taste, a great absorbent, dry in nature, is of cold potency, and is very heavy to digest may cause constipation so the one who already has constipation must have avoided it.
Cucumber (खीरा): It is sweet, light, and cold in properties, it reduces the pitta dosha and helps in easy urination. It relieves burning, over thirst, dehydration, urinary tract infections, and calculi.
Bottle Gourd (लौकी ): This is bitter in taste, light and dry in nature, cold in potency, balances Vata and Pitta dosha helps to purify the blood and treats intestinal conditions.
Carrots (गाजर): It is sweet and bitter in taste, light in digestion, and hot in potency, reducing the vitiated Kapha and vata dosha. The seeds of carrots are abortificant so be careful.
Beetroot (चुकंदर): Very good for Vata dosha when taken in small amounts, for Pitta and Kapha dosha can have in moderation. Beets are also great for helping with constipation and treating hemorrhoids.
COMMON FRUITS AND DRY FRUITS TO BE TAKEN IN NAVRATRI
Almonds, Pistachio, Kishmish, Cashew nuts, Peanuts, Banana, Papaya, Apple, Pomegranate (Take all the fruits and dry fruits in limited quantity especially cashew nuts, kishmish and banana)
DRINKS TO BE TAKEN IN NAVRATRI
Tea and coffee, Ginger mint tea, coconut water, peach tea, chamomile tea, Pumpkin juice
DIFFERENT RECIPES FOR NAVRATRI FROM THE ABOVE - MENTIONED FOOD ITEMS
Sabudana Khichdi: It is rich in carbohydrates so keeps the tummy full for more time and boosts the energy while Navratri fast. For making sabudana khichdi you can take ingredients such as sabudana, mild spices and peanuts.
Kuttu Dosa: This Navratri try one new recipe other than kuttu ki tikki that is kuttu Dosa. For making kuttu dosa you can use kuttu flour that is buckwheat flour with potato stuffing and with that you can take coconut and mint chutney.
Makhana Kheer: You can add this great dessert this Navratri to your diet chart. As makhana are very healthy and full of nutrition so you can definitely add this to your diet. Also if you want to lose weight this navratri, this recipe will help you a lot.
Samak Rice Dhokla: Samak rice is steamed for making delicious vrat dhokla. You can flavor this dhokla with cumin, curry leaves, mint, and rock salt. Try this once you can never restrict yourself from eating it again.
Aloo Sabji: You can make jeera aloo as well as gravy aloo sabzi. Only use sendha namak to make it. You can take this sabzi with kuttu roti, rajgira roti or singhara roti.
Kuttu Poori and Kuttu Cheela: You can make both recipes of kuttu or buckwheat flour. For those who want to take some light food, they can opt kuttu cheela and if you want to take something which makes your tummy full then you can take kuttu poori.
Share On