Amla / Indian gooseberry / Emblica Officinalis
AMLA (EMBLICA OFFICINALIS) - USES, BENEFITS, PROPERTIES & DOSAGE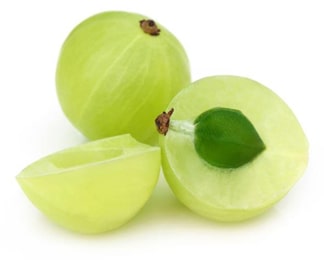 Amla undeniably a powerhouse of nutrients. It is a very delicious fruit. Amla is also known as Indian Gooseberry. Amla Botanical name is Emblica Officinalis. This herb is a little fruit stuffed with versatile and miraculous health benefits. It is world's best recognized herb and edible fruit rich in vitamin C. Amla is the best natural source of this vitamin which helps in keeping the skin healthy and strengthens the immune system of the body. It is also a very good antioxidant that can prevent ageing and rejuvenate the cellular structure keeping it young and healthy for a long time. The herb prevents our body from bacterial and viral aliments like cold and cough.
It is used in various forms because of its many health benefits. One can use it as a Amla fruit juice, Amla powder form or as a whole fresh fruit. In Ayurveda Amla is best used to make the equilibrium of three major powers of body (tridosha) i.e vata, pitta and kapha.
It belongs to Phyllanthaceae family. The Latin name of the plant is Emblica officinalis.
GENERAL DESCRIPTION OF AMLA PLANT
Amla tree medium in height grows up to 8 meter with slightly curved trunk. Branchlets are finely pubescent 10-20 cm long. Amla Leaves are finely and closely set along the branchlets. Amla Leaves have pinnate resemblance, very tiny, simple and attached by the base to branchlets. Color of Amla flowers are yellowish. Amla tree contains hard, smooth and spherical fruit yellowish green in color with six vertical stripes. Taste of Amla is sour, bitter and astringent and edible fruit is a great source of fiber.
SPECIAL NOTE ABOUT AMLA PLANT
विद्यादामलके सर्वान् रसांल्लवणवर्जितान्||१४७||
रूक्षं स्वादु कषायाम्लं कफपित्तहरं परम्|
Above mentioned shalok is from Charak sutrasthana 27. In this shalok special feature of amla is described that this contain all five rasa except salt. This plant is rooksha (dry), astringent and swadu (sweet) in taste. It helps in making balance of kapha and pitta.
AMLA NAMES
Amla English Name – Indian Gooseberry
Amla Latin Name – Emblica officinalis
Amla Hindi Name – Amla    
Amla Sanskrit Name – Amalki, Dhatri, Shriphala, Amrutaphala, Vayasya, Tishyaphala, Sheetaphala.
Amla Malayalam Name – Nelli
Amla Kannada Name - Nelli
Amla Telugu Name – Useeri kaya, Usheeri kaya.
Amla Tamil Name - Nellikai
Amla Farsi Name– Amlaj
Amla Tibetan Name – Kyu-ru-ra
CLASSIFICATION
Kingdom - Plantae
Family - Phyllanthaceae
Order - Malpighiales
Genus - Phyllanthus
HABITAT
Amla is a very common plant in India. It can be easily found growing in semi – arid regions and plains of northern India. Uttar Pradesh, Tamil Nadu, Rajasthan and Madhya Pradesh are preferable subtropical area for cultivation of amla. The fruits are available from October till May during which time they are also collected and preserved in large numbers to be made available during the rest of the year.
A number of recipes and medicinal preparations of Amla are available which can always be enjoyed.
AMLA AYURVEDIC PROPERTIES
Hindi / Sanskrit
English
Rasa
Panch Rasa
Taste
Sour, Sweet, Bitter, Astringent, Pungent
Guna
Guru, Sheeta
Physical Property
Heavy, Cool
Virya
Sheet
Potency
Cold
Vipaka
Madhura
Metabolic Property (After Digestion)
Sweet
AMLA EFFECTS ON DOSHA
Amla balances all three doshas (Vata, Pitta & Kapha) in body.
Charak Samhita
Sushrut Samhita
Vagbhata

Jwarghna – Herb helpful in fever
Kasaghna - Herb helpful in cough, cold and breathlessness.
Virechnopaga – Herb help to induce purgation
Kusthghana – Herb is helpful in skin disorders.
Vayasthapana – Anti-ageing

Amalkyadi, Parushkadi, Triphala
Parushkadi Ghana
ANCIENT VERSE ABOUT AMLA (EMBLICA OFFICINALIS)

Vaysya, amalaki, vrishya, jatifala, shiv, dhatrifala, shrifala, and amritfala are various synonyms of this herb. Amalak, dhatri, tishyafala and amrita are Sanskrit names of amla. All the effects of this herb are equivalent to haritaki. Special features of this herb is to cure bleeding disorders (rakta pitta) and diabetes (prameha). It is aphrodisiac (virshya) and anti-ageing (rasayan). Its sour taste is used to pacify vata dosha, sweet taste and cool effects help to pacify pitta dosha and dry (rookash) and pungent taste pacifies kapha dosha in body. Hence this herb is used to make the equilibrium of tridosha. Virya of seeds and fruits are also same.
PRACTICAL USES OF AMLA (EMBLICA OFFICINALIS)
Amla is best anti-ageing herb (vayastapna).
It improves vision and good for overall health of eyes (chakshushya).
This herb is useful to pacify all three dosha (sarvangdosha) in various disorders of body.
It is very effective in various bleeding disorders (rakatpittaghna).
Amla is anti-diabetic and reduces sugar level in urine (premaghna).
The herb has aphrodisiac properties (virshya) and help to reduce burning sensation (dahahara).
This herb is very effective for heart (hirya) and also useful in fever (jwarghna).
It is used to improve voice, sore throat and various disorders related to throat (kanthya).
Amlaki powder is also used in the preparation of salt i.e vida lavana.
This herb protect us from various viral, fungal and bacterial infections.
CLASSICAL REFERENCE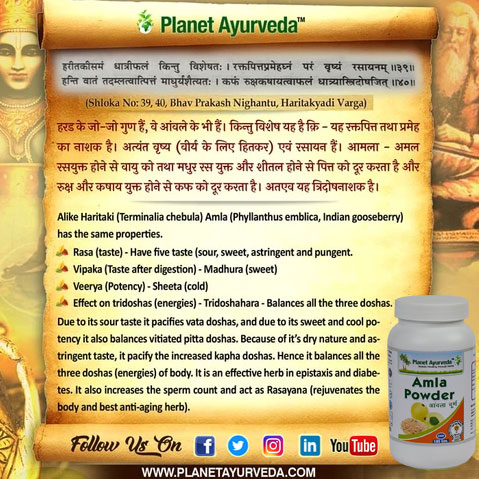 DOSAGE
Powder/churna – 1-3 gm
Saar/juice– 10-20 ml.
Chyawanprash – 1 teaspoonful in morning
AMLA PART USED
Amla Raw and dried fruit.
AYURVEDIC PREPRATIONS OF EMBLICA OFFICINALIS
Share On