AYURVEDIC TREATMENT OF ANGINA PECTORIS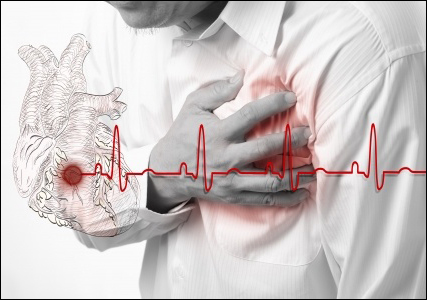 INTRODUCTION
We all know that eating loads saturated fats and leading a sedentary lifestyle can be damaging to our hearts, but today's supercharged lifestyle replete with cell phones, sky-high mortgage payments, and seven-day work weeks can also damage our hearts. Diet and lifestyle are major factors thought to influence susceptibility to many disorders.
ABOUT ANGINA PECTORIS
Chest pain is due to inadequate supply of oxygen to the heart muscles. Angina can be a precursor of heart attack. It is sensation of chest pain, pressure, squeezing, often due to ischemia of heart muscles from spasm of coronary arteries. Angina usually makes its appearance as a person reaches the age of 50 years and most often, it claims the life of person it affects. It is today one of the leading causes of deaths of people all over the world.
CAUSES OF ANGINA PECTORIS
Angina pectoris is blockage of blood arteries in the heart because of presence of cholesterol deposition, which further obstruct the blood supply to the heart muscles.
This could occur due to:-
Unhealthy diet
Stressful life
Smoking
Intake of alcohol
Diabetes
High blood pressure
Obesity
Physical inactivity
Family history
SYMPTOMS OF ANGINA PECTORIS
Nausea
Sweating
Fatigue
Breathlessness
Anxiety
Dizziness
Discomfort and pain in back, neck and shoulders
Chest pain
CLASSIFICATION OF ANGINA PECTORIS
Angina pectoris is classified into two types:-
Stable angina
Unstable angina
AYURVEDIC ASPECT OF ANGINA PECTORIS
Ayurvedic name of angina is HRITSHOOLA. It is derived from two words hirday means 'heart' and shool means 'thorn' or pain. So hritshoola means 'thorn in the heart'. Angina pectoris is due to aggravated kapha dosha. Kapha is heavy, dense, stable, sticky, wet and cold in nature. It controls weight and formation of seven tissues fluid, blood, fat, muscles, bones, marrow and reproductive tissues. In angina ama accumulates in hirdayvahi channels and cause blockage. Due to the blockage of heart channels vata dosha is aggravated. Vata symbolizes air or wind. It is dry, mobile, cool in nature and it cause pain in heart.
Following major causes trigger hirchool according to ayurvedic principle:-
Ativyaam- overexertion of body
Abhighaat- mental trauma
Bohjana – unhealthy diet
Patana – sudden fall or physical shock
Ativyavaya – repeated course of sex
HERBAL REMEDIES FOR ANGINA PECTORIS
Planet Ayurveda offers best combination of effective herbal remedies such as Heart Care Pack for ayurvedic treatment of angina pectoris. These herbal remedies are prepared from using best quality herbs and strictly follow the principles of Ayurveda. All these herbal remedies of Planet Ayurveda are 100 percent pure, natural and vegetarian. These are free from chemicals, additives and preservatives. These are safe to use as these are free from side effects.
PRODUCTS DESCRIPTION
1. ARJUNA CAPSULES
Arjuna capsule is a natural herbal supplement to treat heart problems. Arjun is used to prepare this dietary supplement. Arjun tree bark contains natural alkaloids and very effective to cure heart problems. Help in clearing the blockage of arteries.
DOSE - 2 capsules twice daily with water after meals.
2. ARJUN TEA
Herbal tea is delicious in flavor and soothing in aroma. It helps to lower the stress level and relaxation of mind. 100% pure and have no harmful effects. Herbs used to prepare arjun tea are Arjuna (Terminalia arjuna), Punarnava (Boerhavia diffusa), Pipal tvak ( Ficus religiosa), Dalchini (Cinnamon tamala), Choti elaichi (Elettaria cardamom).
DOSE - 1-2 cups twice daily.
3. TOTAL HEART SUPPORT
Total heart support is a natural and safe supplement for a healthy heart. It lowers down the level of cholesterol and keeps blood pressure normal. It gives very satisfactory results. Natural herbs used in this supplement are Ashwagandha ( Withania somnifera), Arjuna (Terminalia arjuna), Brahmi (Bacopa monnieri), Shankhpushpi (Convolvulus pluricaulis).
DOSE - 2 capsules twice daily with plain water after meals.
To buy Heart Care Pack, please visit store.planetayurveda.com/heart-care-pack.html.
HOME REMEDIES FOR ANGINA PECTORIS
WATER
Water is second home remedy to cure this problem. Drinking plenty of water per day detoxify our body.
FEENUGREEK
Soak fenugreek seeds can be soaked overnight in water and take them empty stomach lowers the cholesterol level.
GARLIC
Eating two or three raw garlic cloves on empty stomach lower blood pressure.
LEMON
Easily available home remedy is lemon. Try to include one lemon in your daily food supplements, to avoid the accumulation of fat and cholesterol in your body.
BASIL LEAVES
In India commonly known as Tulsi. Best way to chew basil leaves in morning to cure angina.
PARSLEY
Parsley is also an essential home remedy for treating angina pectoris. It can be taken in form of dried or fresh leaves. Parsley tea is also beneficial to cure angina.
FERMENTED FOOD
Fermented food like yoghurt and curd are very healthy for the patients of angina pectoris.
CARBOHYDRATES
Cereals, wheat and potatoes are in rich in carbohydrates. They are very beneficial for heart disorders.
ONION
Naturally raw onion is little bit harsh in taste, but if onion juice is taken in the morning, instantly brings down your cholesterol level.
GRAPES
These are known to strengthen the heart. They help to reduce the risk of heart attack and increase the quality of your breath.
AMLA
Amala has numerous health benefits. It helps in stimulating the blood supply by boosting the pumping of heart.
Simple home remedies can be very effective in preventing symptoms and further serious problems. Once disease reached its final stage of development, specific treated are required. Home remedies also play a vital role with the medicine prescribed by physician. Regular small walks also help to cure angina. In some cases a proper hygienic diet can be a home remedy. It reduces the severity of symptoms.
FOOD TO AVOID
Avoid fatty food and junk food.
Avoid salt in diet.
Avoid red meat like mutton, beef and pork.
Avoid alcohol and tobacco.
Share On