Aspartic acid - Uses, Benefits, Sources and Dosage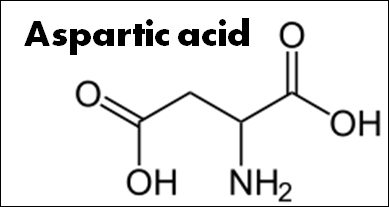 Aspartic acid is one of 20 proteinogenic amino acids. It is a non essential amino acid which means that body can produce this amino acid in the liver from food sources. It is found in the large quantities in brain, as it increases the neurologic activity. It plays a vital role in the metabolism and considered as the one of protein building block. During citric acid cycle, aspartic acid helps in the synthesis of other amino acids like arginine, lysine, asparagines, threonine, isoleucine and several nucleotides. It is also important in the process of chelating minerals to make their easy assimilation, digestion, utilization as in the potassium, calcium and magnesium. Aspartic acid also assists as regulator in the neuro endocrine system for the synthesis and release of hormones and neurochemicals.
Active Forms of Aspartic Acid
L-aspartate
L-aspartic acid
D-aspartic acid
D-aspartate
Function and Health Benefits of Aspartic Acid
In combination with other amino acids it forms the compounds which help in the absorption and removal of toxins from bloodstream.
It also plays a vital role in the neuroendocrine system as it helps in the secretion of prolactin, luteinizing hormone and growth hormones.
It helps to increase stamina of body and good for the depression and fatigue. Because chronic fatigue results due the low levels of aspartic acids.
It supports the good liver health as it helps in removal of excess ammonia.
It helps in the transport of minerals across the intestinal lining into the cells.
It also assists the function of DNA and RNA which carries the genetic information.
It increases the production of antibodies.
D – aspartic acid helps to increase the production of testosterone in males.
D – aspartic acid, plays role in menstrual cycle and ovulation in females.
Deficiency of Aspartic Acid
Aspartic acid deficiency leads to decrease in the cellular energy. Reduces stamina and chronic fatigue are the issues associated with this deficiency. It may also lead to depression. Amino acids help in the removal of excess ammonia from body so aspartic acid deficiency may results in the elevated ammonia levels in the blood. This condition is responsible for the damage to liver, brain and nervous system.
Food Sources of Aspartic Acid
Aspartic acid is found in the different types of plants and animal sources which are listed below:-
Sugar cane
Avocado
Asparagus
Soya beans
Almonds
Sugar beets
Oat flakes
Molasses
Sprouting seeds
Lentils
Peanuts
Flax seeds
Fish
Pork
Chicken
Egg
Soy milk
Milk
Luncheon
Sausage meat
Side Effects of Higher Intake of Aspartic Acid
Higher intake of aspartic acid may lead to higher levels of neurotransmitters which may cause the damage to sensitive neurons. Other side effects may include headaches, depression, diarrhea and mood swings.
Conclusion
D aspartic acid is the supplement, responsible to increase the levels of testosterone in men. It helps the men to become muscular faster. But excess use of D aspartic acid results in various side effects on health. So, one must take doctor's advice before using this.
Share On
MD (ALT. MEDICINE) View Profile