Ayurvedic Treatment of Atrial Fibrillation
About Atrial Fibrillation
Atrial fibrillation is characterized with irregular and rapid beating of atria. It's a kind of supraventricular tachycardia. It is a condition in which the heart rhythm becomes abnormal. It starts with brief episodes of irregular beat, and then over time, the irregular beat becomes longer and constant. This is the most common type of heart arrhythmia. Here the heart rate may increase to 100 to 200 beats per minute.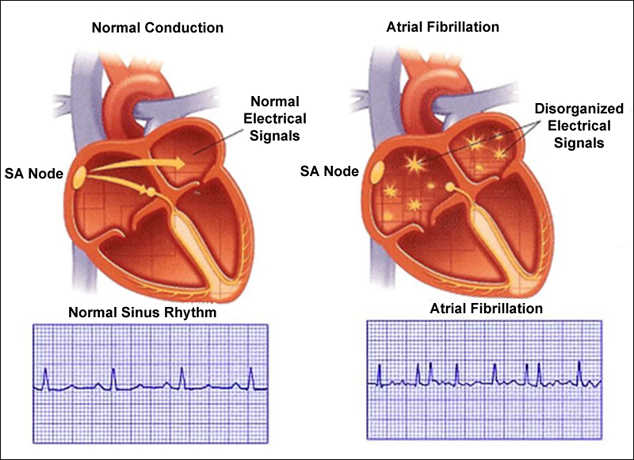 In a normal heart, the electrical impulses are generated by the SA node (sinoatrial node). This is propagated to the myocardium. Once the myocardium is stimulated, it contracts. This allows the heart to pump out the blood efficiently. In atrial fibrillation patients, the normal electrical impulses from the SA node is interrupted and corrupted by the disorganized impulses originating in the roots of pulmonary veins. This leads to abnormal heart beats.
Atrial fibrillation can be:
Occasional - Paroxysmal atrial fibrillation: symptoms will be in 'come and go' fashion. Lasting for few minutes to hours.
Persistent - Rhythm will not become normal on its own but can be reversed with medication and therapy.
Long standing persistent - Continuous and lasts for more than 12 months.
Permanent - Rhythm can't be restored. Treatment to increase the quality of life is recommended.
Causes of Atrial Fibrillation
Mostly certain cardiovascular conditions are the reasons behind atrial fibrillation. Excessive alcohol consumption:
Tobacco smoking
Obesity
Long term endurance exercises like marathon running or long distance bicycling especially in middle aged and elderly people.
High blood pressure
Coronary heart disease
Mitral stenosis due to rheumatic heart disease or mitral valve prolapsed
Left atrial enlargement
Previous heart surgery
Lung diseases like pneumonia, lung cancer, COPD etc.
Diabetes mellitus
Thyrotoxicosis
Viral infections
Sleep apnea
Genetic associations
Signs & Symptoms of Atrial Fibrillation
Often the onset episodes are asymptomatic. Later as the disease progresses the symptoms become more vivid. Symptoms include:
Rapid heart rate
Heart palpitations
Shortness of breath (while lying flat or sudden onset during night)
Light headedness
Dizziness
Confusion
Fainting
Chest pain
Increased risk for heart failure, dementia and stroke
Swelling in lower extremities
Respiratory distress due to congestion of lungs
Diagnostic Methods for Atrial Fibrillation
Complete history and physical examination
Blood tests - kidney function and electrolytes, TSH, blood count etc. should be monitored.  Coagulation studies should be done periodically.
Electrocardiogram - absence of P waves, irregular R - R interval, narrowing of QRS complex etc. may be noted.
Echocardiography (transthoracic) - significant enlargement of right and left atria.
Chest X - ray.
Atrial Fibrillation - Ayurvedic View
Ayurveda mentions a lot on Hrdroga. Queries on atrial fibrillation are dealt under hrdroga. Vata dominant tridosha dushti paves the way for atrial fibrillation. Treatment modalities and medicines are aimed to reduce the symptoms and increase the health of heart.
Herbal Remedies for Atrial Fibrillation by Planet Ayurveda
Planet Ayurveda gives best quality, safe and effective herbal remedies like Total Heart Support, Arjuna Capsules, Arjuna Tea, Gotu Kola Capsules for ayurvedic treatment of atrial fibrillation. These herbal remedies are prepared from using best quality herbs and strictly follow the principles of Ayurveda. All these herbal remedies of Planet Ayurveda are 100 percent pure, natural and vegetarian. These are free from chemicals, additives and preservatives. These are safe to use as these are free from side effects.
It is an effective cardiac tonic formulated by Planet Ayurveda. Standardized herb extracts included in this formulation are:-
Arjuna is one of the best cardiac tonics. It is used to improve heart functions from ancient time onwards (around 3000 years ago). Arjuna is very beneficial in treating cardiovascular diseases including heart diseases and chest pain, high cholesterol, and high blood pressure.
Ashwagandha is a potent Adaptogenic i.e. highly effective in managing stress. Ashwagandha is very popular for its capacity to lower the blood pressure and promoting heart health. It is also good enough to reduce the inflammation.
Brahmi can be regarded as heart tonic and also helps in rejuvenation. It also helps to relieve stress, detoxify body and boost the immune system. It's antioxidant property is very beneficial in treating cardiovascular diseases.
Shankhpushpi has psycho stimulant and tranquillizing properties. The psycho stimulant is made use to reduce the hypertension and tranquilizing effect in syncope. Also shankhpushpi helps to reduce the levels of non- esterified fatty acid (NEFA), which is the main cause for most of the heart diseases.
All these mentioned herbs are excellent for heart health as they help to increase the strength of myocardium (the muscle layer).
Dosage - 2 capsules twice daily after meals with lukewarm water.
These capsules are prepared from the standardized extract of terminalia arjuna. This is the best cardiac tonic ever known to the mankind. It is rich in coenzyme Q10. This enzyme helps the heart to boost its weakened muscles and thereby improving the heart functions. It helps to manage the symptoms of atrial fibrillation like angina, lightheadedness, irregular heart beat etc.
Dosage - 1 capsule twice daily after meals with lukewarm water.
It is an amazing formulation by Planet Ayurveda. Regular intake of the tea promotes overall health of the body. The herbs included are:
Arjuna (terminalia arjuna)
Punarnava (boerhavia diffusa)
Pipal bark (ficus religiosa)
Cinnamon (cinnamomum tamala)
Cardamom (elettaria cardamom)
Tea can be prepared either using milk or water. It is better to avoid sugar. 1 tsp. Arjuna tea is used for 2 cups of water. This is reduced to half. Strain well.
Dosage - 1 cup twice daily.
These capsules are prepared from the standardized herbal extract of centella asiatica. Atrial fibrillation can be considered as both physical and mental illness. Gotu kola plays a very beneficial role in heart diseases. Also these are effective in fatigue. As already mentioned, cardio vascular patient are more prone to be affected with blood clots and embolism. Gotu kola helps in dissolving these blood clots thereby increasing the venous sufficiency. It is also very useful in lowering the blood pressure and helps to resolve the atrial fibrillation symptoms including heart failure, angina, fatigue & syncope etc.
Dosage - 1 capsule twice daily after meals with lukewarm water.
Share On