Herbal Remedies for Baldness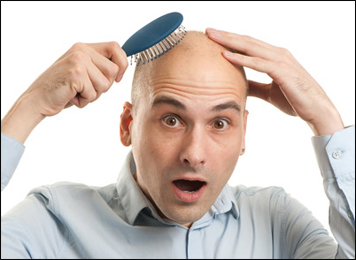 About Baldness
Baldness is also known as alopecia and it refers to hair loss from head. In this condition where a person loses its hair which localized to the front and top of the head. This problem starts from small area and eventually reaches to whole head.
Causes of Baldness
Baldness has various causes, its gradually increases with age. It can be the result of:
Infection
Dissecting cellulitis
Fungal infection
Folliculitis
Secondary syphilis
Drugs
Trauma
Pregnancy
Improper food habits
Hormonal changes
Emotional or physical shock
It may occur due to use of substances such as straighter, curler etc that may harm the hair due to heat.
Some major surgeries can lead to baldness
& Other causes
Symptoms of Baldness
Diagnosis of Baldness
Diagnosis is done based on the pattern of the hair loss and many clinics recommend hair analysis or scalp biopsy.
Skin biopsy can be done.
Herbal Remedies for Baldness by Planet Ayurveda
Planet Ayurveda provides best combination of effective herbal remedies such as Hair Care Pack for ayurvedic treatment of baldness. These herbal remedies are formulated from hundred percent natural herbs and pure herb extracts and are free from any chemical and preservatives. These herbal remedies do not contain any side effects.
DOSAGE / USAGE
Go Richh Protein Shampoo - Apply appropriate quantity of this shampoo to wet hair & scalp. Massage in circular motion & rinse well.
Radiant Skin Hair Nail Formula - 2 capsules twice daily, with water.
Hair Growth Formula - 2 capsules twice daily, with water.
Go Richh Hair Conditioner - After shampooing, gently apply along the length of wet hair from base to tip. Leave it for two minutes. Rinse thoroughly.
Go Richh Hair Oil - Apply hair oil every night. You can gently massage the scalp taking around 5-10 ml of oil.
Products Description
1. GO RICHH SHAMPOO
This particular shampoo is formulated using soya extract, aloe vera extract, pure honey, bhringraj extract, amla extract, jatamansi extract and many more herbs. All these herbs are helpful in curbing the hair fall and keep the hair hydrated. Also this shampoo improves the hair texture and prevents premature graying of hairs. The herbs used to formulate this particular herbal remedy make hair stronger, longer, and soft smooth and shiny. This herbal remedy does not contain any harmful sulphates, parabens and other chemicals.
2. Radiant Skin Hair Nail Formula
Radiant Skin Hair Nail Formula is a perfect blend of herbs such as Manjistha (Rubia cordifolia), Pitt papda (Fumaria officinalis), Chirayata (Swertia chiretta) and Ghrit Kumari (Aloe barbadensis). These help you to give bouncy, healthy and beautiful hair along with skin and nails. Herbs are proved beneficial in nourishing hair from the root level and repair broken, splitted and damaged hair. They nourish them and give natural strength and smooth texture. This formula when used regularly, removes dandruff and other impurities from scalp and let hair roots grow more with strong hair. All these herbs are cooling in nature which pacifies the pitta (heating factor) dosha in body which is root cause for all sort of hair problems according to Ayurveda.
3. Hair Growth Formula
This wonderful remedy is in the form of capsules that is made using various natural herbs that are Ashwagandha, Bhumiamala, Amalaki, Brahmi, Bhringraj, Yashtimadhu. These herbs are blended to create a herbal remedy that is effective and efficient for hair and to treat the problem of baldness. Today the main reason of baldness or hair fall is pollution, dust, harmful chemicals. Hair loss can further give rise to many problems such as thyroid, scalp and skin related problems. So this herbal remedy is of great help in the problem of baldness.
4. Go Richh Hair Conditioner
Go Richh Conditioner gives soft and bouncy hair with its natural ingredients. A small amount provides a smooth sheen to the hair giving it a healthy appearance. It works best if used after Go Richh Hair Shampoo.
5. Go Richh Oil
Go richh oil is considered very beneficial for relieving hair and scalp related problems. The herb Brahmi used in the formulation of this particular herbal remedy is considered as an anti-depressant. This herb removes physical and mental fatigue. It calms body and mind. This herbs also clears split ends in females and provides baldness, premature graying of hair and hair loss. This herbal remedy can be used by both males and females. This herbal remedy also provides relief from tension and anxiety. In the preparation of this herbal remedy, standardized herbs are used with no extra colors or chemicals. As it is formulated using natural ingredients, there are no side effects of this herbal remedy.
To buy Hair Care Pack, please visit store.planetayurveda.com/hair-care-pack.html.
So these are the herbal remedies and the usage and dosage to be taken. Regular use is recommended without any gap for better results.
Dietary Recommendations
Avoid junk food.
Avoid smoking or consumption of alcohol.
Avoid consumption of tea or coffee.
Coconut water intake is considered good.
Using cow's ghee is recommended instead of any other oil as these contain essential nutrients that are good for hair.
Drink plenty of water.
Fresh fruits and plenty of green leafy vegetables is recommended.
Mental stress, anxiety and depression should be controlled.
Diet to be taken: Not only these herbal remedies but it is suggested to take a proper diet that may help by providing essential nutrients to the body.
Share On