Ayurvedic Treatment of Bilateral Sacroiliitis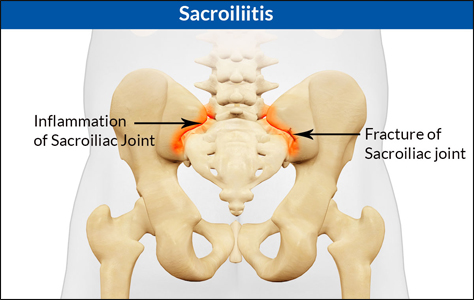 In this 21st century where our life styles are so advanced that for every work we have the technologies, which make things easier. With this advancement, levels of expectations are also increased in all fields. We can say that in 21th century there is a progression in health complications too. Bottom line of this article is bilateral sacroiliitis. Many people haven't heard the name of this disease. Bilateral sacroiliitis is the inflammation of sacroiliac joints. Most of the time, people mistaken it as lower back pain. So here we are discussing the various aspects of bilateral sacroiliitis.
About Bilateral Sacroiliitis
Sacroiliitis is defined as tenderness in the sacroiliac joints which are located in the lower spine and pelvic connects. Sacroiliac joint are the connections between spine to pelvis and lower skeleton. It results in the pain in lower back or buttocks and this pain can extend down to legs, groin and feet. Sacroiliitis is associated with various diseases like ankylosing spondylitis, reactive arthritis and psoriatic arthritis.
Causes of Bilateral Sacroiliitis
Prolonged standing.
Running
Stair climbing can cause the severe pain.
Injury - This problem is mainly caused by accident or injury that affects the buttock and pelvic region.
Pregnancy - Women after pregnancy are more prone to develop the sacroiliitis because female's pelvis is stretch during baby birth.
Other causes may include degenerative arthritis.
Complications
Sacroiliitis is difficult to diagnose and can be assumed as lower back pain problem. So delaying in the treatment of sacroiliitis can cause the serious health complications like difficulty in breathing, lungs infections and heart complications.
How Bilateral Sacroiliitis Can Be Diagnosed?
Common techniques which are used to identify the sacroloitis are X- ray chromatography and (CT) computerized tomography which are helpful to diagnose the changes in the bone structure. With the use of these techniques diagnosis is delayed for many years. Whereas Single Photon Emission Computerized Tomography (SPECT) helps to find out the changes in the vascularity and joints. Magnetic Resonance Imaging (MRI) helps to reveal the invasions on cartilage and bone marrow edema which are indications of sacroilitis. These two techniques SPECT and MRI are beneficial to diagnose the sacroiliitis in the early stages.
Herbal Remedies for Bilateral Sacroiliitis by Planet Ayurveda
Planet Ayurveda provides best combination of effective herbal remedies such as Joint Support Pack for ayurvedic treatment of bilateral sacroiliitis. These herbal remedies are prepared from using best quality herbs and strictly follow the principles of Ayurveda. All these herbal remedies of Planet Ayurveda are 100 percent pure, natural and vegetarian. These are free from chemicals, additives and preservatives. These are safe to use as these are free from side effects.
DOSAGE
Bone Support - 1 Capsule twice daily with lukewarm water, after meals.
Boswellia Curcumin - 1 Capsule twice daily with lukewarm water, after meals.
Yograj Guggul - 2 Tablets twice daily with lukewarm water, after meals.
Coral Calcium Complex - 1 Capsule twice daily with lukewarm water, after meals.
Product Description
1. BONE SUPPORT
Herbal remedies for bilateral sacroiliitis offered by Planet ayurveda contains a wonderful pack named as bone support. This herbal product is the combination of various ingredients like Sudh laksha (Laccifer lacca), Suhanjana beej (Moringa oliefera), Hadjod (Cissus quadrangular), Arjun (Terminalia arjuna), Praval pisti (Corallium rubrum) and Mukta (compound of pearl calcium).
Sudh laksha (Laccifer lacca) – According to ancient ayurveda, sudh laksha helps to pacify the toxins in the bone tissues. It is highly rich in calcium compounds. It helps for the calcium deposition in bones and provides strength and energy to bones.
Suhanjana beej (Moringa oliefera) – This herb has great medicinal importance since ancient time. Suhanjana beej herb is the natural source of calcium which has miraculous effects on bone disorders. It provides the strength to bone and make them healthy.
Hadjod (Cissus quadrangular) – This plant contains a large amount of calcium which is beneficial to increase the bone density so helps to improve the bones strength and functioning.
Arjuna (Terminalia arjuna) – Arjuna is also considered to increase the bone strength and improves the low bone density.
Praval pisti (Corallium rubrum) – Paraval pisti helps to balance vata, pitta and kapha. It is rich in calcium thus quite effective to provide relief in bone related disorder.
Mukta (Pearl calcium compounds) – Pearl is also a natural source of calcium and helps to prevent the bone loss.
2. BOSWELLIA CURCUMIN
Boswellia Curcumin are polyherbal capsules formulated by planet ayurveda using ingredients such as Shallaki and Turmeric. Both of these have an effect on various types of joint disorders and eases muscle stiffness and has a great effect on inflammation which is commonly associated with joints. It helps to prevent the degenerative changes which are due to degenerative changes which is commonly seen in Spondylitis and other types of arthritis hence improves the mobility of joints.
3. YOGRAJ GUGGUL
Yograj Guggul are herbal tablets which are formulated by planet Ayurveda which is best in managing the various joint disorders. It has various ingredients such as Amalaki (Embilica officinalis) , Guggul (Commiphora mukul) and many more. It helps to eliminate the vata doshas and helps to eliminate the various symptoms such as Lower back ache, swelling in fingers and toes. Yograj Guggul is also helpful in worm infestation, strengthening, and increasing the digestion power.
4. CORAL CALCIUM COMPLEX
Coral complex is also effective in joint pains and give the satisfactory results in the case of bilateral sacroiliitis. This herbal product also contains the wonderful blend of various natural ingredient which are discussed in detail below:-
Parval pisthi (Coral) – Praval pisti is the rich source in calcium. So it is quite effective to treat various bone disorders like osteoporosis. It helps to provide strength to bones.
Kamdudha ras – Kamdudha ras is a natural compound which helps to balance the pitta dosha. Because the pitta dosha is responsible to maintain the high bone density.
Mukta pishti (Pearl) – Mukta pishti is the richest source of calcium. It is effective to provid relief in joint pains.
Jawar mohra pishti – This natural compound has the cooling properties in nature thus provide relief ininflmmations and joint pains.
Akki pishti – This natural compound provides the pleasing effects in osteoporosis and helps to increase the bone density.
To buy Joint Support Pack, please visit store.planetayurveda.com/products/joint-support-pack
Guidelines
"We all know that prevention is better than cure"
Here are some suggestions which are quite beneficial to manage the symptoms associated with bilateral sacroiliitis:-
Proper rest helps to reduce the inflammation in sacroiliac joints.
Application of cold pack to the affected area helps to calm the inflamed area. Whereas heating pads help to increase the blood flow and nutrient supply to affected area for healing purpose.
Proper sleeping position helps to reduce the pain in sacroiliac joints. Best way is to keep a pillow between the knees to maintain the proper alignment of hips.
Share On