How to Make Cow Ghee at Home?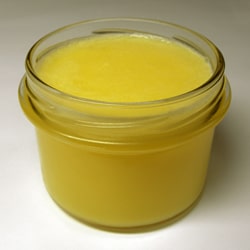 Introduction
Cow ghee, according to ancient Ayurveda, is full of essential nutrients and fatty acids. It possesses anti-oxidants, antiviral, antibacterial and anti-fungal properties. This ghee is cool, sweet and full of saturated fat and has several more health benefits.
Requirements
Fresh cream - 1 kg. (Collected from 4-5 gallons of raw milk of cow for a couple of weeks)
4-5 cups of water
How to make and collect Fresh Cream?
First of all you are required to collect the fresh cream. For this, you have to follow this step:
Boil raw milk of cow on a medium flame. When it starts rolling and raises, then simmer down the flame and boil for another 2 minutes. And then allow this milk to cool and refrigerate it. On the next day, you will find a thin layer of cream or Malai floating on the top.
You have to scoop out this layer of cream using spatula or you can collect it using a strainer. As this cream is pure and homemade and hence is much better way to make ghee.
How to make Butter using Cream?
In a blender, add cream and one and half cups of water and then churn well.
Don't run the blender more than 30 seconds as it will heat up the cream.
Separate the blob of butter from the buttermilk using a strainer. Wash this butter with water and again churn it for 1 minute with one cup of water in a blender. Now you will not get enough buttermilk.
Now again drain the buttermilk in another container and you are now with pure butter.
How to make Ghee using Butter?
Now, take a thick bottom pan and add the collected butter to it. Cook it on a low medium flame.
You will notice the white milk solids floating on the top of the pan. The liquid will appear cloudy at the beginning.
Later on, the liquid will become soapy and foamy. Continue cooking on low, medium heat.
Milk solid will slowly settle down on the bottom of the pan and the liquid become thinner.
Continue cooking it for another few minutes and foams will get disappear and the liquid gets thinner and clearer.
Liquid may appear cloudy again and then you have to cook for another few minutes.
When the milk solids turns golden brown in color and clear bubbles are visible, then turn off the flame. Fresh homemade cow ghee is ready.
Allow the ghee to cool and strain it using a strainer into a clean and dry container.
How to use Cow Ghee?
You can use this cow ghee in cooking food or you can take two teaspoonful of ghee on your cooked food in breakfast or lunch or in dinner.
Warm the ghee, if it is in a solid state.
Keep in mind, older the cow ghee, the more effective it will.
Benefits of Cow Ghee
Cow ghee encourages digestion by revitalizing secretion of enzymes. It is easy to be absorbed and metabolize as it contains low fatty acids.
Improves bone development as it enhances the strength in bane and the stamina. Very helpful in healthy growth and development of bones and brain, also maintaining their normal functioning.
Cow ghee is full of vitamin K2 which reduces the calcium deposition in the arteries, It works in protecting arteries.
Gaining and loosing of weight is balanced and managed by cow ghee.
Cow ghee is considered as best nourishment to youngsters for their healthy development and strengthening of bones, muscles, brain and teeth etc.
This ghee is very effective in improving eye sight. In Panchkarma tarpan procedure is done to increase the vision.
Cow ghee increases the immunity which helps the body to fight against various infections.
A lady taking cow ghee regularly during her pregnancy period gives her strength to get the delivery normal as it nourishes her body.
Indications for Ghee
Promotes memory
Promotes intelligence / wisdom
Enkindles agni / digestive capacity
Promotes ojas / vitality
Promotes kapha / medas
Cures diseases of kapha / medas
Alleviates Vata
Alleviates Pitta
Poison
Insanity
Epilepsy
Phthisis (tuberculosis)
Upward moving Vata in alimentary tract
Colic, constipation/gas
Tumors
Sinus Ulcers
Fever
Cow ghee has no side effect but excess of anything is bad.
Share On