Diet Plan for Digestion Support
Digestion is the process of breakdown of food into small molecules so that they can be absorbed by the blood stream. Indigestion happens when the taken meal is unable to digest in a stimulated time. And then the most common problems of the digestive tract arises such as discomfort, fullness, pain, bloating, indigestion, acidity, constipation and heart burn. An unhealthy diet or lifestyle can cause above digestive issues. Bad eating habits and unhealthy diet, such as eating too quickly or skipping meals are responsible for arising Digestive disorders.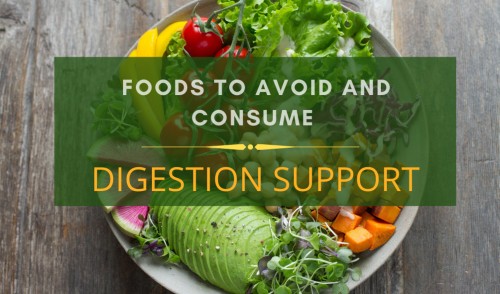 DIET CHART FOR DIGESTION SUPPORT
EARLY-MORNING
Fennel water / Lukewarm water
BREAKFAST
Broken wheat porridge / Veg Semolina (veg upma) / Veg Vermicelli / Missi Roti /Veg poha / Chapatti with Veg or Dal / Occasionally (Stuffed Chapatti)
MID-MORNING
Herbal tea / Any Fruit / Coconut water
LUNCH
Chapatti / Rice / Salad / Vegetable / Dal / Veg Khichri / Veg Dalia
EVENING
Homemade soup / Herbal tea / Green tea / Lemongrass tea
DINNER
Chapatti / Boiled rice / Veg Khichri / Veg Dalia + Vegetable + Dal
BED TIME
Fennel seeds with water
DIET INSTRUCTIONS
CEREALS
Cereals to be consumed
Wheat, White rice, Semolina, Vermicelli, Millets
Cereals to be avoided
Refined flour and its products
FRUITS
Fruits to be consumed
Apple, Banana, Water melon, Muskmelon, Pear, Pomegranate, Papaya
Fruits to be avoided
Citrus fruits, Mango, Dates, Litchi, Canned fruits and juices
VEGETABLES
Vegetables to be consumed
Pumpkin, Ginger, Celery, Ridge gourd, Round gourd, Red onion, Zucchini, Coriander, Radish, Cabbage, Cauliflower, Carrot, Peas, Fenugreek leaves, Tomato, Potato, Bottle gourd, Bitter gourd, Turnip, Squash
Vegetables to be avoided
Sweet potato, Jackfruit, Capsicum, Raw Salad, Garlic, Taro root, Kale, Mushrooms, Spinach, Yam, Okra, Canned vegetables and frozen vegetables
PULSES
Pulses to be consumed
Split pulses only
Pulses to be avoided
Whole pulses
DAIRY PRODUCTS
Dairy Products to be consumed
Curd, Yogurt, Buttermilk (occasionally)
Dairy Products to be avoided
Milk, Tofu, Full-fat yoghurt, Cream cheese, Condensed milk, unpasteurized cheese
SPICES
Spices to be consumed
Cumin, Coriander, Turmeric, Ginger, Black pepper, Fennel, Rock salt, Cinnamon, Cloves
Spices to be avoided
Red chilies
DRINKS
Drinks to be consumed
Coconut water, Sugarcane juice, homemade soups, Green juice, Herbal tea, Buttermilk
Drinks to be avoided
Whole milk drinks, Cream based liqueurs, canned soup and packaged soup, Alcohol, Sweetened drinks, Squashes, Carbonated drinks.
FLESH FOODS
Flesh Foods to be consumed
Egg white occasionally
Flesh Foods to be avoided
Processed and fried meat, Red meat, Fish Turkey, Rabbit, Fish Roe, Mutton, Salami, Duck, Goose
SEEDS AND DRY FRUITS
Dry Fruits to be consumed
Almonds
Dry Fruits to be avoided
Pistachio, Cashew, Peanuts, Raisin, Walnut, Pumpkin Seeds, Chia Seeds, Flax Seeds, Sunflower Seeds, Sesame Seeds
OILS
Oils to be consumed
Cow ghee, Mustard oil, Rice bran oil
Oils to be avoided
Cream, Palm oil, Butter, Sunflower oil, Canola oil
OTHER FOODS
Other Foods to be consumed
Jaggery
Other Foods to be avoided
Bakery and Processed Foods, Fried Food, Junk Food, Pickles, Artificial Sweeteners, Packed Soups, Sauces, Refined Sugar
LIFESTYLE AND DIETARY TIPS
Follow regular and balanced meal pattern.
Water intake should be increased at least 8-10 glasses.
Increase physical activity and exercise.
Walk for at least 30-45 minutes.
Whole fruit should be preferred than fruit juices.
Skipping meals should be avoided, especially the breakfast.
HOME REMEDIES FOR DIGESTION SUPPORT
Warm water - Take one glass of hot water in the morning or sip it throughout the day.
Ginger tea - Boil 1-2 ginger slices in 2 cups of water till it's reduced to 1 cup.
Fennel seeds - Soak around 10-20 fennel seed in water overnight. Strain and drink it in the next morning on an empty stomach.
Herbal Tea - Boil ½ tsp each of fennel, coriander, cumin in 3 cups of water till it's reduced to 1 cup.
Chamomile tea - Drink a one cup of tea throughout the day.
Mint and Holy basil leaves - Boil 4-5 mint leaves and 4-5 holy basil leaves + ½ tsp of turmeric in 2 cups of water till it's reduced to 1 cup.
Share On