DIET CHART FOR HYPOTENSION
INTRODUCTION
Low blood pressure or hypotension may cause inadequate blood flow to the heart, brain, and other vital organs. Low blood pressure is a condition where the systolic and diastolic pressure falls below 90 and 60 (mmHg) respectively. A low carbohydrate, high fiber, and low fat diet, is recommended to hypotension patients. Salty foods can increase blood pressure. A healthy and well balanced diet that is low in fat, high in fiber and moderate in calories is beneficial. Avoid eating lots of high carbs foods, unhealthy fats, fried food, junk food, processed foods, and preserved foods, caffeine, and alcohol as they can lead to low blood pressure.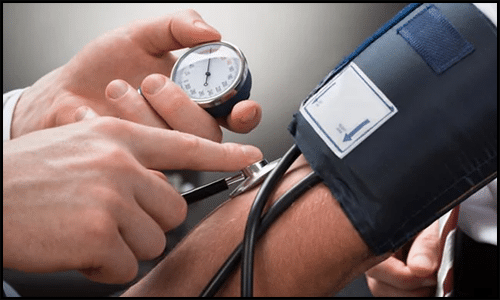 DAILY DIET SCHEDULE
EARLY-MORNING
8-10 pieces soaked raisins + Almond- 5 pieces
After 15 min - Tulsi tea / Herbal tea
BREAKFAST
Broken Wheat Porridge (Dalia) / Semolina (Veg Upma) / Vermicelli (Sewian) / poha (Rice flakes) / Besan chila (chickpea flour) / Veg / Suji chila (Semolina) / Stuffed Chapatti / Chapatti with veg or Dal / 1- egg's white part only
MID-MORNING
Fruit / Coconut water / Herbal tea / Green tea / Salad
LUNCH
Plain chapatti / Mix chapatti / Boiled Rice / Veg + Dal + Curd + Steamed salad
EVENING
Herbal Tea / Green tea / Roasted Chana + Rice flakes / Sprouts / Carrot juice
PRE DINNER
Soups (Home-made)
DINNER
Plain chapatti / Veg khichri / Veg Dalia / Mix chapatti / Boiled Rice / Veg + Dal
FOODS TO CONSUME AND AVOID
CEREALS
TO BE CONSUMED
Whole grains cereals, Wheat, Semolina, Vermicelli, Brown rice, Rice flakes, Puffed rice, Barley, Quinoa, Millets
TO BE AVOIDED
Refined flour, White rice
PULSES
TO BE CONSUMED
All Pulses and lentils
TO BE AVOIDED
Dried and frozen pulses
VEGETABLES
TO BE CONSUMED
All vegetables Zucchini, Pumpkin, Ginger, Celery, Eggplant, Red onion, Coriander, Potato, Radish, Broccoli, Cauliflower, Kale, Cabbage, Spinach, Beets, Celery, Lettuce, Parsley ,Turnip, Pumpkin, Cucumber, Lima beans.
TO BE AVOIDED
Canned vegetables, Yam, Sweet potatoes, Taro roots, Jackfruit, Dried beans
FRUITS
TO BE CONSUMED
All fruits include Grapes, Cherries (Sweet), Lemon, Apricots, Banana, Guava, Papaya, Apple, Sapodilla, Plum, Pomegranate, Pear, Dates.
TO BE AVOIDED
Orange (sour), Pineapple, Strawberries, Peaches, Prunes, and Canned fruits
DAIRY PRODUCTS
TO BE CONSUMED
Low-fat milk and Buttermilk (occasionally)
TO BE AVOIDED
High fat milk, Whole milk and cream, Butter, Full-fat Yogurt, Cheese, Cream cheese, Condensed milk
FLESH FOODS
TO BE CONSUMED (ONCE IN FIFTEEN DAYS)
Eggs white part only, Roasted or Grilled fish, Lean meat, Cold fish like Sardines, Salmon, Tune, Mackerel, Herring, and Skinless chicken
TO BE AVOIDED
Red meat, Processed, Fried meat, Beef, Pork, Prawns, Lobster, Crab, Lean beef, Pork, Lamb, Ham, Turkey, Veal, Rabbit, Egg yolk, Fish roe, Sausages, Mutton, Salami, Bacon, Duck, Goose, Meat pies, Visible fat on meat, Organ meat like Liver, Kidney, Chest, Red meat, Smoked or Canned fish, and Fatty Meats
FATS
TO BE CONSUMED
Cow ghee, Mustard oil, Olive oil, Soybean oil
TO BE AVOIDED
Trans fat foods, Butter, Palm oil, Hydrogenated oil
DRY FRUITS / SEEDS
TO BE CONSUMED
Almond, Raisins, Pumpkin seeds, Brazil nuts, Sesame seeds
TO BE AVOIDED
Chia seeds, Cashew nuts, Dried fruits
SPICES
TO BE CONSUMED
Fennel, Turmeric, Cumin, Thyme, Black pepper, Coriander, Rock Salt (limited), Cardamom, Cinnamon, Fenugreek
TO BE AVOIDED
Excess amount of red chilies
OTHER PRODUCTS
TO BE CONSUMED
Jaggery, Honey
TO BE AVOIDED
All bakery products or processed, Sauces, Fruit jellies, Jams, Mayonnaise, White sugar, Ice-cream, Cream soups, Butter scotch, Coconut bar, Chutneys, Deep fried foods, All Spicy foods, Junk foods, Buttered popcorn.
DRINKS
TO BE CONSUMED
Coconut water, Buttermilk, Clear soups, homemade soups, Lemon juice, Green tea, Beetroot juice, Soy milk, Herbal tea, Aloe Vera juice, Gooseberry juice, Pomegranate juice
TO BE AVOIDED
Whole milk drinks, Cream based liqueurs, Canned soup and Packaged soup, Alcohol, Sweetened drinks, Squashes, Hot chocolate drinks, Diet soda, Coffee, and Tea
HOME REMEDIES
RAISINS
Soak around 8 – 10 raisins in a cup of water overnight and eat them in the morning on an empty stomach.
HOLY BASIL (TULSI)
You can chew 4 – 5 basil leaves in the morning on daily basis or drink a teaspoon of tulsi with honey daily on an empty stomach.
LEMON JUICE
Drink a glass of lemon juice mixed with a little sugar and salt to control your blood pressure.
GARLIC
You can eat raw garlic (2 cloves) 1 hour before bed time or can add it to your food preparations.
MILK AND ALMONDS
Soak 4–5 almonds in water overnight, peel off the skin in the next morning and make a smooth paste. Add this paste to a cup of boiling milk and drink it every morning for a few weeks to treat your low blood pressure.
CARROTS
Add two tablespoons of honey to a glass of carrot juice. Drink it on empty stomach twice a day (morning and evening) for better results.
DIET TIPS
Water intake should be 8-10 glasses
Walk / Physical activity for 30 min is recommended.
Small and frequent meals should be taken
Whole fruit should be preferred to fruit juices.
Skipping of meals should be avoided especially breakfast.
Share On
Author Bio:
Dr. Meenakshi Chauhan
MD (ALT. MEDICINE)
View Profile
Reviewed By:
Dr. Vikram Chauhan
MD (AYURVEDA)
View Profile