Ovarian Cysts And Fibroids
Diet Chart For Ovarian Cysts And Fibroids
An Ovarian cyst can be defined simply as a small sac filled with fluid that forms within the ovaries of a woman. Ovarian cysts can be quite painful and cause unpleasant sensations. However, ovarian cysts can become malignant or cancerous in certain cases but most of them are benign. They can cause pain, and heavy menstrual bleeding and may result in infertility.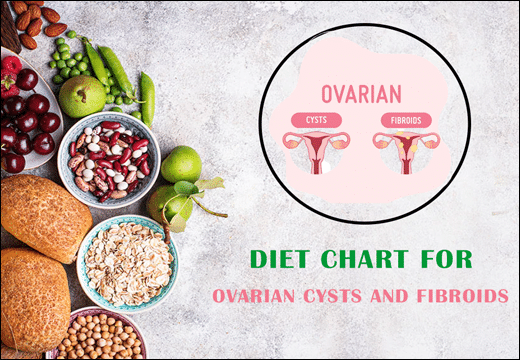 AVOID
ALLOWED TO TAKE

DAIRY PRODUCTS

DAIRY PRODUCTS

All Milk and Milk Products to be Avoided

Nill

FRUITS

FRUITS

Banana, Mangoes, All Citrus Fruits Like

Prunes, Papaya, Avocado, Apples, Pear, Blueberries, Apricots

VEGETABLES

VEGETABLES

Canned & Frozen Vegetables, Raw Vegetables, Raw Salads, Overcooked Vegetables

Prefer Steamed Vegetables, Freshly Cooked Warm Vegetables such as Broccoli, Cauliflower, Brussels Sprouts, Artichokes, Green and Red Bell Peppers, Beans, Turnip Greens, Cabbage, Sweet Potatoes, Potatoes, Garlic, Onion, Carrot, Spinach, Kale, Peas, Pumpkin, Tomatoes (limited)

CEREALS

CEREALS

Refined Whole Grains, White Refined Flour and its Products, White Rice, Gluten Rich Grains

Brown Rice, Whole Wheat Oats, Sorghum Millets, Browntop Millets, Foxtail Millets, Kodo Millets, Barnyard Millets, Little Millets

PULSES

PULSES

All Other Lentils

Yellow Lentils, Green Lentils, Bengal Gram, Legumes

DRY FRUITS & SEEDS

DRY FRUITS & SEEDS

Peanuts, Cashew

Almonds, Walnuts (Soaked in Water Overnight), Brazil Nuts, Figs, Flax Seeds, Hemp Seeds, Sunflower Seeds

OILS - SPICES

OILS - SPICES

Unsaturated Fats, Refined Oil, Excess Salt, Green & Red Chili

Note: Nearly all the Spices are to be Limited. Only Plain and Simple Food is to be Preferred.

Cow's Ghee, Turmeric, Fennel, Cumin, Coriander, Fenugreek Seeds, Black Pepper, Olive Oil, Almond Oil

NON-VEG / FLESH FOODS

NON-VEG / FLESH FOODS

Avoid All Non-Vegetarian Food

Nill

OTHERS

OTHERS

Packaged, Canned, Processed, Fried, Spicy, Junk and Bakery Products, Refined Sugar, Cream-based Liquors, Alcohol, Soft drinks, Squashes, Jams, Sauces, Pickles, Coffee, Tea, Chocolates

Honey, Jaggery, Coconut Water, Barley Water, Aloe Vera Juice, Ginger Juice, Wheatgrass Juice, Apple Juice
OTHER TIPS / RECOMMENDATIONS
Food items not mentioned in this diet chart can be consumed in moderation.
As a General, all kinds of artificial, packed, industrial, and processed food items should be avoided.
Behavior plays an important role in preventing diseases, so keep yourself away from negative thoughts, anger, greed, and Ego.
Note: Full Body Massage and especially Back Massage with Dhanwantharam Oil helps in Improving Kidney Circulation, so Masasaging twice or thrice a week is Recommended.
Share On
MD (ALT. MEDICINE) View Profile