Diet Plan for Anal Fistula
Anal fistula is a narrow tunnel with its internal opening in the anal canal and its external opening in the skin near the anus. If there is infection in the anal canal a channel is build and there is oozing of pus. The tract formed by this process is called fistula. It is very irritating and painful because of drainage of pus. Low fiber diet, poor and unhealthy life style and stress are the main causes to fistula. Constipation is one of the major causes to this and high fiber diet is beneficial in fighting with anal fistula.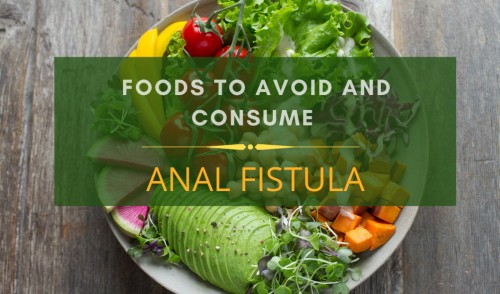 DIET CHART FOR ANAL FISTULA
EARLY-MORNING
Warm water / soaked almonds or Walnuts.
BREAKFAST
Broken wheat porridge / Veg Semolina (veg upma) / Veg Vermicelli / Veg Idli / Semolina pancake / Besan pancake (gram flour) / Missi Roti / Oats / Stuffed Chapatti / Chapatti with Veg or Dal / Egg white
MID-MORNING
Fruit / Fruit juice / Herbal tea / Coconut water / Coconut milk
LUNCH
Chapatti + Brown Rice + Salad + Vegetable + Dal
EVENING
Roasted chane / homemade soup / Vermicelli / Herbal tea
DINNER
Chapatti + Vegetable + Dal
BED TIME
NIL
DIET INSTRUCTIONS
CEREALS
Cereals to be consumed
Wheat, Oats, Quinoa, Brown rice, Ragi
Chapatti ratio - Wheat flour (50%), Black chana (20%), Bran (10%), Soybean (20%)
Cereals to be avoided
White bread, Whole refined flour and its products, White rice, Whole wheat, Sorghum, Corn
FRUITS
Fruits to be consumed
Apple, Pear, Watermelon, Pineapple, Coconut, Litchi, Papaya, Sapodilla, Peach, Plums
Fruits to be avoided
Banana, Persimmon
VEGETABLES
Vegetables to be consumed
Pumpkin, Peas, Cabbage, Cauliflower, Green leafy vegetables, Radish, Turnip, Tomato, Bean, Potato, Car, Beetroot, Broccoli, Beans, Bitter gourd, Ridge gourd.
Vegetables to be avoided
Okra, Frozen vegetables
PULSES
Pulses to be consumed
All pulses and legumes
Pulses to be avoided
Nil
DAIRY PRODUCTS
Dairy Products to be consumed
NIL
Dairy Products to be avoided
Whole milk and cream, full fat yoghurt, Cheese, Cream cheese, Condensed milk
SPICES
Spices to be consumed
Cumin, Coriander, Turmeric, Anise, Fennel, Clove, Cinnamon
Spices to be avoided
Red chili, Green chili
DRINKS
Drinks to be consumed
Homemade vegetable and fruits juice, Green juice, Coconut water, Herbal tea, Sugarcane juice
Drinks to be avoided
Canned soup and packaged soup, Alcohol, Carbonated drinks.
FLESH FOODS
Flesh Foods to be consumed
Egg, Roasted or grilled meats, Chicken or Fish (Ocassionally)
Flesh Foods to be avoided
Red meat, fried chicken or fish
SEEDS AND DRY FRUITS
Dry Fruits to be consumed
Almonds, Walnuts, Flax seeds, Chia seeds, Pumpkin seeds, Raisins
Dry Fruits to be avoided
Nil
OILS
Oils to be consumed
Cow ghee, canola oil, Olive oil, Mustard oil
Oils to be avoided
Coconut oil, butter, Palm oil
OTHER FOODS
Other Foods to be consumed
Honey, Jaggery
Other Foods to be avoided
All bakery and processed foods, Pastries, Burger, Pizza, Biscuit, Refined flour, fried food, Junk food.
LIFESTYLE AND DIETARY TIPS
Do not eat heavy meals.
Drink plenty of water.
Avoid eating spicy and junk food.
Take well- balanced Diet.
Skipping meals should be avoided.
Consume high fiber diet.
Share On