Diet Plan for Heart Diseases
Heart diseases is a broad term comprising of spectrum of diseases associated with disorders of circulation, heart muscle and vessels of the heart. There are many types of heart diseases which affect different areas of the circulatory system. The common causes of heart disease are high cholesterol level, obesity, diabetes, hereditary, smoking, high- fat and high - sodium diet. So, the diet should be low in fat, especially saturated fat and low in sodium in case of Heart problems.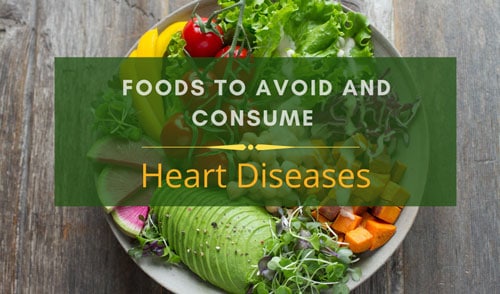 DIET CHART FOR HEART DISEASES
EARLY-MORNING
Warm water + Soaked almonds
BREAKFAST
Broken wheat porridge / Veg Semolina (veg upma) / Veg Vermicelli / Veg poha (Rice flakes) / Veg Idli / Veg Oats / Besan pancake (Gram flour) / Missi Roti / Chapatti with Veg or Dal /Skimmed Milk / Egg white
MID-MORNING
Fruit / Fruit or vegetable juice / Coconut water / Herbal tea
LUNCH
Chapatti + Brown rice + Salad + Vegetable + Dal / steam chicken
EVENING
Roasted chane / Rice flakes / Homemade soup / Vermicelli / Herbal tea
DINNER
Chapatti + Vegetable + Dal
DIET INSTRUCTIONS
CEREALS
Cereals to be consumed
Wheat, Brown rice, Buckwheat, Barley
Cereals to be avoided
Refined Cereals
FRUITS
Fruits to be consumed
Apples, Cherries, Apricot, Avocadoes, Raspberries, Blackberries, Oranges, Banana, Cantaloupe, Black grapes, Peaches, Kiwi, Squash, Pomegranate
Fruits to be avoided
Canned fruit
VEGETABLES
Vegetables to be consumed
Broccoli, Sweet potatoes, Spinach, Asparagus, Bell peppers, Onions, Garlic, Ginger, Beans, Pumpkin, Zucchini, Peas, Carrots, Potatoes.
Vegetables to be avoided
Canned vegetables
PULSES
Pulses to be consumed
Lentils, Soybeans
Pulses to be avoided
Nil
DAIRY PRODUCTS
Dairy Products to be consumed
Low-fat milk
Dairy Products to be avoided
Full fat milk, Cheese, Yogurt
OILS
Oils to be consumed
Olive oil, Cow ghee, Soybean oil
Oils to be avoided
Palm oil, Coconut oil, Hydrogenated oil
SPICES
Spices to be consumed
Turmeric, Fenugreek, Cardamom, Cumin, Coriander, Cinnamon, Black pepper.
Spices to be avoided
Table salt
DRINKS
Drinks to be consumed
Coconut water, homemade soups, Green tea, Soy milk, Herbal tea (Arjuna Tea), Beetroot juice, Pomegranate juice, Amla juice
Drinks to be avoided
Whole milk drinks, Caffeine, Canned soup and packaged soup, Alcohol, Sweetened drinks, carbonated drinks
FLESH FOODS
Flesh Foods to be consumed
Egg white, Grilled Salmon and Rohu, Skinless chicken soup.
Flesh Foods to be avoided
Red meat, Canned and smoked fish, Smoked meats like liver, Braded meats, Glandular meat (brain, liver, kidney)
DRY-FRUITS / SEEDS
Dry Fruits to be consumed
Flax seeds, Pumpkin seeds, Chia seeds, Sunflower seeds, Walnuts, Almonds, Soaked raisins
Dry Fruits to be avoided
Cashew nuts, Pistachio, Peanuts
SWEETENERS
Sweeteners to be consumed
Jaggery
Sweeteners to be avoided
White sugar
OTHER FOODS
Other Foods to be consumed
Homemade only
Other Foods to be avoided
Bakery products, processed foods, Mayonnaise, Chutneys, Pickles, Junk food, Deep fried foods, excessive spicy and salty food items
DIET INSTRUCTIONS
Consume an overall healthy diet.
Maintain ideal body weight.
Be physically active.
Consume a balanced adequate diet rich in calcium, chromium, iron and zinc.
Reduction in intake of total fat, saturated fat and cholesterol.
Share On
MD (ALT. MEDICINE) View Profile