Ayurvedic Treatment of Edema
Introduction
It is well said that if we are physically unfit then all the luxuries of life are of no use. Health is real wealth, these few lines sum up the biggest fact of life. There are various factors like our life style, improper eating habits and hectic schedules which are responsible for health complications. Bottom line of this article is edema or we can say swelling in overall body like our hands, arms, legs, feet and ankle.
Let discuss various aspects related to edema:-
To manage the problem of edema there are various herbs indentified in the ayurveda. These are herbs - Punarnava (Boerhaavia diffusa), Saral (Pinus roxburghii), Shunti (Zingiber officinale), Pippali (Piper longum), Maricha (Piper nigrum), Amalaki (Emblica officinalis), Haritaki (Terminalia chebula), Piper chaba (Chavya), Haridra (Curcuma longa), Vidanga (Embelia ribes), Chitrak mool (Plumbago zeylanica), Mandoor bhasma (Ferric oxide calx), Kusha (Desmostachya bipinnata), Kasha (Saccharum spontaneum), Shara (Ceratophyllus submersum), Darbha (Cynodon dactylon) and Ikshu (Saccharum officinarum) which help to manage the problem of edema in a natural way. Ayurveda's primary goal is to know the exact cause of ailment and uprooting the disease from root. Though herbs take time to show their effects but their results are long lasting without causing any adverse impact on health.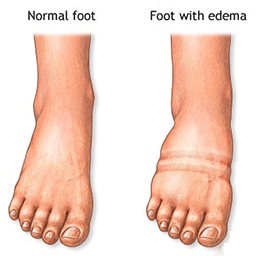 About Edema
Edema is a condition characterized by fluid retention in body's tissues which results in the swelling. Edema may affect the hands, arms, legs, feet and ankle. In edema there is the leakage of blood vessels due to that fluid released into nearby tissues. This extra fluid accumulation results in tissues swelling.
What can be Causes of Edema?
Prolonged sitting or staying in one position.
Consumption of too much salty food.
Pregnancy.
Premenstrual symptoms.
Use of contraceptive pills.
Use of certain medication like high blood pressure medicines, anti inflammatory drugs, steroids, estrogens and medicines for diabetes.
Edema can be sign of some severe diseases which are given below:-
Congestive heart failure - When heart loses its ability to pump blood efficiently, blood flows back to feet, legs and ankles results in edema.
Cirrhosis - Due to liver damage, fluid gets accumulated in the body which results in edema.
Kidney disease - In kidney diseases sodium and extra fluid is present in circulations. In this edema occurs in legs and around eyes.
Damage to the veins in legs.
Impairment of lymphatic system results in edema.
Signs and symptoms associated with Edema
Puffiness or swelling of tissues under skin.
Increase in abdomen size.
Stretched skin.
Symptoms listed below are the signs of pulmonary edema and requires immediate medical attention:-
Shortness of breath.
Chest pain.
Difficulty in breathing.
Cause of edema in ayurveda
According to ayurveda there are three energies - vata, pitta and kapha in the body which are essential for a healthy body. Imblance of any of three energies result in the health issues. Edema is known as shvathu in ayurveda which is due to the imbalance of all the three energies vata, pitta and kapha.
Edema due to vata imbalance - This type of edema is due to venous condition like varicose veins which results in the pain.
Edema due to pitta imbalance - Vitiation of pitta dosha results in the inflammation of affected areas and causes edema.
Edema due to kapha imbalance - Vitiation of kapha results in most difficult type of edema.
Herbal Remedies for Edema by Planet Ayurveda
Planet Ayurveda provides best combination of effective herbal remedies such as Water-EX Care Pack for ayurvedic treatment of edema. These herbal remedies are prepared from using best quality herbs and strictly follow the principles of Ayurveda. All these herbal remedies of Planet Ayurveda are 100 percent pure, natural and vegetarian. These are free from chemicals, additives and preservatives. These are safe to use as these are free from side effects.
Dosage
Varunadi Vati - 2 tablets twice daily with warm water.
Punarnava Capsules - 2 capsules twice daily with warm water.
Rencure Formula - 2 capsules twice daily with warm water.
Water-EX Tablets - 2 tablets twice daily with warm water.
Product description
1. Varunadi Vati
It is a a potent Ayuredic medicine for nephrolithasis or renal calculus. renal calculus. The dosage of Varunadi vati is 1-2 tablets twice a day by oral route.
2. Punarnava Capsules
This Ayurvedic remedy contains the best Ayurvedic diuretic, Boerhaavia diffusa It is indicated in nephrolithasis or renal calculus, triple phosphate, glycosuria, oligouria, albuminuria, edema and mild hypertension.
3. Rencare Formula
This is Planet Ayurveda's properiatry Ayurvedic medicine designed for various renal diseases. It contains standardised extracts of nephroprotective herbs like Boerhaavia diffusa, Butea monosperma, Cratavea nurvala, Cichorium intybus and Tribulus terrestris.
4. Water-EX Tablets
Water Ex Tablets are specially made to get relief from the problem of water retention. The product is made using the pure and standardized extracts of three most wonderful herbs that are effective in handling excess of fluid retention in the body.
To buy Water-EX Care Pack, please visit store.planetayurveda.com/products/water-ex-care-pack
Dietary Recommendations
"say no to these foods if you are suffering from edema"
Increased consumption of sodium results in water retention in body. So here is list of foods which must be avoided in edema:-
Avoid processed grains like waffles, popcorn and oat cereals etc.
Avoid canned foods like vegetables juices, fruit juices and beverages.
Avoid processed meat.
Avoid processed dairy products.
Avoid restaurant foods.
Avoid trans fats.
Why should one go for Planet Ayurveda?
All the products are 100% pure.
Efficacy of the herbs is checked in the labs before making any herbal formulation.
Products are free from chemicals, preservatives, starch and any color.
All the products are manufactured under the guidance of highly experienced MD Ayurveda doctors.
Share On