Henbane / Hyoscyamus Niger
Henbane (Hyoscyamus niger) - Uses & Health Benefits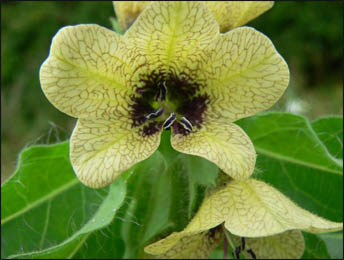 (Ref: Bhavaprakasa Nighantu)
Plant Description
Henbane is either annual or biennial plant that belongs to nightshade family that is called Solanaceae. Plant grow up to the height of 25-100cm long. Hairy leaves of this plant are oval or elliptical in shape and dark green in colour.
Ideally flowering season of annual plant is July to September whereas biennial plants bloom in the month of May and June. One side tassels and yellow flowers sit in long. Single plant of henbane can produce approximately 800-1000 seeds. Leaves and seeds collected from the flowering plant are used in the preparation of medicines. This plant is handle with care because all the parts of this plant is toxic in nature. According to Bhavprakash Nighantu there are three types of henbane used to prepare medicine:-
White henbane
Red henbane
Black henbane
Out of these three black seeds of henbane are very toxic in nature. It is as fatal as poison. Hysoscyamine is major chemical compound present in the green leaves of henbane in large quantity and other chemical compounds found in this plant are hyoscine, scopolamine, atropine and hyoscripin. Volatile oil, albumin, potassium nitrite and latex is also found in this plant.
Habitat
Henbane is basically native to Mediterranean countries and to western Asia but also found in many parts of Europe, Asia and South Africa. Its main source of habitat is Baluchistan and Afghanistan. In India it is cultivated in western Himalayan region from Kashmir to kumaun. It is widely found in roadside region at the altitude of 1500-3500 meters. In Himachal it is widely cultivated in Lahul and Kinnaur and also found in Punjab, Uttar Pradesh and Mumbai.
Names
Latin Name - Hyoscyamus Niger
English Name - Fetid Nightshade, Devil's Eye, Black Henbane, Common Henbane, Henbane, Jupiter Bean
Hindi Name - Khurasani  Ajwain
Telugu Name - Khurasani Yamani
Bengali Name - Khorasani Ajoban
Tamil Name - Khurasani Yomam
Gujarati Name - Khurasani Ajma
Arabian Name - Altercum
Malayalam Name - Khurasani Ova
Kannada Name - Khurasani Oma
Persian Name - Turumavanga
German Name - Schwarzes Bilsenkraut
Urdu Name - Ajwanee Khusranee
Sanskrit Name - Parsika Ajwani, Madakrini, Yawani, Turkusha
French Name - Jusquiame
Health Benefits of Henbane (Hyoscyamus Niger)
Henbane is herb that is very good pain killer and sedative in nature. It gives energy to body and rejuvenate body cells. It is used to stimulate digestive and very beneficial herb for supporting our digestive system overall health. Henbane also helps to kill the internal worms. This herbs work like medication belladonna but do not stimulate nervous cells and do not cause dizziness like belladonna. It also help to relieve painful micturition and also beneficial for treating urinary tract infections.
Uses of Henbane (Hyoscyamus Niger)
Paste of seeds mixed with alcohol applied over infected areas relieve breast inflammation and joint inflammation. It is very beneficial therapy to relieve both pain and inflammation.
Due to its carminative nature this herb is beneficial in relieving constipation.
Very low quantity of this herb is beneficial for the support of heart and also relieves extra palpitations of heart.
This herb helps to excrete out extra phlegm and good for curing cough and asthma.
This herb is also beneficial for the sufferers of stones. According to Bhavprakash Nighantu; yavakshar, Patha and Guduchi all are beneficial for treating stones and pain caused to stones.
Paste of seeds is filled in teeth cavity helps to relieve severe pain.
Smoke of this herb is also very beneficial for treating pain associated with teeth.
Dosage of Henbane (Hyoscyamus Niger)
Leave powder or seed powder - 100-400mg
Pure extract - 3-6 drops
Medicinal Properties of Henbane (Hyoscyamus Niger)
Henbane is used to relieve both severe pain and spasm.
During eye surgery it is used to dilate pupil.
According to Bhavprakash it is used to treat various disease like- insanity (unmaad), convulsions (apasmaar), insomnia (nidrabhang), brain related (mastishk) disorders and heart related (hirday) disorders.
It helps to stop urine retention and very beneficial for removing kidney stones naturally.
It is used to prevent bleeding gums and toothache.
It is very effective herb that work wonderful to reduce inflammation and give relief to rheumatic sufferers.
It helps to protect gut from the attack of worms and stimulate digestion.
It is very effective herb for treating dry cough and asthma.
Cautions
According to Bhavprakash, black type of henbane is highly toxic in nature and causes very fatal effects. So it is very necessary to use this herb under medical supervision. High dose of henbane causes dryness in throat, dizziness, irritation and rashes on skin. It should not be prescribed for pregnant and lactating mothers.
Share On
MD (ALT. MEDICINE) View Profile