AYURVEDIC TREATMENT OF OVARIAN CYSTS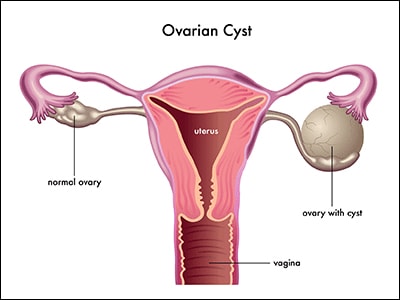 ABOUT OVARIAN CYSTS
Ovarian cysts have become the serious female health complication. This complication is due to imbalance of female hormones. Symptoms associated with this problem are bloating, painful bowel movements, nausea, vomiting, and pain during sex. Now the question comes what are the ovarian cysts? A fluid filled sac develops in ovaries is called as ovarian cyst.
TYPES OF OVARIAN CYSTS
1. FOLLICULAR CYSTS:-
During the menstrual cycle, an egg develops in a sac named as follicle. These follicles are located inside ovaries. Mostly, follicle breaks down and release an egg. But when follicle does not break, fluid inside the follicle develops into a cyst.
2. CORPUS LUTEUM CYST:-
Follicle sac usually dissolves after releasing an egg. But if sac is not dissolved and additional fluid get developed inside the sac. So accumulation of fluid results in the corpus luteum cysts.
COMPLICATION ASSOCAITED WITH OVARIAN CYSTS
Ovarian torsion can occur which hinders the blood supply to ovaries cause the necrosis of ovarian cells. Ovarian cells death leads to infertility.
Ruptured ovarian cyst cause the severe internal bleeding. This problem may lead to the serious infection; it can be life threatening so immediate treatment is required.
Ovarian cancer may also occur.
Enlargement of cyst may cause the dislocation of ovary which results in pain.
Irregularity in menstrual cycle may also occur.
Frequent urination.
AYURVEDIC VIEW
According to Ayurveda, ovary diseases are due to the problems in rasa and raktadhatus. When there is excess accumulation of toxins and impurities in rasa and raktadhatus, body keeps them in form of cysts in ovaries. In Ayurveda, an ovarian cysts containing fluid is considered as kaphajagranthi. Kaphajagranthi is usually skin coloured, slightly painful and slowly increases in size and when rupture white, thick fluid is released. Excessive accumulation of kapha occurs due to low digestive fire in the body. Increased kapha vitiates rasa and raktadhatus thus causing ovarian cyst.
TREATMENT OF OVARIAN CYSTS
There are various herbs in Ayurveda, which help to resolve the cysts problems in women in a normal way. So Ayurveda is new ray of hope for the women who are suffering from this problem. Ayurveda's main emphasis is to treat the disease from root.
There are various herbs in Ayurveda that help to balance female hormones which are the causes of ovarian cysts. Herbs like Shatavari, Lodhra, Ashok,Aloe vera, Amalaki, Arjuna are quite effective for the treatment of female ovary diseases. These herbs support the better functioning of secretary glands of body and then accelerate the production of hormones in a natural way. Whereas chemical synthetic hormones results in various complications like back pain, headache, non specific vaginal discharge, mood swings, weight gain and excessive feeling of heat in body. Whereas herbs don't have any such kind of side effects, herbs help to boost the health along with the treatment of diseases.
HERBAL REMEDIES FOR OVARIAN CYSTS
Planet Ayurveda provides best combination of effective herbal remedies such as Anti-Ovarian Cyst Pack for ayurvedic treatment of ovarian cysts. These herbal remedies are prepared from using best quality herbs and strictly follow the principles of Ayurveda. All these herbal remedies of Planet Ayurveda are 100 percent pure, natural and vegetarian. These are free from chemicals, additives and preservatives. These are safe to use as these are free from side effects.
Chanderprabha Vati - 2 tablets, twice daily with warm water after meals.
Pradrantak Churna - 1 teaspoonful, twice daily with warm water after meals.
Kanchnaar Guggul - 2 tablets, twice daily with warm water after meals.
Punarnava Mandur - 2 tablets, twice daily with warm water after meals.
PRODUCTS DESCRIPTION
1. CHANDERPRABHA VATI
It is a classical natural formulation, blend of many ingredients, which are explained in ayurvedic texts. It is particularly effective in painful menstruation, pre-menstrual syndrome (PMS), irregular menses, uterine fibroids, ovarian cysts and leucorrhoea.
Chandraprabha Vati contains Vacha (Acorus calamus), Mustak (Cyprus rotundus), Devdaru (Cedrus deodara), Ela (Eletteria cardamomum), Musta (Cyperus rotundus), Pippali (Piper longum), Maricha (Piper nigrum), Tejpatra (Cinnamomum tamala), Haridra (Curcuma longa), Chavya (Piper retrofractum), Vidanga (Embelia ribes) etc. which are known for their actions and properties.
2. PRADRANTAK CHURNA
Pradrantak Churna is a classical formulation that contains Pushyanug Churna with Ashok (Saraca asoca). It is a complete herbal formulation to take care of female health problems. It is particularly effective in painful menstruation, pre-menstrual syndrome (PMS), irregular menses, uterine fibroids, ovarian cysts and leucorrhoea.
Pushyanug Churna is a blend of ingredients such as Jambu (Syzygium samarangense), Amra (Spondias mombin), Daruharidra (Berberis aristata), Pashanbhed (Bergenia ligulata), Lajjalu (Mimosa Pudica), Musta (Cyperus rotundus), Bilwa (Aegle marmelos), Lodhra (Symplocos racemosa) etc.
3. KANCHNAAR GUGGUL
Kanchnaar Guggul is a combination of ingredients such as Kanchnar (Bauhinia Variegata), Triphala [Amalaki (Emblica officinalis), Haritaki (Terminalia chebula) and Bibhitaki (Terminalia bellirica)], Trikatu [Pippali (Piper longum), Marich (Piper nigrum) and Shunthi (Zingiber officinale)], Varun (Crataeva nurvala), Twak (Cinnamomum zeylanicum), Tejpatra (Eletteria cardamomum) and Shudh Guggul (Commiphora wightii) herbal extract.
It is a natural supplement in tablet form. Kachnar is a tree with beautiful flowers. Kanchnar maintains healthy tissues.
4. PUNARNAVA MANDUR
Punarnava Mandur is an effective herbal formulation prepared using the most effective herbs like Punarnava (Boerhavia diffusa), Pippali (Piper longum), Amalaki (Emblica officinalis), Haridra (Curcuma longa), etc. All these herbs have proven benefits in eliminating toxins from the body and to help get rid of the accumulation of fluid in any part of the body. This formulation helps in treating ovarian cysts very effectively. Besides this, it also helps in maintaining the overall health of the female.
To buy Anti-Ovarian Cyst Pack, please visit store.planetayurveda.com/products/anti-ovarian-cyst-pack
Share On