Home Remedies for Sciatica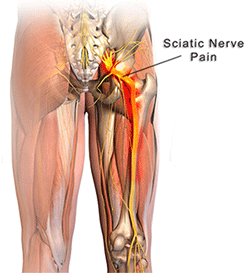 Sciatica is a painful disorder, which occurs due to the compression of sciatic nerve. Slipped disc or spinal injuries or pregnancy are the major causes of this disorder. Only one part of the body gets affected. It results in severe pain, especially in the lower back region. Important symptoms are:
Weakness
Numbness
Difficulty in sitting or standing for prolonged period of time
Burning sensation in the affected area
THE TOP HOME REMEDIES TO TREAT THE SITUATION ARE THE FOLLOWING:
1. TURMERIC WITH ASHWAGANDHA
Turmeric has a lot of medicinal properties, which help to cure the severe pain, inflammation and other related disorders effectively.
Take half tsp of each turmeric and ashwagandha powder.
Add it to a cup of milk.
Boil the solution.
Drink this solution for one or two times on a daily basis.
2. GARLIC, GINGER AND ONION
All three things are wonderful in sciatica.
Increase your use of garlic, onion and ginger in all your dishes.
Four raw cloves, 2 raw small pieces of ginger and half of onion each morning can go a long way to fight pain (and also to boost your immune system).
One can make paste also to consume easily.
The use of all three are amazing.
3. POTATO JUICE
Potato is a wonderful home remedy, which provides relief from the sciatic pain.
Squeeze a raw potato to extract its juice.
Mix the raw potato juice with some amount of carrot juice.
Drink the solution two times on a daily basis.
You will surely get benefitted from the pain.
4. COLD AND WARM COMPRESS
Alternate application of cold and warm compress on the affected area provides relief to the tensed nerves and muscles.
Place the cold or the warm pack on the affected part for about 15 minutes
Repeat the process for every 3 to 4 hours and get relief from the terrific pain.
However, people having circulatory problems must avoid this home remedy.
5. CELERY
Celery is another effective home remedy for sciatica. This green vegetable has a lot of nutrients and anti-oxidating and anti-inflammatory properties.
Take a glass of boiling water.
Put the leaves and stems of the celery in it.
Boil the solution in low heat until the solution becomes green.
Drink the solution thrice daily to get relief from the inflammation, pain and irritation.
Try out these home remedies and lead a healthy life !!
Share On