Are there any Home Remedies or Herbal Face Packs for Acne Scars?
Acne is a kind of disease that almost everybody has to go through it, at one time or the other, especially when you are in your teenage. Those who don't have to go through this disease are the ones who are very alert with their diets and take the preventive measures beforehand. This acne appears in many parts of the body, but mostly pimples appear on the face. Psychologically diluting your personality in the public, may be it doesn't harm your health, but you feel stressed the moment public looks at your sprouted pimples, making you feel embarrassed. You don't want to venture out and face the public with their obscure and gazing looks.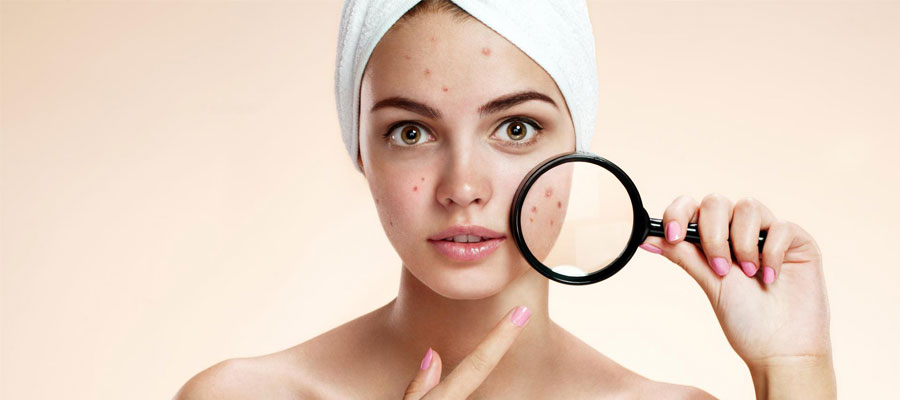 Usually it is the hormones that become large in numbers the moment teens turn into puberty. Sebaceous gland also expands and produce more sebum. Production of sebum is also related directly to pregnancy and the use of contraceptives. When this sebum and dead skin cells join hands, both become inflamed and irritated, the result, sprouting of pimples, blackheads, whiteheads, cysts is inevitable. It can also be genetic.
It makes you come under stress and irritability. You get angry at the slightest provocation. Stress gives a further push to sprouting of more pimples and you hide deep inside your home. This is no remedy. Mostly these pimples go away naturally after some days, but what if they don't? You need to take care of them the moment they sprout. Nip them in the bud and you can venture out hale & hearty. There are various methods, which can be used to eradicate the acne syndrome. Some of them can be tried at home, most of the food we consume can work wonders for us in curing acne, like:
1. Aloe Vera and Turmeric Pack
Organic Aloe Vera is a cure for dozens of diseases. It has anti-inflammatory and anti-bacterial features that prevent normal breakouts and heals swellings. Take an Aloe Vera leaf and carefully peel off the skin. Its gel comes out. Take 1 tablespoon of Aloe Vera gel and half a spoon of turmeric. Mix these 2 in a bowl. Gently apply the mixture on the infected patch and leave it for 20 to 25 minutes. After that rinse thoroughly with plain water and pat dry. Repeat this procedure for 3 times a week and see your pimples vanish into the thin air.
2. Neem and Rose Water Pack
Neem is famous for discouraging the growth of acne-causing bacteria. In fact, neem doesn't allow any bacteria to spread its wings; it suppresses the bacteria and kills it. When there is no existence of such bacteria, acne can't strike your body. It also soothes the inflammation and redness. Get neem dried leaves and crush them to make powder, get 1 teaspoon of neem powder and 2 teaspoons of Rose water. Mix them both in a bowl and stir vigorously, until a paste is ready. Evenly apply this paste on your neck and face. Leave it for 15 to 20 minutes and then thoroughly wash with plain water. Repeat this procedure for 3 to 4 times a week to get the results you are seeking.
3. Tomatoes and Cucumber Face Pack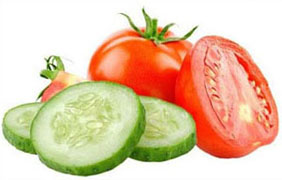 Tomatoes have the nutrients like vitamin A that nourishes and rejuvenates the skin to look supple. Cucumber plays the role of an astringent that fades the acne scars. It awakens the dead skin cells and removes other toxins from the skin. You need 2 spoons of the pulp of tomatoes and a 1 spoon of cucumber pulp. Mix them thoroughly in a bowl and stir rapidly. Cover your face with this mixture and leave it on for half an hour. After that rinse well with plain water and pat dry. Follow this procedure every alternative day. Better be ready to see your acne vanish in a few days.
4. Honey and Turmeric Face Pack
Turmeric plays a vital role in eradicating the bacteria due to its anti-microbial features, it destroys the bacteria that cause acne or pimples. It also helps in reducing the oil from the face. Honey has anti-oxidant features that help the face in destroying the free radicals. It doesn't allow them to spread and create havoc. Get 1 teaspoon of honey and a half teaspoon of turmeric powder. Mix both of them in a bowl, so that a paste is made. Apply the mixture on your face and neck and leave it alone for 15 to 20 minutes. After that wash thoroughly with plain water and pat dry. Don't rub the towel on your face and neck. You can follow this procedure for 2 to 3 times a week. You will see the results you were looking for.
5. Multani Mitti and Lemon Face Pack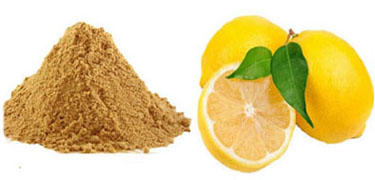 Multani mitti is famous for soaking oil from the skin. It has an abundance of magnesium chloride that prevents acne from sprouting. The acid that is present in lemon has astringent features. They squeeze the body tissues and throws out the oil from the skin. The citric acid in lemon kills the acne bacteria. It also helps in fading scars caused by acne. Get 1 teaspoon of multani mitti and squeeze half a lemon in it. Mix them well in a bowl and then apply it on the face and neck, gently. Leave it as it is for 20 to 30 minutes, wash thoroughly after that and pat dry. Do follow this procedure for once or twice a week. You will be surprised by the positive results.
All these remedies can be tried at home to erase the acne or pimples from your face. So that you face the public with a positive manner and do your job zealously. Your skin will be fully radiant and flawless, increasing your confidence. Some of these remedies might not get you the results that you are seeking, it will be better if you seek the advice of a skin specialist doctor. It will be better, if you consult an Ayurvedic doctor, as Ayurveda eradicates the disease once and for all and never let it come back.
Share On