How Shatavari is Helpful in PCOS?
HOW SHATAVARI IS HELPFUL IN PCOS?
WHAT IS PCOS?
PCOS (Polycystic ovary syndrome) is a hormonal disorder that affects women often during their reproductive age. In this condition, numerous small cysts are developed inside the ovaries that affect the normal menstrual cycle. This is really a very serious problem nowadays and is very common and if not treated on time which may lead to infertility.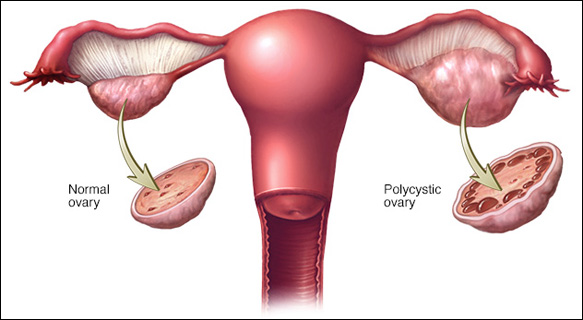 WHAT IS SHATAVARI?
As we know, Ayurveda shows very good results in treating these hormonal disorders in which "SHATAVARI" is mentioned as an herb of choice to treat various reproductive and other health issues related to female health. It doesn't mean that this herb cannot be used in males. Shatavari in Latin called as "Asparagus racemosus" is an herb native to India, Sri Lanka and Nepal and nowadays is one among the endangered species. It grows up to 1-2 meters in height.
CLASSIFICATION
Kingdome - Plantae
Order - Asparagales
Family - Asparagaceae
Species - A. racemosus
Genus - Asparagus
USEFUL PART
For medicinal purpose tuberous roots are used.
PROPERTIES OF SHATAVARI

(Reference – Bhava Prakasha Nighantu / Guduchiadi Varga / Shatavari / Shloka No. 186,187,188)
Rasa (Taste) -  Madhura (sweet) and Tikta (bitter)
Guna (Quality) - Snigdha (unctuous in nature) and Guru (heavy to digest)
Veerya - Sheeta (cold in potency)
Vipaka - The end product of digestion is Madhura (sweet) in taste
Effect on Tridoshas - Balances Vata and Pitta dosha
It acts as Rasayana (Rejuvenating)
It promotes strength and milk production, enhances memory, improves sperm quality and count, and is beneficial in treating inflammatory disorders, heart diseases, bleeding disorders such as hemorrhoids, menstrual disorders, etc.
CHEMICAL COMPOSITION
Asparagus contains – asparagamine A, shatavarins, shatavaroside A and B, asparanin A, filiasparoside C polycyclic alkaloid and so on.
EFFECTS OF SHATAVARI ON OVERALL HEALTH
Shatavari is a generalized tonic that helps to promote overall health.
It is a balya aushadhi that gives strength and revitalizes the body with the energy.
It helps in maintaining equilibrium in between doshas, dhatus, malas, and agni thereby maintains ojas in the body hence maintains the health of an individual.
Shatavar or shatavari improves the functions of all the organs especially the nervous system and reproductive system.
If used regularly it prevents the body from various ailments by enhancing immunity.
It is also responsible for the overall growth and development of the body.
Shatavari even delays ageing and degenerative decays or changes because it is rich in antioxidants.
EFFECTS OF SHATAVARI ON REPRODUCTIVE SYSTEM
Regulates menstrual cycle – A healthy menstrual cycle is of approx. 28 days to 35 days which prepares the body for pregnancy. Menstrual irregularities are effectively managed by Shatavari by maintaining the balance between hormones and the target cells.
Follicular growth and development - Shatavari is vrishya and shukra vardhak aushadhi hence stimulates and promotes the follicular development and growth which is the main reason to develop ovum that is required for conception.
FSH and LH hormone balance – The ovaries release eggs, every month and the process is called 'Ovulation' which is initiated and maintained by the hormone FSH (follicle-stimulating hormone) and LH (Luteinizing hormone). Whereas FSH stimulates the sac production and LH releases the egg. Shatavari helps to maintain their level in human body.
Estrogen and progesterone balance – In actual, these are the main hormones that are responsible for all the functions of ovaries, conception, pregnancy and labour. These two hormones not only concern with the functions of the reproductive system but also help other organs to perform their regular functions such as help the thyroid gland to perform regular activities, increase bone formation and growth, maintain HDL level and so on.
EFFECTS OF SHATAVARI ON NERVOUS SYSTEM
Shatavari is an herb that has action on the nervous system.
It helps to stimulate and maintain the hormone levels in the body.
Shatavari also helps to maintain the sensory and motor nervous system functions.
Asparagus calms the mind and relieves the stress and tensions, as it is cold in potency.
It is a nervine tonic hence beneficial in various neurological disorders.
HOW IT IS HELPFUL IN PCOS (POLYCYSTIC OVARY SYNDROME)?
In case of PCOS, we do require some medications that dissolve the cysts like Kanchnaar, etc. But Shatavari is an herb that helps to balance the hormones which are impaired in PCOS, maintains hormone levels, maintains HPO-axis, and maintains ovarian plexus.  
Also it prevents the production of new cysts and even prevents the remission of the disease.
Shatavari helps to maintain the duration of the menstrual cycle (3 to 7 days), an interval of the menstrual cycle (28 to 35 days) and blood flow during menses.
Moreover it improves uterine and ovarian health.
SOME OTHER BENEFITS AND INDICATIONS OF SHATAVARI
Promotes lactation hence widely used medicine to promote milk production and ejection after pregnancy.
It is also a generalized female health tonic hence useful in debility, weakness and fatigueless.
It helps to balance Pitta Dosha thus; it is useful in gastritis, gastric ulcers and indigestion.
As it increases the estrogen level in the body thus it is helpful in infertility.
This herb is also used to treat autoimmune disorders like psoriasis, rheumatoid arthritis, etc.
It is a widely used female health supplement.
MODE OF USE
Shatavari can be used as a health supplement and as a medicine. It can be used orally as well as per vaginal route.
Orally - Shatvari is available and can be consumed in the form of churna, vati, kwatha, ghrita, asava, avleha. It is advised on the basis of prakruti of the individual.
Uttar Basti - A "Panchakarma" therapy where the medicinal tailas and ghritas are instilled per vagina after proper detoxification of the body. It is one of the effective procedures which detoxifies and strengthens the reproductive organs directly. Shatavari oil, decoction and ghrita are used for this purpose.
DOSAGE
Fresh juice - 10 to 20 ml
Decoction - 50 to 100 ml
Powder - 3 to 6 grams
Ghrita - 3 to 5 ml
Tail (oil) - For external use so as per requirement.
Tablets or Capsules - 1 to 2 tablets / capsules twice daily after meals
"Anupana (After drink) – Lukewarm milk or plain water"
PLANET AYURVEDA PRODUCTS THAT CONTAIN SHATAVARI
Planet Ayurveda also offers "Shatavari Capsules" which are composed of pure extract of Shatavari and are free from additives, fillers and chemicals. These capsules are widely used in the treatment of various female disorders like thyroid, polycystic ovary syndrome, endometriosis, uterine polyps, etc.
The dosage of Shatavari Capsules of Planet Ayurveda is 1 to 2 capsules twice daily with plain water or lukewarm milk after meals.
Share On