Kiratatikta / Chirayata / Swertia chirata
Kiratatikta, Chirayata (Swertia chirata) - Practical Uses, Benefits and Dosage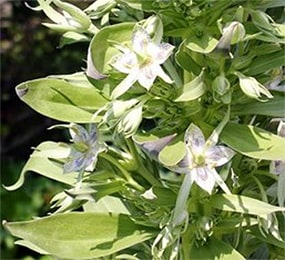 Description of Plant
Kiratatikta (Swertia chirata) is an erect annual, herb and growing up to 0.5 - 1.5 meters in height. The branching leaves are opposite, lanceolate and acute. Flowers are numerous, very small and greenish yellow in color with a ting of purple. The plant wears pink or white colored haired with sharp pointed fruits. The entire plant is used in medicines for over centuries.
General Information
Meaning of Kirata tikta is - utterly bitter. This is famous herb in Ayurveda for the treatment of infectious and inflammatory conditions like skin diseases and fever etc. Decoction of this herb is quite effective to cure the wounds and also provides relief in the oozing, burning sensation and itching. This herb acts as the blood purifier. Kiratatikta also supports the good health of digestive system. In the decoction or powder form this herb is quite good to relieve the constipation and also improves the appetite.
Phytochemical compounds like Swertinin, swertianin, swerchirin, decussating, isobellidifolin, friedelin, sitosterol isolated, nine tetraoxy genated xanthones, gentianine, gentiocrucine, eniflavine, arghinine, leucine, methionine, threonine, tryptophan, aspartic acid, glutamic acid. Above mentioned phytochemicals are present in the kiratatikta which possess the amazing medicinal properties to treat the various ailments.
Classification
Kingdom - Plantae
Family - Gentianaceae
Division - Angiosperm
Sub Division - Dicotyledon
Class - Gamopetallae
Sub Class - Bicarpellotai
Order - Gentionale
Genus - Swertia
Species - chirata
Habitat
This plant occurs in eastern temperate Himalaya's at 1500-3000 m altitude. It is found in Himachal Pradesh, Uttar Pradesh, Uttarakhand, and Kashmir. Plant is grown wild in Himalayan region between 1208-3046 m elevation from Kashmir to Bhutan and it is also found in Kosi hills at 1204-1525 m in north eastern Himalayan region.
Names
Latin Name - Swertia chirata
Hindi name - Chirayata,
English name - Chitretta
Bengali name - Chirata, Chireta
Tamil name - Nilavembu
Punjab name - Charatin, Charaita
Marathi name - Kiraita
Gujarati name - Kariyatum
Kannada name - Nilabevu, Kiratatikta
Malayalam name - Nilavipaa, Nilaveppa
Telugu name - Nilavemu
Arabian name - Kasabujajareeraa
Farsi name - Nainihaabandi
Ayurvedic Properties
Hindi / Sanskrit
English
Rasa
Tikta
Taste
Bitter
Guna
Laghu, Rooksha
Physical Property
Light, Dry
Virya
Sheeta
Potency
Cold
Vipaka
Katu
Metabolic Property (After Digestion)
Pungent
Effects on Doshas
It balances kapha and pitta.
Classical Categorization
This herb is mentioned in Samhita like Charaka Samhita, Sushruta Samhita, Vagbhatta's Ashtangahridayam, Bhavaprakasha, Sharangdhar Samhita and others under the name of Kirata Tikta.
In Harita Samhita, it is mentioned to be used for the treatment of scorpion bite with other drugs.
It is also described in the Nighantu like Yoga Rathnakara, Raja Nighantu, Kaiyadeva Nighantu, Adarsha Nighantu, Shodhala Nighantu and Dhanwanthari Nighantu. Besides this there is also the description of Kirata Tikta in Bhaishajya Ratnavali, Chakradatta, Amarkosha and Shabda Kalpa Drooma.
Ancient Verse about Swertia chirata

The Bhavprakash nighantu, edition of 2010: verse 153-155, page no- 72-75.
Kirattikta, Kairat, Katutikta, Kiratak, Kandtikta, Anarytik Bhumnib and Ramsenak are the names of chirata. One type of chirata found in the Nepal country is comparatively more bitter and named as Ardhtikt. It is used to cure fever. It allows purgation. It is dry and cool in nature with bitter in tastes and light in properties. It manages the fever due to tridoshas, respiratory problems, cough, pitta, bleeding disorders, inflammation, thirst and worms.
References
The Bhavprakash nighantu with elaborated Hindi commentary by Padmashri prof. K.C. Chunekar, edited by Dr. G.S. Pandey: verse 153-155, edition of 1998: page no- 72-75.
Practical uses of Swertia chirata
This herb is packed with Hepatoprotective properties. It helps to maintain the overall good health of liver as it removes toxins from the body. Moreover, it also helps in regeneration of new liver cells.
Hypoglycaemic properties of this herb helps to maintain the healthy blood sugar levels in the body. Use of this herb is quite beneficial in the diabetes.
This herb supports the good health of digestive system. It helps provide relief in problems like peptic disorder, gastritis, indigestion, bloating, bowel movements, flatulence, heartburn and stomachache. It also acts as the laxative hence is good for constipation. Hence this herb helps to strengthen the stomach and also quite good for the treatment of diarrhea and dyspepsia.
This is known as an effective herb for fever. Use of this herb is also quite good to provide relief in the high malarial fever.
The herb is quite effective in the treatment of piles. Furthermore it also helps to provide relief in the symptoms like itching, irritation, redness, soreness and swelling around anus.
Anti-parasitic properties of the herb to expel out the helminthes and other internal parasites from body. This herb is quite effective against roundworms, tapeworms and flukes. Moreover this herb helps to provide relief in the symptoms of worm's infections like diarrhea, anemia, lungs and liver problem which are associated with the infection of worms.
Expectorant properties of the herb helps to clear the mucous from airways. Use of this herb is quite good in the asthma. It helps to provide the relief in the shortening of breath.
Blood purification properties of this herb are quite good to resolve the skin diseases. It helps to provide relief in the symptoms like itching, burning sensation, redness and oozing etc.
Anti-inflammatory properties of this herb help to provide relief in the pain.
This herb is loaded with the healing properties which helps in quick healing of wounds and cuts.
Use of this herb is quite good for the anemic patients. It helps to increase the Red Blood Cells (RBC).
Parts Used
Dosage
Share On