Ayurvedic Treatment for Ovarian Cysts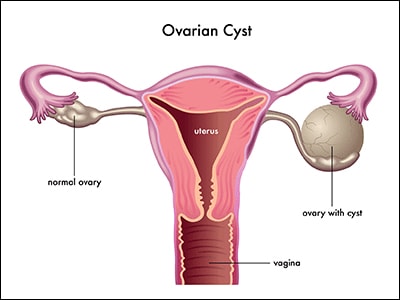 ABOUT OVARIAN CYSTS
"Hope is the only thing stronger than fear, so don't get afraid of ovarian cyst". Most of cysts are painless and symptoms are observed during routine pelvic examination. Ovarian cysts formed as a result of menstrual cycle. Cyst are fluid-filled sac developed in one or both ovaries. Ovaries are part of female reproductive system measuring (4×2×3 cm) in reproductively mature women. When fluid-filled cavities are developed in ovaries, it leads to ovarian cysts.
According to Ayurveda ovarian cysts comes under Kaphaj granthi-granthi aartav dosha. Aartav means "ovaries" & granthi means "sac" like formation.
TYPES OF OVARIAN CYSTS
Now, let us discuss about various types of ovarian cysts:-
1. FOLLICULAR CYSTS
It is formed during mid-period of menstrual cycle. An egg bursts out of its follicle and moves down into fallopian tube for fertilization. Formation of follicular cysts occur when follicle does not rupture to release its egg and turns into the shape of cysts.
2. CORPUS LUTEUM CYST
After releasing the egg, ruptured follicle start producing huge amount of estrogen and progesterone for fertilization that is known as corpus luteum. After getting pregnant, corpus luteum is filled with fluid and blood so cyst is formed. But in the case when fertilization does not occur then corpus luteum is again absorbed by body.
3. DERMOID CYSTS
These are sac-like growth containing hair, fat & other tissues in ovaries.
4. CYSTADENOMAS
In this condition non-cancerous growth develop on outer surface of ovaries.
5. ENDOMETRIOMAS
It is a condition when tissues grow outside the uterus & stuck to the ovaries resulting in cyst formation.
6. NONFUNCTIONAL CYSTS
In this condition ovaries make a lot of small cysts and commonly known as polycystic ovarian syndrome. This syndrome makes a women hard to get pregnant. Nonfunctional cysts may be caused by cancer that are more prone in women after menopause.
OVARIAN CYST SIGNS AND SYMPTOMS
Rupture of cyst causes excess pain and internal bleeding.
Nausea, Vomiting, Headache & feeling tired.
Irregular and heavy menstruation.
Pain in pelvis.
Painful intercourse
Breast tenderness
Severe lower pain and swelling in abdomen.
Development of ovarian cancer.
Infertility.
Dizziness or faintness
Fever
Due to the increase in the size of cysts, ovary get move out of its original position and creates pain.
Weight gain.
Urination at small intervals.
HOW TO DIAGNOSE OVARIAN CYSTS?
Sonography is technique which uses sound waves to see the images of ovary, uterus, and fallopian tubes to find out cyst in the ovaries. Routes of sonogram are either through vagina or abdomen. With the help of sonogram ovarian cancer can also be diagnosed.
Pelvic ultrasound are done for abdominal and vaginal regions of women and rectal regions of men. In this method high frequency sound waves create images of structures of ovaries and uterus on a video screen.
Laparoscopy is the method by which an instrument is inserted into abdomen through a small cut by giving anesthesia to patient. With the help of this method we can remove the ovarian cysts.
When pregnancy test is positive, it suggests that ruptured follicle after releasing the egg, again fills with fluid.
Blood test are also done because solid ovarian cyst is more prone to ovarian cancer. So the elevated levels of cancer antigen 125 (CA 125) are usually seen in women. But in the case of uterine fibroids and endometriosis, increased level of (CA 125) are also present.
WHAT ARE THE CAUSES OF OVARIAN CYSTS ACCORDING TO AYURVEDA
As per Ayurveda, cysts which are formed in ovaries and other ovarian tumors comes under Granthi Roga. These cysts are result of imbalanced kapha dosha in body. Ayurvedic medicines balance the hormonal levels, cause better functioning of reproductive system and decrease the size of cysts in ovary. Ashoka (Saraca indica), Shilajit (Asphaltum), Amalaki (Emblica officinalis), Lodhra (Symplocus racemosa) and Vidanga (Embelia ribes) etc are herbs which help to reduce the cysts size and help in proper functioning of the uterus.
HERBAL REMEDIES FOR OVARIAN CYSTS BY PLANET AYURVEDA
As per Ayurveda, ovarian cysts can be treated on the line of Kaphaja Granthi disease. Planet Ayurveda provides best combination of effective herbal remedies such as Anti-Ovarian Cyst Pack for ayurvedic treatment of ovarian cysts. These herbal remedies are prepared from using best quality herbs and strictly follow the principles of Ayurveda. All these herbal remedies of Planet Ayurveda are 100 percent pure, natural and vegetarian. These are free from chemicals, additives and preservatives.
Dosage
Chanderprabha Vati - 2 tablets, twice daily with warm water after meals.
Pradrantak Churna - 1 teaspoonful, twice daily with warm water after meals.
Kanchnaar Guggul - 2 tablets, twice daily with warm water after meals.
Punarnava Mandur - 2 tablets, twice daily with warm water after meals.
PRODUCTS DESCRIPTION
1. CHANDERPRABHA VATI
Chanderprabha vati is formed by mixture of various herbs which have numerous properties to treat the ovarian cancer, cysts and balance the female hormones. It is a drug of choice for ovarian cysts as it maintains ovarian function & removes cysts. These tablets act as a tonic for all organs in reproductive system.
MAJOR INGREDIENTS IN CHANDERPRABHA VATI ALONGWITH BENEFITS ARE LISTED BELOW:-
Shilajit (Asphaltum): Presence of fulvic acid helps in detoxification of ovarian cysts.
Guggul (Commiphora mukul): Reduces the size of cysts.
Karpoor (Cinnamomum camphora): This herb shows antispasmodic, analgesic, anti-inflammatory & anti-infective etc properties.
Vacha (Acorus calamus): Beneficial in anxiety problem related to cystic women.
Mustak (Cyprus rotundus): Promotes overall female health.
Haridra (Curcuma longa): Effective in conditions like PCOS & ovarian cancer.
Amalaki (Emblica officinalis): It helps in elimination of natural toxins from body.
Chavya (Piper chaba): Suppresses any type of infection in an individual.
Vidanga (Embelia ribes): Treats abdominal pain linked with ovarian cyst problem.
Giloy (Tinospora cordifolia): Enhances immunity naturally.
Shunthi (Zingiber officinalis): Beneficial in nausea, vomiting, inflammation & pain conditions.
Maricha (Piper nigrum): Prevents ovarian cancer & PCOS.
Pippali (Piper longum): Possesses anti-inflammatory, analgesic, antimicrobial & immunomodulator properties.
Benefits - This herbal tablet is quite effective to treat ovarian cysts, pain during menstruation cycle, ovarian cancer, anemia and general weakness in female. Chanderprabha vati helps to balance the body hormones, decrease the excess urination and also help to reduce the chances of infertility in women.
2. PRADARANTAK CHURNA
Pradrantak churna is formed by the combination of various herbs which have excellent properties to treat the ovarian cysts and excess bleeding problems.
MAJOR INGREDIENTS IN PRADARANTAK CHURNA ALONGWITH BENEFITS ARE LISTED BELOW:-
Lodhra (Symplocus racemosa): The herb is beneficial in bleeding disorders.
Ashok (Saraca indica): It helps to manage female disorders like pain, discomfort, congestion & excessive bleeding.
Udumbur (Ficus glomerata): Shows anti-inflammatory, antipyretic, anti-microbial & antitussive properties.
Arjuna (Terminalia arjuna): Beneficial in treating vaginal infections.
3. KANCHNAAR GUGGUL
Kanchnaar guggul is a classical herbal preparation that treat the ovarian cysts naturally. It helps to reduce the size of cysts & remove it out of vagina.
MAJOR INGREDIENTS IN KANCHNAAR GUGGUL ALONGWITH BENEFITS ARE LISTED BELOW:-
Kachnaar bark (Bauhinia variegata) - This herb contains alkaloid, tannins, ascorbic acids and essential oils which have excellent properties to treat the polycystic ovary syndrome and various vaginal disorders.
Amalaki (Emblica officinalis) - Amalaki shows antioxidant, anticancer, analgesic and anti-inflammatory properties.
Haritaki (Terminalia chebula) - It helps to reduce bleeding during menstruation cycle and decrease size of cysts. Haritaki maintain hormones imbalance in the body.
Bibhitaki (Terminalia bellerica) - Bibhitaki herb reduces the size of cyst and excess bleeding.
Ginger (Zingiber officinale) - Biomolecules present in ginger are very effective in the treatment of ovarian cancer and also help to balance hormones.
Black pepper (Piper nigrum) - Phenols, alkaloid, saponins, tannins, steroids are the phytochemical present which are useful for treatment of infertility in women.
Pippali (Piper longum) - It is useful in the treatment of infertility and also have the anti-inflammatory properties.
Varuna (Crataeva religiosa) - It helps to reduce the level of estrogen and also effective for the regular menstrual cycle.
4. PUNARNAVA MANDUR
Punarnava Mandur is an effective herbal formulation prepared using the most effective herbs like Punarnava (Boerhavia diffusa), Pippali (Piper longum), Amalaki (Emblica officinalis), Haridra (Curcuma longa), etc. All these herbs have proven benefits in eliminating toxins from the body and to help get rid of the accumulation of fluid in any part of the body. This formulation helps in treating ovarian cysts very effectively. Besides this, it also helps in maintaining the overall health of the female.
To buy Anti-Ovarian Cyst Pack, please visit store.planetayurveda.com/products/anti-ovarian-cyst-pack
DIETARY RECOMMENDATION IN THE CASE OF OVARIAN CYSTS
Eat those fruits and vegetables which are rich in alkaline content. Take magnesium rich fruits & vegetables like yams, bananas, prunes, cashew nuts, cauliflower, cabbage, brussels sprout, potatoes, sweet potatoes and broccoli that help in reduction of pain. Food which are rich in vitamin K are good to treat the ovarian cyst pain.
Use of organic foods can reduce the risk of ovarian cysts. Before using fruits and vegetables, wash and peel them properly.
Take wheat products containing magnesium and zinc as it maintains the hormone levels.
Avoid alcohol because it increases the level of estrogen.
Strictly avoid caffeine products, it can cause the disruption of hormones.
Avoid salty food.
Also avoid cheese and yogurt.
Share On