AYURVEDIC TREATMENT OF PLEURISY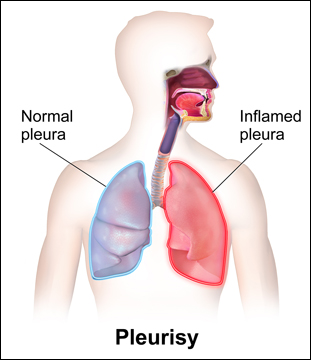 ABOUT PLEURISY
Pleurisy is also known as Pleuritis. It is a respiratory disease in which inflammation of pleura is there. Pleura is a double layered membrane around the lungs and rib cage. In this condition breathing is painful. In some cases it is associated with another diseased condition called pleural effusion in which accumulation of fluid between two pleural layers. It causes sharp chest pain which makes breathing difficult.
TYPES OF PLEURISY
Pleurisy is of three types:
Dry Pleurisy - It occurs when the pleura is embedded with fibrous tissue.
Effusive Pleurisy - It occurs when the space of pleural layers filled with extra fluid, this condition is called pleural effusion.
Purulent Pleurisy - It is most dangerous type of pleurisy. In this space between layers is filled with dead cells commonly known as Pus.
SYMPTOMS OF PLEURISY
Depending upon cause of disease the symptoms may vary.
Common signs and symptoms include:
Chest pain
Cough
Shortness of breath
Fever
Shoulder pain
Muscle ache
CAUSES OF PLEURISY
A variety of conditions are responsible for pleurisy.
The common causes of pleurisy are given below:
Viral infections like flu or influenza
Bacterial infections like tuberculosis, pneumonia.
Sickle cell anemia and pancreatitis
Cancers like Lung cancer
Heart surgery
Certain medications
HOW PLEURISY CAN BE DIAGNOSED?
Medical History - It helps to diagnose the disease. The patient's history including any diseased condition or any medication which may be responsible for pleurisy.
Physical examination - It includes the physical checkup with the help of stethoscope.
Diagnostic tests:-

Blood test
ECG
Chest X-Ray
CT scan
MRI
COMPLICATIONS ASSOCIATED WITH PLEURISY
In some cases the symptoms of pleurisy and their complication is not clear. Pleurisy complications are considered as secondary conditions.
Some common conditions are:
Hair loss
Loss of appetite
Constipation
Shortness of breath
Pericarditis
Pus in the pleural cavity.
AYURVEDIC OUTLOOK OF PLEURISY
In Ayurveda it is known as Paarshava Shoola or Parshwashool. According to ayurveda all of three doshas (vata, pitta and kapha) are responsible for parshwashool. When vata doshas is imbalanced then vayu gets aggravated and it accumulates in lungs. Pitta is hot in nature it liquefies kapha and convert it into watery fluid. As a result of this water accumulates into lungs. Aggravated kapha causes impaired digestion by diminishing gastric fire.
HERBAL REMEDIES OF PLEURISY BY PLANET AYURVEDA
Planet Ayurveda provides effective herbal remedies such as Praanrakshak Churna, Curcumin Capsules, Giloy Capsules & Tulsi Capsules for ayurvedic treatment of pleurisy. These herbal remedies are prepared from using best quality herbs and strictly follow the principles of Ayurveda. All these herbal remedies of Planet Ayurveda are 100 percent pure, natural and vegetarian. These are free from chemicals, additives and preservatives. These are safe to use as these are free from side effects.
It is 100% pure herbal powder by Planet Ayurveda which is combination of different useful anti-allergy herbs which are explained below:
Cinnamomum zeylanica: It is effective herb which has anti spasmodic, carminative, anti-septic, anti-inflammatory properties. It is also helpful relieving asthma, bronchitis and other respiratory problems.
Albezzia lebbock:  It is very useful herb to remove toxins from body and also relieves the entire physiologic system.
Adhatoda vasica: It is useful in relieving respiratory problems like bronchitis, tuberculosis and other lung disorders.
Tylophora asthmatica: It is useful in management of different types of allergies, cold, fever and arthritis.
Clerodandrum serratum: It is used in treatment of different breathing problems like asthma, bronchitis, cough etc.
Dosage: 1 teaspoonful thrice a day with plain water after meals.
These are pure herbal capsules obtained from pure Curcuma longa. It is most common used herb in household. It is best known for its medicinal use.
Usage: It has anti-oxidant properties and it is used in the management of many type of cancers. It is useful in removing toxins from body.
Dosage: 2capsules twice daily with water or milk after meals.
These are herbal capsules made from herb Tinospora cordifolia, also known as Giloy or Amrita. The whole plant is used in formulation of medicines.
Usage: It is useful in treatment of various ailments. It is useful in removing toxins from body. It can be used in combination with turmeric extract which is helpful in treatment of tuberculosis. It is also useful in treating respiratory disease like asthma.
Dosage: 2 capsules twice a day with plain water.
These are pure herbal capsules obtained from herb Ocimum tenuiflorum (tulsi). It is also known as Holy Basil. It is prepared in the form of capsules by Planet Ayurveda which is 100% pure and have no side effects.
Usage: It has wonderful action on respiratory system. It helps to balance overall respiratory system. It has anti-oxidant property which helps to remove toxins from body. It is effective against various infections like cold, flu.
Dosage: 2 capsules with milk or water after meals.
PREVENTION AND CARE OF PLEURISY
It is an internal problem which is difficult to prevent but some things which can be done to prevent symptoms of pleurisy which are:
Avoid excess use of pain killers
Avoid exercise which you feel tired
SUGGESTIONS
There are some dietary guidelines for pleurisy patients:
Avoid fried foods.
Cold food must be avoided because it leads to accumulation of phlegm in chest.
Bitter vegetables like bitter gourd, fenugreek is good for pleurisy conditions.
Share On