Ayurvedic Treatment for Premature Ejaculation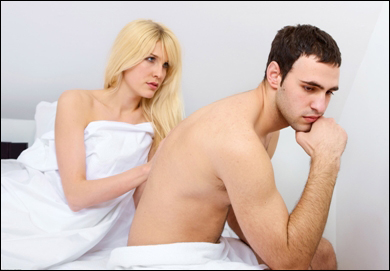 Premature ejaculation is one of a common sexual problems in men in which there occurs an uncontrolled ejaculation. The ejaculation occurs shortly either before or after sexual penetration. This results in unsatisfactory sex and in turn led to stress or anxiety as well.
Premature ejaculation Causes - What Aauses Premature Ejaculation
Most of the time, the cause is unknown.
With age, the problem increases.
Factors such as anxiety, stress and depression play an important role.
Sometimes, long term usage of medications also causes this problem.
An injury to the sexual organs or any hormonal problem may also leads to the same.
Certain health problems such as thyroid problem.
Inflammation of prostate or infection of urethra.
Sometimes, a person with family history is also at risk.
Premature Ejaculation Symptoms
 
Uncontrolled ejaculation
Ejaculation occurs shortly before or after intercourse.
Ejaculation occurs with minimal sexual stimulation.
Ayurveda for Premature Ejaculation
Ayurveda, an oldest system of health care, offers a natural way to take care of the body. It involves the balancing of the aggravated doshas, which are regarded as the forces of life. It involves diet, lifestyle changes and herbal remedies that help men to have an active and healthy life.
Herbal Remedies for Premature Ejaculation
Planet Ayurveda offers best combination of effective herbal remedies such as Tribulus Power Pack for ayurvedic treatment of premature ejaculation. These herbal remedies are prepared from using best quality herbs and strictly follow the principles of Ayurveda. All these herbal remedies of Planet Ayurveda are 100 percent pure, natural and vegetarian. These are free from chemicals, additives and preservatives. These are safe to use as these are free from side effects.
Usage / Dosage
Atirasadi Churna: 1 teaspoonful twice daily with warm water or milk, 1/2 hr. after meals
Tribulus Power: 2 capsules twice daily with warm water, 1/2 hr. after meals
Chandraprabha Vati: 2 tablets twice daily, with warm water, 1/2 hr. after meals
Shilajit Capsules: 1 capsule twice daily, with warm water, 1/2 hr. after meals
Tri-bull Oil: As per instructions on the packaging. Once every alternate day.
Products Description
1. Atirasadi Churna
The product is well known for the same problem. Being enriched with 13 effective herbs, a perfect herbal formulation for this problem. The word Ati means full or in excess of and the word Rasa means juice or full of power. Hence, the name of the product. And this name is enough to tell us about the effectiveness of this product.
The mixture of herbs in this product work together to combat the radicals and other toxins from the body that are in turn generated due to stress or anxiety. The product is useful for increasing the stamina in men and helps in the prolongation of intercourse time. The blend of nutritional herbs makes the product tasty enough and in turn useful for regulating sex desire in men.
In short, the product is packed with full of natural herbs that are rich in anti-oxidants and in turn makes it a perfect for premature ejaculation treatment.
2. Tribulus Power
The product is another effective one to cure the problem with the natural way. The product acts as a natural male enhancement product and is known to boost the sexual performance of men.
The product is packed with all the effective herbs that contain all the essential vitamins, mineral and other nutrients. Hence, the effective one to stimulate the sexual activity and useful for premature ejaculation. Modern treatment has risk of short or long term side effects and this product offers an alternative to all kinds of men sexual problem.
In short, the product is the natural treatment for the same and is effective for all age group of male without causing any side effects.
3. Chandraprabha Vati
The herbal tablets are made using the mixture of 23 wonderful ingredients including pure herbs. All the herbs used in this herbal formulation are mentioned in Ayurveda. The product has the power to boost the sexual organs of men as well as make the digestion healthy enough. The product is packed with nutritional herbs and is useful for overcoming the weakness, which is otherwise also a cause of this sexual problem. The product is useful for increasing the stamina and endurance in men.
4. Shilajit Capsules
The herbal medicine is made using the pure and standardized extract of Shilajit. Shilajit is a natural resinous extract that is well known for its effective properties and its unique appearance. Stress is one of the major reasons behind this problem. This product is an effective way to combat stress. It helps to calm down the nerve cells and manages the depression and anxiety. It is also helpful in elevating mood and curing the premature ejaculation. The product acts as a rejuvenator and offers a proper nourishment to the body. It helps in the enhancement of reproductive cells in the body and hence a great way to overcome the problem of premature ejaculation as well.
5. Tribull Oil
This is an herbal oil from the house made from pure herbs and is totally safe to use.
To buy Tribulus Power Pack, please visit store.planetayurveda.com/products/tribulus-power-pack
Benefits of Planet Ayurveda's products
Planet Ayurveda has several benefits and they are listed below:-
The house offers 100 percent pure and natural herbal medicines.
The medicines are 100 percent vegetarian.
The medicines are free from chemicals and additives.
The medicines are free from side effects.
The medicines are safe to use.
All of them are effective to cure the disorder.
The house uses only standardized extracts of herbs in their formulation.
Guidelines
Avoid smoking and alcohol consumption.
Maintain a healthy weight, especially if you are overweight.
Always prefer freshly cooked food.
Limit the intake of Salty and spicy foods.
Avoid taking oily and fried foods.
Manage stress in your life.
Perform yoga and exercises.
Add a handful of almonds, hazelnuts or cashews to your daily diet.
Increase your intake of whole grains, particularly bran cereal.
Eat more fish. Include more dairy products like cheese, milk, curd etc.
Include banana, kale and all leafy vegetables in your diet.
Avoid all kinds of junk packed or much fried food for better results.
Share On