Charak Samhita – Sutrasthana – Chapter 2 (Apamarga Tanduliya Adhyaya)
Charak Samhita - Sutrasthana - Chapter 2 (Apamarga Tanduliya Adhyaya)
Abstract
Ayurveda is a 5000 year old science that has stood the toughest test of all – time.  It is one of the ancient systems of medicine that has been benefiting mankind ever since its origin. Ayurveda literally translates to Ayu- Life and Veda- Science. This translates to Science of Life. Ancient Scholars such as Acharya Sushruta, Acharaya Charka and Acharya Vagabhata have majorly contributed to the Ayurveda textbooks. These ancient scholars have used holistic, natural methods and herbs to deal with various ailments in the body. The entire purpose of Ayurveda is to maintain the health of the healthy and treat the ill. Good health is something that is composed of Dharma, Arth, Kama and Moksha. They translate to contributing to the society, wealth, fulfilling desires and spiritual renunciation.
Introduction
The second chapter of Charaka Samhita sutrasthana is called Apamarga Tanduliya Adhyaya. Apamarga is one of the most powerful Ayurveda herbs. It is used in the treatment of various diseases. This chapter goes in detail about Apamarga and various herbs that are used in Ayurveda procedures. In this article, let us get into the details for herbs required for Panchakarma procedures and the gruels of Yuvagu that can be prepared for various physical conditions.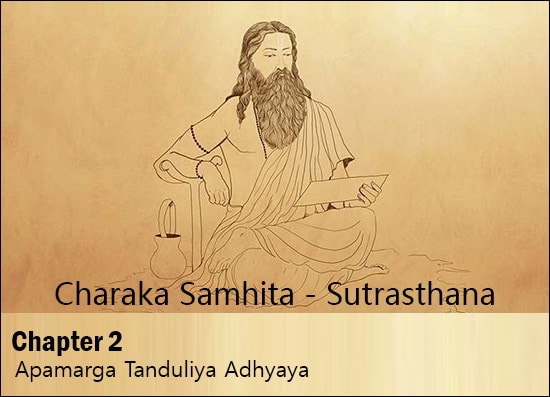 Various Herbs Used For Vaman, Virechana And Nasya Treatment
Herbs For Vaman
Vaman as a procedure is done in the gastrointestinal disorders that are usually caused by the aggravation of Kapha and Pitta. Below mentioned herbs are used by an Ayurvedic physician to perform the procedure of Vaman:
Madanaphala
Nimba
Pippali
Kutaja
Ela
Herbs For Virechana
Virechana as a procedure is done to purgate the aggravated doshas from the intestine. Some of the herbs used by ayurveda physicians are:
Haritaki
Vacha
Gavakshi
Aragvadha
Draksha
Saptala
Neelini
Herbs For Nasya
Nasya is a common Ayurveda procedure done in Ayurveda to help in the diseases of nose, ear, and throat and head region. Some of the common herbs used for the procedure of Nasya are:
Apamarga
Maricha
Vidanga
Shigru
Ajagnadha
Pippali
Importance Of Snehana And Swedana
Ayurveda mentions Snehana and Swedana as the two most important procedures before the Panchakarma. Snehana translates to Oleation and Swedana translates to sudation treatment. This treatment helps in removing the accumulated toxins out of the body. Toxins are brought out with the process of Snehana and Swedana post which it becomes easy to expel the toxins via Panchkarma.
Gruel Of Panch Kola: Panchkola Yuvagu
Panchkola is a combination of five Ayurveda herbs namely Pippali Fruit (Piper longum), Pippali Moola (Piper longum root), Chitraka (Plumbago zeylanica), Chavya (Piper chaba) and ginger (Zingiber officinale). A gruel is prepared from Panchkola. The correct combination of these herbs in a gruel stimulates digestion and treats abdominal colic.
Various herbs are used in different combinations to prepare Yuvagu that helps in various different body disorders.
Uses Of Various Kinds Of Yuvagu
Yuvagu that helps in Digestion: This gruel is prepared with Dadhita, Bilva, Changeri etc
Yuvagu that balances the Vata aggravation: This gruel is prepared with Gokshura, prishniparni, Kantkari, Shalparni etc.
Yuvagu that helps in Diarrhoea: This gruel is prepared by Shalparni, bala, prishniparni etc.
Yuvagu that helps in Dysentery: This gruel is prepared by utpala, nagara, prishniparni.
Yuvagu that helps in Dysuria: This gruel is prepared by sugarcane juice, kantakari and many other herbs.
Yuvagu that helps in intestinal worms: This gruel is prepared by vidanga, pippali, Shigru, maricha etc.
Yuvagu that helps in excessive thirst:  This gruel is prepared by Mrduveeka, sariva, peepali etc.
Yuvagu that helps in losing weight: This gruel is prepared with a herb called Triticum aestivum that helps in losing weight.
Yuvagu that helps with throat pain: This gruel is prepared by Yava, pippali, amalaki etc.
Qualities Of A Good Physician
There are four major qualities mentioned of a physician in the second chapter of Ayurveda. The four qualities are:
Smrutiman : Good memory
Hetu yuktijana: Knows cause behind the disease
Jitatma: Has control over the sense organs and mind.
Pratipattiman: Good presence of mind
Any Ayurveda doctor who has the following qualities can practice medicine and use the combination of various herbs on the patients.
Conclusion
To summarise the second chapter of Charak Samhita, it mentions various types of herbs and gruels that help in various treatment procedures and diseases. This chapter thus ends at the qualities possessed by a good physician who is able to treat and cure the root cause of the diseases of the human body.
Share On