OPD BY DR. VIKRAM CHAUHAN & DR. MEENAKSHI CHAUHAN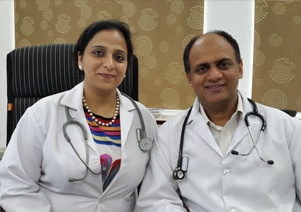 Dr. Meenakshi Chauhan
BAMS - Gold Medalist from Panjab University,
MD (Alternative Medicine)
AND
Dr. Vikram Chauhan
BAMS, MD (Ayurveda) from Baba Farid University of Health Sciences, Faridkot
Dr. Vikram Chauhan (MD - Ayurveda) and Dr. Meenakshi Chauhan (Gold Medalist - BAMS) (MD - Alt. Medicine) are serving the people with the best of their knowledge in Ayurveda and Herbs by providing physical consultations at their Mohali Clinic, named as Planet Ayurveda.
Dr. Vikram Chauhan is a well-experienced Ayurveda Practitioner, founder of Planet Ayurveda, working passionately in the field of Ayurveda. He is a globally renowned Ayurveda Practitioner inspiring many others to opt for the field and successfully treating the patients suffering from numerous serious and chronic diseases with his own formulations by merging the ancient Ayurveda principles and latest technologies. He has very well proved that Ayurveda and Natural herbs have the potency to heal each and every health concern of the people, spreading the knowledge and benefits of Ayurveda worldwide through his consultations, teachings, lectures, Television and Radio Interviews, and writings in columns of various Newspapers and Magazines, and also by becoming a renowned part of various health conferences, award shows, exhibitions and Seminars at National as well as International Level.
Dr. Meenakshi Chauhan is also serving in Planet Ayurveda and providing Consultations to the patients and successfully working towards the accomplishment of the motive of Planet Ayurveda. She is an Ayurveda Practitioner and Gold Medalist in BAMS. She is successfully managing all the tasks related to Planet Ayurveda clinic and manufacturing unit, by providing guidelines to prepare the various herbal products, leading the whole team in order to reach and help maximum people worldwide through all the reachable sources and provides consultations in the clinic at regular basis.
Many patients from different parts of India as well as the world visit Planet Ayurveda clinic for consulting Dr. Vikram Chauhan as well as Dr. Meenakshi Chauhan. Both of them have their specialties and experience with Ayurveda. They both have successfully treated a large number of patients with acute as well as chronic diseases, therefore, are trusted by a large number of people all over the world. They are successfully treating the patients suffering from any type of health disorder, living in different areas, through Ayurveda - the natural way of healing.
The consultations are being provided on the "First Come, First Serve Basis".
Priorities are available for infants, emergency patients and senior citizens (age above 70).
OPD By Dr. Vikram Chauhan (MD - Alt. Medicine)
OPD Days: Monday, Tuesday, Friday & Saturday.
Note: In case of non-availability of Dr. Vikram Chauhan, on any of these days or during a specific period, the information will be clearly provided on the main website.
No!! Do not get disturbed about your medicines or consultations when Dr. Vikram Chauhan is not available in the clinic, during that time, you can easily avail our online consultation service. For more details click here.
OPD By Dr. Meenakshi Chauhan (MD - Ayurveda)
Almost all Working Days (can confirm by calling on the official number of Planet Ayurveda clinic).