What are the Uses and Health Benefits of Operculina Turpethum (Trivrit)?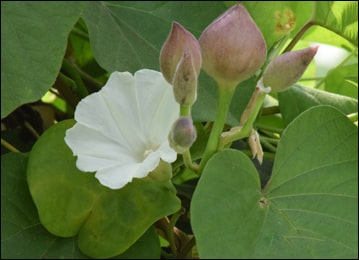 It is a turpentine tree that oozes out a milk like liquid and holds an important place in Ayurvedic world, because it maintains the balance between Kapha and Pitta doshas, whereas it increases the Vata dosha. It is also referred as Indian Jalap. It also is a vital herb that is used in preparing lots of herbal medicines to cure patients of many diseases in the panchkarma treatment, which is called Virechana (Purgation) treatment.
It is usually grown in gardens as a souvenir, it's used to make lots of Ayurvedic herbal remedies. This perennial aromatic creeper has triangular or rectangular stems. It has lots of leaves that come out in bunches and have an oval shape and are 2 to 5 inches in length. Its roots are of cylindrical shape. Its stem usually gives the appearance of drug a rope kind. Thin from the bark side, but is viscous in wood with a little unpleasant or musty taste, initially it tastes like a bland than it turns a little acrid. This plant has 3 to 4 stems that bear white flowers and the fruit, which is round in shape of about 1/2 or 3/4 inches in diameter. The flowers and fruits bear out from March to December.
Its root comes in handy if you are bitten by a snake or a scorpion. Its roots are bitter, sweet, purgative, carminative, acrid, hepatic, anti-pyretic, expectorant, stimulant etc. It is used in number of remedies that treat patients of obesity, paralysis, intermittent fever, colic, constipation, dropsy, jaundice, tumors etc.
Turpeth or Operculina turpethum is used in Ayurvedic, Unani and siddha medicinal networks for healing purposes. Its roots are laxative, and cures by releasing accumulative gas, anthelmintic, hepatic, anti-fever, expectorant tonic that is a cure for a number of diseases such as joint pain, muscular pain, thorax pain, oedema, hepatitis, fevers, jaundice, abdominal tumors, ulcers, obesity, worm infestation, skin problems, wounds & bruises, intoxications and constipation.
A few Ayurvedic remedies are Trivritaadi Kwatha, Chandraprabha vati, Trivritaadi ghrita, Abhyaristha and Kaishorgugglu.
It tastes bitter and its leaves, bark and roots are used to prepare various remedies. It is the best herb to clean the whole body. Due to its sharp, shrilling and strong nature:
It helps the obese people to lose weight.
It is useful to help you in constipation by healing it.
It cures the common fever and headache.
Helps in disease of the spleen during its enlargement.
Can be used in heart disorders.
Useful in anemia and initial liver problems.
Treats gout very carefully.
Treats ascites.
Useful to skin disorders and helps in making it supple again.
It can help relieve you from piles, sinuses and fistula.
It helps where gas gets accumulated in the abdomen area, it helps in relieving the gas and relieves bloating. This process takes place with the help of Triphala churna.
Better be aware that it should not be taken by sensitive and fragile people who are not physically strong. When used in excess it can cause a burning sensation in their abdominal area. To avoid any side effects it is used with the combination of dill seeds, ginger, rock salt or sugar candy. This combination lowers the risk of feeling itchy. But be aware that pregnant ladies and breast feeding mothers, better avoid its use.
In case you are suffering from a skin related problem, like your skin is neither sweating nor itching, but your skin lesions are lying numb and anesthetic. Then there comes a therapy that uses a brush made up of this tree's stem. The brush is rubbed so hard against your skin to initiate bleeding. This method is called bloodletting therapy to cure skin disease.
Turpeth or Operculina turpethum along with Triphala churna is given to treat the patients of hemorrhoids orally.
It is mixed with castor seeds and boiled in milk, it is used to treat ascites, which happens due to Pitta getting imbalanced.
Dosage: 1 to 3 grams in divided dose every day or as prescribed by your doctor.
These days it is endangered, so it needs to be taken care of and protected as it is used to make so many herbal remedies that cure many diseases. It is helpful to many patients who can grow its seeds and see that it is fully organic to reap in the maximum benefits.