What are the Uses and Health Benefits of American Witch Hazel (Hamamelis Virginiana)?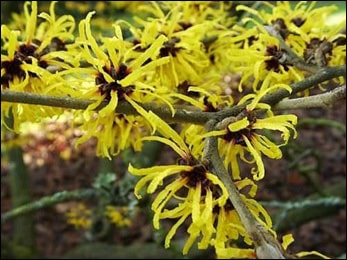 American witch hazel is a deciduous small tree or shrub. It posses very interesting qualities and uses. The name Witch hazel comes from an Anglo-saxon word which means bend. Earlier it was known as American wicke hazel where 'Wicke' means lively but due to its bend and forked branch, its name was changed. It is usually planted for home landscaping on the north-facing slopes or north side of homes. This plant grows well in semi-shaded locations. American witch hazel can be grown by seeds which take 2-3 years to get mature. The flowering of this plant does not start until this shrub is 6 years old.
What are the other common names used for American Witch Hazel?
Cortex Hamamelis, Hamamelis, snapping hazel, tobacco wood, white hazel, ad winter bloom, and folium hamamelis.
How is American witch Hazel Scientifically Classified?
Kingdom - Plantae
Phylum - Angiosperms
Subphylum - Eudicots
Class - Core eudicots
Order - Saxifragales
Family - Hamamelidaceae
Genus - Hamamelis
Species - H.virginiana
What is the Botanical name of American Witch Hazel?
Hamamelis virginiana.
General Description of the Plant
American witch hazel grows up to 6m tall rarely can grow up to 12 m tall. Its branches are multi-stemmed and grow densely up to a height of 20-30 feet. Leaves of the American witch hazel are simple, broad, ovate and alternate. Size of leaves varies from 2.5 inches to 6inches long. Its base is unequal and has large wavy teeth on the margins. The upper surface of leaves is dark green and the lower surface is pale green. The bark is smooth, scaly and dark brown or inner reddish-purple in color. Its flowers are different than ordinary which are bright yellow in color is. It has four creamy colored slender petals. This woody plant flowers between mid-fall to late falls. Calyx of the flower is four-parted and orange-brown in color from within and do not have any kind of fragrance. Its fruit is a hardwood like a capsule. It splits when matured one year after pollination, ejecting the black seeds. It is pollinated by the month.
Where is American Witch Hazel found Commonly?
It is native to North America, from south to central Florida to eastern Texas, and from Nova Scotia west to Minnesota.
Which parts of the American Witch Hazel is used for the Medicinal Purpose?
Dried leaves and bark is used for medicinal purposes.
What are the Medicinal uses of American Witch Hazel?
It is used to treat swelling, inflammations, and tumors. This plant has anti-inflammatory properties which help to relieve pain, redness, and swelling of the affected area.
American witch hazel is considered to have cytotoxic activity against colon cancer. It kills the cancer cells present in the colon.
This plant is used to treat varicose veins and hence help to prevent its complications like ulceration of the part and aching.
Hemorrhoids can be treated with the help of American witch hazel. It also treats inflammation in the anal region.
It helps to relieve diarrhea.
Externally it can be used to treat bruises, minor skin injuries, and sprains.
American hazelnut relieves the symptoms of eczema like dark patches of skin, leathery and scaly patches on the skin
This plant can be used as an antidote for snake bites. Its poultice is used to relieve burns, scalds and insect bites.
It prevents and treats inflammation of oral mucosa. It can be used as a mouthwash or gargling solution. It soothes a sore throat.
This herb is used to relieve dryness of the eyes which causes ocular discomfort due to wind and sun.
This plant is used to treat acne.
American witch hazel, when applied externally, helps to treat sunburn and also protect it by acting as a shield against ultraviolet rays.
It also has antiseptic action which protects the body against infections.
This herb reduces the sensitivity of the scalp.
American witch hazel leaves or bark is used as a tea which helps to treat dysentery and hemorrhages.
Homeopathic remedy Hamamelis Virginiana is used to treat bruises, varicose veins, and hemorrhoids. It also treats other bleeding disorders like menstrual abnormalities and nose bleed.
What can be the side-effects of American Witch Hazel?
Stomach upset
Vomiting
Nausea
Constipation
Yellowing of eyes or dark urine
Skin irritation