Ajwain Junglee / Seseli indicum
Ajwain Junglee (Seseli indicum) - Uses & Health Benefits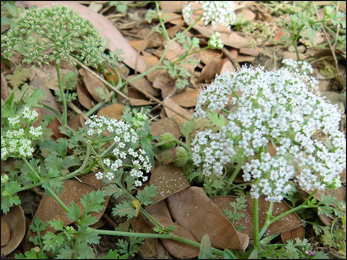 (Ref: Bhavaprakasa Nighantu)
Introduction
Ajwain Junglee is an herbaceous perennial plant sometimes woody at base with a conic type of taproots. Leaves are dark green in colour, leaf blades 1-3 pinnate covered with small and soft hair. Umbels of this plant are compounded, with absent or very less bracts. Flower are white or pinkish in colour and fruit of this plant is ovoid or ellipsoid in shape.
Occurrence
Seseli indicum is an herb that is distributed in the lower region of Himalayan range from Dehradun to Gorakhpur, Bundelkhand, Assam, Best Bengal and Koramandal.
Classification
Kingdom - Plantae
Order - Apiales
Family - Apiacea
Genus - Seseli
Names
Latin name - Seseli indicum
Hindi name - Junglee ajwain
Sanskrit name - Banemani, Banywani
Marathi name - Kriminjee oava, ova
Bengali name - Ban zoan
Telugu name - Vamu
Tamil name - Omam
Malayalam name - Ayamodakam
Gujarati name - Ajmo
Kannada name - Om kalugalu
Medicinal Properties
According to Bhavprakash nighantu this medicinal herb is used to treat various disorders that are mentioned below:-
Utejaka - Utejaka means herb used to stimulate digestive fire. This medicinal herb is very beneficial for digestive system as it lit up the digestive fire and help in the proper functioning of digestive system.
Shoolaghna - Herb used in stomach ache. This herb is stomachic in nature, it is used to cure severe pain and inflammation of abdomen and very effective in relieving acute and chronic stomach pain.
Pachan - Herbs that are very beneficial for digestive system. Junglee ajwain is very helpful herb available at home that is very good to promote overall health of digestive system.
Worm infestation (krimighna) - Junglee ajwain is used to kill various disease causing microbes (krimi) and protect body from various diseases caused by these microbes.
Flatus - Flatus is intestinal gas produced by bacterial action on the waste material and junglee ajwain is also very beneficial to cure this problem related with intestine.
Appetizer - It is also used as appetizer and very good home remedy to promote digestion.
Dosage / Usage
Powder: 1-3 gms
Oil: 2-3 drops
Uses of Ajwain Junglee
Ascaris - Ascaris is type of helminth that is also known as small intestine roundworm. Coughing, shortness of breath, blood in mucus, chest discomfort, fever and pneumonia are the various symptoms of this disease. Seseli indicum is very effective home remedy to cure ascaris and its underlying symptoms.
Itching - Paste made from the leaves of seseli indicum are used to cure redness, rashes and itching of skin.
Tymapnititis - Inflammation of tympanic membrane is called tympanititis. Tympanititis is very painful problem caused by inflammation of middle ear with oozing blister on ear drum.
Anti-bacterial - Essential oil obtained from this medicinal plant possess great anti-bacterial properties. In Ayurveda this oil is used to kill the harmful disease causing bacteria and to save body from the attack of various bacterial disorders.
Health Benefits of Ajwain Junglee
Acidity - One tablespoon of carom seed daily are very beneficial for curing acidity problem. It is best way to cure indigestion problem and also good for acid reflux problems.
Seseli indicum is very effective home remedy for digestive problems, it is best way to get rid of constipation problem.
Carom seeds are very effective to treat kidney stones and also beneficial for the pain caused by kidney stones.
Steam of carom seeds is a natural way to clear the symptoms of cold and this remedy is used to clear the nose congestion.
Share On