Herbal Remedies for Pneumonia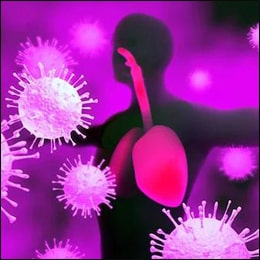 About Pneumonia
Pneumonia is a problem related with lungs. It is a lung infection that can happen in one or both the lungs. Pneumonia leads to inflammation in the air sacs called alveoli further causing the formation of fluid or puss causing difficulty in breathing. The exact cause of pneumonia is still not known. Hereditary factors are believed to play a role in the development of the condition. Moreover, Nonspecific interstitial pneumonia often develops in various diseases, including HIV, diseases resulting from reactions to certain medications, diseases which affect the body's structural tissues (connective tissue disorders) and several other conditions.
Types of Pneumonia
Community-Acquired Pneumonia - This develops mostly in winters due to environmental factors.
Hospital-Acquired Pneumonia - This gets developed when a person is ill and is hospitalized or is under medical care. The chances of risk increases when the person is on ventilator for respiratory support. This can be caused in places such as outpatient clinics, nursing homes and kidney dialysis.
Some Other Types:
Lobar pneumonia (an inflammation of one lobe of a lung that involves every airspace in a single lobe).
Bronchopneumonia (scattered, patchy infiltrates of inflammation in the air sacs throughout the lungs). It is more diffuse than lobar pneumonia.
Lipoid pneumonia (caused by accumulation of fats in the airspace mainly caused due to aspiration of oils or airway obstruction.
Causes of Pneumonia
The most common cause of pneumonia is bacteria, virus, and fungi (influenza and respiratory syncytial virus).
Symptoms of Pneumonia
Fever
Cough
Shortness of breath
Fatigue
Sun sensitive rash
Dry eyes
Dryness of mouth
Hair loss
Oral ulcers
Risk Factors of Pneumonia
A weak immune system
Swallowing
Coughing problems
Stroke may occur
Brain injury
Being a patient in an intensive-care unit of a hospital, particularly patients on ventilator support
Malnutrition
Cigarette smoking
The factors stated above can increase the risk for this problem.
Herbal Remedies for Pneumonia by Planet Ayurveda
Planet Ayurveda herbal products manufacturing company offers amazing herbal remedies like Aller-G Care, Curcumin Capsules, Tulsi Capsules, Boswellia-Curcumin and Praanrakshak Churna for ayurvedic and natural treatment of pneumonia. These remedies are safe to use and are free from any side effects because they are prepared under the guidance of Ayurvedic experts. These remedies are made from 100% pure and natural herbs, without the use of any chemicals, preservatives or additives.
These capsules are prepared from some beneficial herbs which have anti-inflammatory, anti-bacterial, anti-viral, anti-allergic, antibiotic and antiseptic properties.
Following Herbs are Used in Preparation of these Capsules:-
Neem (Azadirachta Indica),
Shirish (Albezzia Lubbock),
Haridra (Curcuma longa),
Ashwagandha (Withania Somnifera)
The use of Aller-G Care capsules are:-
Very helpful in managing allergies
Helpful in eliminating toxins from the body
Boosts the immune system
Provides strength to the body
Helpful in treating skin ailments
Helps in managing respiratory tract problems
Treating hair loss
Managing asthma and several other conditions.
Dosage: 2 capsules three times a day.
These capsules are an amazing herbal product because of the abundant presence of 'Curcumin' --- the biologically active compound of the 'Haridra' herb (turmeric; Curcuma longa). Curcumin is widely used in Ayurvedic formulations due to its proven medicinal properties.
Curcumin capsules can be very beneficial for this particular disease as they contain natural and standardized Curcumin extract with the presence of curcminoids. Curcumin capsules are considered helpful in managing inflammation, treat allergies, provide relief from pain, treat respiratory disorders, manage ulcers, and treat cough and other related conditions.
Dosage: 2 capsules two times a day with plain water, after meals.
The pure extract of the widely known 'Tulsi' herb (Ocimum sanctum) is used for the preparation of these capsules, which is considered a natural immuno-modulator. The herb is well known to treat problems such asauto-immune disorders, cancers, diabetes, skin allergies and other allergic conditions, and Chronic Sinusitis.
The use of Tulsi capsules can enhance immunity; reduce the harmful effects of environmental toxins; rejuvenate the pancreas; and provide calcium, bioavailable antioxidants, Vitamin A and Vitamin C to the body.
Dosage: 2 capsules three times a day.
For preparation of these capsules, two extremely beneficial anti-inflammatory components are used.
These components are:
Shallaki (Boswellia serrata)
Curcumin (The main active component of turmeric or Curcuma longa).
These capsules are very beneficial in providing relief symptoms from joint pains, treating joint inflammation and other inflammatory conditions, reducing swelling, treating allergies, managing different kinds of tumors and cancers, treating breathing disorders, and supporting good joint health.
Dosage: 1-2 capsules two times a day.
Praanrakshak Churna is considered as an excellent herbal remedy that consists of anti-allergy herbs which have been in use by Ayurvedic experts since ancient times.
The herbal components of the churna include:
Shirish (Albezzia Lubbock)
Vasaka (Adhatoda Vasica)
Dalchini (Cinnamomum zeylanica)
Anantmool (Tylophora Asthmatica)
Kantkari (Solanum Xanthocarpum)
Mulethi (Glycyrrhiza Glabra)
Bharangi (Clerodendrum Serratum)
This powder can be very beneficial in treating number of allergies, managing cough, treating respiratory tract infections, treating asthma, and controlling Sneezing, Rhinitis, and Sinusitis.
Dosage: 1-2 teaspoons with plain water, three times a day, after meals.
So these are the herbal remedies that are specially formulated to treat this particular problem. It is advised to take these medications regularly for proper treatment of this problem and cut this problem from its roots.
Share On