Ayurvedic Treatment of Anaemia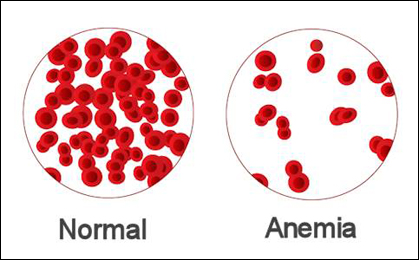 Modern view of Anaemia
Anaemia is a condition that develops when our body does not receive enough oxygen to fulfill its needs. The lack of oxygen occurs due to deficiency of red blood cells or low levels of hemoglobin pigment that binds with oxygen.
The deficiency of red blood cells could be due to low count of RBC's due to destruction or due to abnormality in the RBC structure.
Ayurvedic view of Anaemia
Ayurveda has described anaemia as pandu Rog .This disease occurs due to Tridoshaj imbalance (imbalance of all three vata, pitta, kapha dosha) but mainly there is increase in pitta element of body along with Tridoshaj imbalance. Sadhak pitta is a subtype of pitta which is responsible for anaemia. Sadhak pitta is disturbed if emotional health of a person is disturbed. The dietary factors responsible for anaemia are excessive use of oily, fried,spicy, pungent and hot potency food items According to Charak Samhita when pitta (heat element of body) increases it vitiates blood (rakta dhatu) of body and then relocates underneath skin to cause yellowish tinge.
Causes of Anaemia
The basic reasons for anemia are:
Inadequate production of red blood cells in the body.
Loss of red blood cells due to excessive bleeding
Abnormal destruction of red blood cells in the body
Symptoms of Anaemia
Tiredness and weakness on little exertion
Paleness and dullness of skin
Shortness of breath
Increase in heartbeat
Confusion and dizziness
Insomnia
Cold and clammy hands
Body aches
Fatigue
Restlessness
Lack of Energy
Irritable Behaviour
Herbal Remedies for Anaemia by Planet Ayurveda
Planet Ayurveda provides best combination of effective herbal remedies such as Anemia Care Pack for ayurvedic treatment of anemia. These herbal remedies are prepared from using best quality herbs and strictly follow the principles of Ayurveda. All these herbal remedies of Planet Ayurveda are 100 percent pure, natural and vegetarian. These are free from chemicals, additives and preservatives. These are safe to use as these are free from side effects.
Dosage
Chandraprabha Vati - 2 tablets, twice daily, with warm water, after meals.
Punarnava Mandoor - 2 tablets, twice daily with warm water after meals.
Wheat Grass Powder - 1 teaspoonful, twice daily, mixed in a glass of warm water.
Aarogyavardhini Vati - 2 Tablets, twice daily, with warm water, after meals.
Products Description
1. Chanderprabha vati
It is a classical ayurvedic formulation for weakness due to vata disorders and general debilities. It is enriched with Loh Bhasma and Shilajit along with many vata pacifying herbs. It is very effective in treating anaemia. Chanderprabha vati is 100% natural tablet without any preservatives or chemicals. It is available in pack of 120 tablets.
2. Punarnava Mandoor
Punarnava is a wonderful Ayurvedic remedy with diuretic It is an excellent kidney and heart tonic. This medicine is useful in maintaining the health of the skin. These capsules can clear excess Kapha from the stomach and chest. They act as a rejuvenator and can be used in treating impaired urinary conditions. They are very useful in the reduction of excess body fluids, congestion and edema due to excess Kapha. Punarnava has properties to clear toxins from the blood and increase red blood cells in the body. The haemoglobin content increases and oxygen carrying capacity increases. They are useful in treating swollen joints due to fluid retention caused by imbalance in Kapha. This herbal medicine is useful in eliminating toxins accumulated in the joints through kidneys and urine. It is effective in the treatment of arthritis and gout. It is helpful in the breakdown of the 'fibrin', a blood clotting protein. Punarnava mandoor is very effective in treating anaemia. Punarnava mandoor is 100% natural tablet without any preservatives or chemicals. It is available in pack of 120 tablets.
3. Wheat Grass powder
Planet Ayurveda Wheat Grass powder is made from organic fresh small leaves of baby wheat plants. It helps to detoxify Liver, Improves digestion, balances body pH, restores alkalinity, boosts formation of Red Blood cells and treats Anaemia.
4. AROGYAVARDHINI VATI
An Ancient Ayurvedic formulation that has been useful for the Liver and especially for cases of Fatty liver and Jaundice. It is useful in clearing accumulated bile. It is enriched with kutki a herb which is excellent liver cleanser. Arogayavardhini vati is 100% natural tablet without any preservatives or chemicals. It is available in pack of 120 tablets.
To buy Anemia Care Pack, please visit store.planetayurveda.com/products/anemia-care-pack
We at Planet Ayurveda offer you a wide range of herbal supplements that take care of your health and life. Our formulations are 100% herbal, safe and effective.
Share On