AYURVEDIC TREATMENT OF BEDWETTING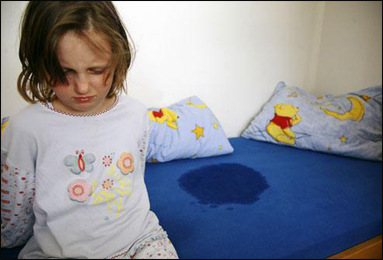 ABOUT BEDWETTING
Bed wetting is generally a normal part of child's development. Normally before the age of 5 it is not concern. If it is continues then treat the problem with patience and understanding. If a small child pass urine during night on bed after the age of 5 at least twice a week for three months then it is considered as disease called Bed wetting or Nocturnal enuresis. In ayurveda, it is known as Shayyamutra.
SYMPTOMS OF BEDWETTING
Bed wetting is involuntary urination during asleep. The symptoms include:-
Passing urine during day or night sleep.
CAUSES OF BEDWETTING
The major reasons of bed wetting include:-
Urinary bladder has not enough strength to hold urine for whole night.
Delayed bladder maturation
Lack of co-ordination between bladder and brain
Excessive intake of fluids during evening or night
Psychological problems like Stress, anxiety and other emotional problems
Constipation
Intestinal worm infestation.
Excessive sleep
Some diseases like diabetes or urinary tract infection can also cause bed wetting
Genetic factors
COMPLICATIONS OF BEDWETTING
Bed wetting may cause some issues for child includes:
Guilt and embarrassment which can lead to self esteem
Loss of opportunities for social activities
Rashes on child's bottom
DIAGNOSIS AND TESTS
Depend upon circumstances child may need physical exam or test:
Urine test to check for signs of any infection or any disease like diabetes
X-Ray or other imaging test- to check the structural problem of bladder or kidneys
Medicinal history of child
AYURVEDIC VIEW OF BEDWETTING
In ayurveda bed wetting is known as Shayyamutra. The process of urine formation is aided by Prana, Vyana and Apana vata and Avalambaka Kapha with the overall control of mind. Micturition is one of the functions of normal Apana Vata. The activities of Apana are regulated by Prana and Vyana vata. The Apana facilitates active secretion of urine, motion; semen etc. After attaining a level of developmental maturity, there develops a control over these activities initiated by Prana and Vyana. But in this condition the overall control of activities of Apana is not developed resulting in vitiation of which in turn loss of control of micturition. The vitiation may also be due to encircling (avarana) of apana by Kapha which accelerates the excretion of urine. Brain plays an important role in both physiological as well as pathological process of body. It functions constantly even during sleep. According to ayurveda, when it is mask by tama and kapha, sleep is caused. This may happen in day time also, but in night, loss of control of Prana and Vyana over Apana and encircling of apana by Kapha and tama happens together and the child unknowingly urine in the bed.
HERBAL REMEDIES FOR BEDWETTING (ENURESIS)
Planet Ayurveda provides effective herbal remedies such as Ashwagandha Capsules, Brahmi Capsules & Chanderprabha vati for ayurvedic treatment of bedwetting (enuresis). These herbal remedies are prepared from using best quality herbs and strictly follow the principles of Ayurveda. All these herbal remedies of Planet Ayurveda are 100 percent pure, natural and vegetarian. These are free from chemicals, additives and preservatives. These are safe to use as these are free from side effects.
These are herbal capsules obtained from Withania somnifera (Ashwagandha).
Uses:-
It is natural dietary supplement for maintaining health and well being. It is also used in stress, weakness, fatigue which is psychological reasons of bed wetting.
Dose - 1-2 Capsules twice daily, with plain water, after meals.
It is obtained from natural herb Brahmi (Bacopa monnoieri).
Uses:-
It decrease stress and helps to increase mental capacity.
It has also anti-oxidant properties. It removes toxins from body and purifies blood.
It also improves metabolism.
It has positive effect on nervous system that promotes the coordination between nervous system components that increase brain functioning. Therefore it is used as brain tonic. It enhances mental capabilities and alertness.
Dose - 1-2 capsules daily with water after meal.
This tablet contains mixture of different herbs for eg. Shilajit (Asphaltum), Sugar (Shakara), Vacha (Acorus calamus), Haridra (Curcuma longa), Karpoor (Cinnamomum camphora), Amla (Emblica officinalis) etc.
Uses:- It has calming effect on entire body. It is one of the most potent adaptogen and stress busters that cause relaxation of tenseness. This is effective against some diseases like diabetes and urinary tract infection which are possible causes of bed wetting and it also helps to lose weight.
Dose - 2 tablets twice a day after meal with plane water.
HOME REMEDIES FOR BEDWETTING
There are some home remedies can be used before the use of medicines that may be helpful to treat bed wetting such as:-
Limiting the use of liquids in evening
Make sure that child go toilet before going to sleep
Reassure that child has everything is okay.
If these measures don't help alone then bedwetting alarm often recommended that help to train a child to wake when bladder is full
Treat constipation
Give your child a piece of jaggery (20 gm) early in the morning. After an hour let he /she have ½ teaspoon of celery seeds (ajwain) with pinch of rock salt. Repeat this once a week for 4 weeks. This helps in deworming child. If child has bedwetting problem due to worm infestation then it should relieve from this problem.
One teaspoon of black sesame twice daily.
Make a combination of amla powder and ashwagandha powder in egual amount. Give once teaspoon of this powdered mixture daily till problem is not cured.
1 pinch (100 mg) of turmeric and 2 pinch (200 mg) of amla (gooseberry) powder taken together and administrated along with honey twice a day.
MEDICATION FOR BEDWETTING
There are three main medication used to treat bed wetting as described below:-
Desmopressin: It is a synthetic version of hormone regulates the urine production called Vasopressin. It provides short term relief from bed wetting.
Anticholinergics: Another option is used a combination of desmopressin and an anticholinergic named oxybutin. It works by relaxing bladder muscles that help to improve its capacity and reduce the urge to pass the urine during night.
Imipramine: If above medication doesn't work then imipramine may be recommended. It also relaxes the bladder muscles.
Share On