AYURVEDIC TREATMENT OF BRONCHITIS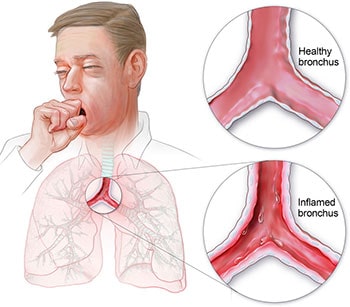 ABOUT BRONCHITIS
Bronchitis is a respiratory disease. It is the inflammation of inner lining of bronchial tubes which is the main passage of air in lungs. In Ayurveda bronchitis is known as Shwasa Pranali Shoth. People suffering with it usually often cough discolored and thick mucus. Bronchitis can be acute or chronic.
TYPES OF BRONCHITIS
Bronchitis may be acute or chronic:
1. Acute bronchitis
It is also known as chest cold. It is short term illness followed by cold or viral infection. The infection may last from a few to ten days. The cough may persist for several weeks afterwards with the total duration of symptoms usually around three weeks. Some have symptoms for up to six weeks.
2. Chronic bronchitis
It is long term illness. It is defined as productive cough with excessive mucus that lasts for three months or more per year for at least two years, mostly people with chronic obstructive pulmonary disease (COPD).
CAUSES OF BRONCHITIS
Bronchitis is caused by inflammation of bronchial tubes by virus, infection.
Causes of acute bronchitis:
It is mainly caused by:
Virus
Exposure to substances that irritate lungs– tobacco, smoke, fumes, air pollution.
Unhealthy eating habits
Low and weak immunity
Causes of chronic bronchitis:
The main reasons of chronic bronchitis are:
Continuous smoking
Long term exposure of air pollution, chemicals
Old age
Weak immune system
Repeated attack of acute bronchitis
SYMPTOMS OF BRONCHITIS
Common symptoms of both acute and chronic bronchitis include:
Constant cough with mucus
Difficulty in breathing
Fever
Wheezing
Chest discomfort
If cough lasts for more than three months then you may consult to a doctor.
RISK FACTORS OF BRONCHITIS
There are some factors that may increase the risk of bronchitis:
Cigarette smoke
Exposure to irritants
Low resistance
Gastric refluxes
COMPLICATIONS OF BRONCHITIS
Although a single episode of bronchitis usually isn't cause for concern, it can lead to pneumonia in some people. Repeated bouts of bronchitis may indicate the signs of chronic obstructive pulmonary disease (COPD).
TESTS AND DIAGNOSIS OF BRONCHITIS
During first few days of illness, it is difficult to distinguish between bronchitis and common cold.
There are several tests are used to diagnose bronchitis:-
Physical exam - Doctor will use stethoscope to diagnose the whistling sound during breathing.
In some cases doctor may suggest some test:-
X-Ray - It helps to determine pneumonia or any other condition that may explain your cough.
Sputum test - It helps to check whooping cough or any other illness.
Pulmonary function test - This test helps to check the signs of asthma and emphysema. In this test, the flow of air into and out of lungs is checked with the help of spirometer.
HERBAL REMEDIES FOR BRONCHITIS BY PLANET AYURVEDA
According to Ayurveda the three doshas which controls the functioning of the body gets imbalanced and leads to formation of Ama. In bronchitis mainly kapha and vata are aggravated.
Planet Ayurveda provides effective herbal remedies such as Praanrakshak Churna for ayurvedic treatment of bronchitis. These herbal remedies are prepared from using best quality herbs and strictly follow the principles of Ayurveda. All these herbal remedies of Planet Ayurveda are 100 percent pure, natural and vegetarian. These are free from chemicals, additives and preservatives. These are safe to use as these are free from side effects.
Praanrakshak Churna
This is purely herbal product without any chemicals added in it by Planet Ayurveda for the treatment of chronic bronchitis. It is a useful combination of anti-allergy herbs used in Ayurveda.
USES:
It helps to maintain healthy respiratory system and lungs.
Most effective herbal remedy for bronchitis, asthma.
Helpful in breathlessness and other respiratory tract problems.
Allergies.
It is mixture of different herbs in different quantity:-
| | | | | |
| --- | --- | --- | --- | --- |
| S. No. | Herb Used | English Name | Latin Name | Quantity |
| 1. | Shirish | Mimosa Tree | Albizia lebbeck | 40 gm |
| 2. | Vaasa | Malabar Nut | Adhatoda vasica | 40 gm |
| 3. | Anantmool | Sarasprilla | Hemidesmus indicus | 40 gm |
| 4. | Dalchini | Cinnamon | Cinnamomum verum | 20 gm |
| 5. | Bharangi | Clerodandrum | Clerodendrum serratum | 10 gm |
| 6. | Kantakari | Yellow-berried nightshade | Solanum virginianum | 40 gm |
| 7. | Mulethi | Licorice | Glycyrrhiza glabra | 10 gm |
Dose : 1-2 teaspoonful thrice, with plain water after meals.
To buy Praanrakshak Churna, please visit store.planetayurveda.com/products/praanrakshak-churna
DIET AND LIFESTYLE
There are some instructions in daily diet that can help to prevent from bronchitis.
Sour substance, pickles and curd should be strictly avoided. Also cold items like ice creams, cold drinks should be avoided.
Foods which are easy to digest should be preferred.
Alcohol and tobacco should be avoided.
Exposure to cold wind and rain should be avoided.
Heavy physical exercises should not be done.
Avoid cigarette smoking.
Get vaccinated to protect from some bacterial infections like flu, some types of pneumonia.
To reduce the risk of infection, clean your hands frequently.
If you have any respiratory problem wears a face mask in crowd or at working place.
Share On