ASOKARISHTAM - INGREDIENTS, INDICATIONS, USES AND BENEFITS
INTRODUCTION
Asokarishtam is an Ayurvedic medicine used widely to treat various gynaecological diseases. It contains about 5% to 10% of self-generated alcohol which is its active compound. Asokarishtam is beneficial in ovarian diseases, uterine disorders, leucorrhoea, etc. This herbal formulation has a mild estrogenic and anti-inflammatory action on our body.
INGREDIENTS
ASHOKA BARK (Saraca asoca) – 4670 gm
WATER – 50 litre
PARKESHAP DRVAYS (ADDITIVES)

DHATAKI FLOWERS (Woodfordia fruticosa) – 750 gm
KRISHAN JEERA (Carum carvi) - 46 gm
NAGARMOTHA (Cyperus rotundus) - 46 gm
SONTH (Zingiber officinale) - 46 gm
DARUHALDI (Berberis aristata) - 46 gm
NEELKAMAL (Nymphaea stellata) - 46 gm
AMLA (Emblica officinalis) - 46 gm
HARITAKI (Terminalia chebula) - 46 gm
BAHEDA (Terminalia bellirica) - 46 gm
AMRASTHIMAJJA (Mangifera indica) - 46 gm
JEERA (Cuminum cyminum) - 46 gm
VASA (Adhatoda vasica) - 46 gm
SHAWETCHANDAN (Santalum album) - 46 gm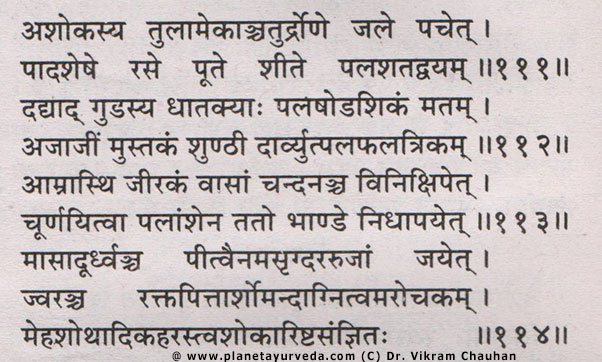 REFERENCE – BHAISHJYA RATNAVALI // PARDAR ROGADHIKAR 66 /111 TO 114
BENEFITS OF INGREDIENTS
ASHOKA (Saraca asoca) – Ashoka is an effective uterine tonic. The bark of this plant has anti inflammatory and analgesic properties. Thus, it helps to cure both internal and external inflammation and provides relief from burning sensation. The herb is used in the treatment of irregular menstrual periods, leucorrhoea, fibroid cysts, etc. This herb is also beneficial in treating piles and internal bleeding.
BENEFITS OF PRAKESHAPA DRVAYS (ADDITIVES) – Additives are added to any Ayurvedic formulation to enhance their fragrance, taste and to increase their shelf life. Dhataki flowers are used as fermenting agent. Triphala (Amla, Haritaki and Bhibhitaki) is added to synergize the effect of Asokarishtam as it aids digestion and eliminates toxins.
METHOD OF PREPARATION
The bark of ashoka tree is taken and decoction is made with 50 litre of water till it is reduced to ¼. The decoction is filtered and jaggery is added to this mixture. After that prakeshpa dravyas (Additives) are added in powder form. A mud vessel is taken and all ingredients are transferred into it. The vessel is sealed properly and kept in room for one month (In summer's keep it for 15 days and in winters keep it for 25 days). After one month fermentation process is checked and the mixture is filtered with a cloth. The arishtam is preserved in glass jars for further use.
INDICATIONS
Menorrhagia
Dysmenorrhoea
Fever
Piles
Swelling
Anorexia
Polyuria
USES AND BENEFITS OF ASOKARISHTAM
This herbal formulation is highly beneficial in reproductive system disorders. It balances the hormones levels in the body and has many other benefits like:
Asokarishtam is beneficial in maintaining the functions of female reproductive system. It provides strength to uterine muscles and helps to balance the hormonal levels in body.
This herbal formulation is potent in menstrual related problems. It has anti-inflammatory and analgesic properties hence help in relaxation of uterine muscles during painful periods. It eases uterine contractions.
Asokarishtam also helps in menopausal period as it nourishes and provides strength to the body. Thus, it helps to relieve pre-menopausal symptoms.
Ashokarishtam advised as a general tonic to improve female health after postnatal period.
DOSAGE
12 to 25 ML once or twice daily as advised by the Physician
MANUFACTURER
Arya Vaidya Pharmacy
Share On