Diet Chart For Acidity / GERD (Gastroesophageal Reflux Disease)
Nutrition is important in the management of gastroesophageal reflux disease. The therapeutic approach to most GERD problems involves a combination of medication and nutritional therapy. Frequent feedings are important in the case of chronic gastric problems like acidity and GERD. Patients feel more comfortable with fewer spices and bland foods. It is best to avoid specific food or food habits that trigger acidity.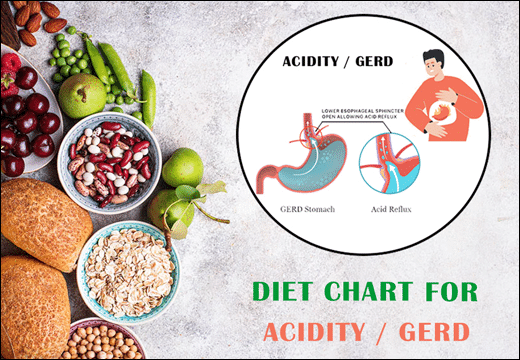 AVOID
ALLOWED TO TAKE

FRUITS

FRUITS

Coconut, All Citrus Fruits such as Orange, Lemon, Grapes, Cranberry, Sweet Lime, Pineapple, Kiwi

Watermelon, Banana, Muskmelon, Papaya, Pears, Apple, Guava, Pomegranate, Amla

VEGETABLES

VEGETABLES

Canned & Frozen Vegetables, Raw Vegetables, Garlic, Onion, Capsicum, Taro Root, Potatoes, Tomato, Ladyfinger

Asparagus, Green Beans, Cauliflower, Pumpkin, Cabbage, Broccoli, Carrots, Bottle Gourd, Ridge Gourd, Round Gourd, Ash Gourd, Mushroom, Soya, Sponge Gourd, Fenugreek Leaves

PULSES

PULSES

All Other Heavy Lentils like Black Grams, Chickpeas, Kidney Beans, Black Lentils, Pinto Beans, Garbanzo Beans

All Split Pulses like Yellow Moong, Green Lentils, Pink Lentils, Pigeon Peas, Yellow Lentils

DRY FRUITS & SEEDS

DRY FRUITS & SEEDS

Peanuts, Pistachio, Cashew

Almonds, Walnuts, Raisins, Figs - All Soaked in Water Overnight

Brazil Nuts, Flax Seeds, Sunflower Seeds

CEREALS

CEREALS

Refined Whole Grains, White Refined Flour and its Products,

Whole Wheat, Oatmeal, Porridge, Whole Grains, Brown Rice, Kodo Millets, Pearl Millets, Finger Millets, Foxtail Millets

OILS

OILS

Unsaturated Fats, Refined Oil, Palm Oil, Coconut Oil

Cow's Ghee, Canola Oil, Olive Oil

SPICES

SPICES

Excess Salt, Green & Red Chili, Cloves, Black Pepper, Cinnamon

Note: Nearly all the Spices are to be Limited. Only Plain and Simple Food is to be Preferred

Cumin, Coriander, Fennel, Mint, Fenugreek, Carom, Turmeric, Dried Fenugreek Leaves

MILK & MILK PRODUCTS

MILK & MILK PRODUCTS

All Milk and Milk Products to be Avoided

Nil

NON-VEG / FLESH FOODS

NON-VEG / FLESH FOODS

Avoid All Non-Vegetarian Food

Nil

OTHERS

OTHERS

Packaged, Canned, Processed, Fried, Spicy, Junk and Bakery Products, Refined Sugar, Cream-based Liquors, Alcohol, Soft drinks, Squashes, Jams, Sauces, Pickles, Coffee, Tea, Chocolates

Homemade Food Only, Coconut Water, Arjun Tea, Aloe Vera Juice, Bitter Gourd Juice, Pumpkin Juice, Fresh Homemade Green Tea without Lemon, Broken Wheat Porridge / Veg Semolina / Veg Vermicelli / Veg Poha (Rice flakes) / Veg Idli / Gram Flour Pancake (gram flour) / Missi Roti
NOTE: Alterations in the diet is very important as diet plays a 70% role in managing any condition and the rest 30% is done by medication. Moreover, performing some changes in your lifestyle is equally of great help as it also helps in tridosha pacification).
IMPORTANT TIPS / RECOMMENDATIONS
Herbal Teas

Boil ½ tsp each of fennel, coriander, cumin in 3 cups of water till it's reduced to 1 cup, strain and drink.
Take Amla powder- 1 tsp. daily after meals.
Take 1/2 tsp. (Amla Powder (Indian gooseberry) + Fennel + Licorice Powder Mixed together) daily after meals.

Skipping Meals should be Avoided, especially Breakfast.
Increase Consumption of seasonal fruits and vegetables.
Must Drink 8- 10 glasses of water daily.
Walking for at least 30-45 min is recommended.
Whole fruit should be preferred to fruit juices.
Food items not mentioned in this diet chart can be consumed in moderation.
In General, all kinds of artificial, packed, industrial, and processed food items should be avoided.
Behavior plays an important role in preventing diseases, so keep yourself away from negative thoughts, anger, greed, and Ego.
Avoid Suppression of Natural Urges such as Urination, Defecation, Sleep, Hunger, Sneezing, etc.
Avoid eating too late at night.
Do not sleep immediately after meals.
Do not sleep for long hours, avoid anger, stress, long travelling, smoking as well as drinking.
Share On