Diet Chart For Nephrotic Syndrome
Nephrotic syndrome is a kidney disorder that occurs when the filtering units of the kidney get damaged. It affects and makes the body excrete too much protein in the urine. A healthy diet for Nephrotic patients consists of low-salt, low-fat moderate protein, and low-cholesterol diet. Avoid eating high-carb foods, high-protein food, unhealthy fats, fried foods, junk foods, processed foods, and preserved foods. Caffeine, alcohol, and high sodium can contribute to high blood pressure and edema which is most common in this condition.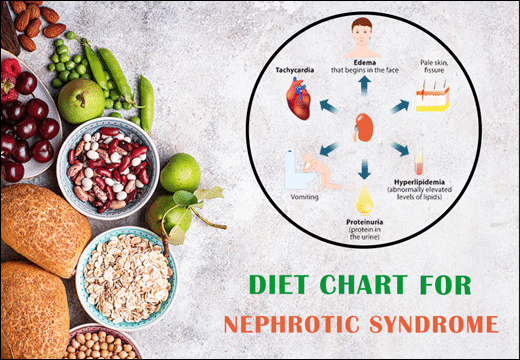 AVOID
ALLOWED TO TAKE

FRUITS

FRUITS

All Frozen and Canned Fruits and Juices, All Citrus fruits, Banana, Coconut, Mango, Dates, Kiwi, Orange, Lemon, Avocado, Apricot, Watermelon, Figs, Olive, Bamboo shoots, Bael, Pineapple, Green Papaya, Custard Apple, Fruits with Seeds

Apple, Pear, Papaya, Pomegranate, Java Plum - All Steamed / Boiled

Note: Prefer Whole fruit over Fruit Juice

VEGETABLES

VEGETABLES

Canned and Frozen Vegetables & Vegetable Soups, Tomato, Eggplant, Beans, Garlic, Spinach, Brussels, Peppermint Leaves, Sweet Potatoes, Swiss Chard, Mushroom, Cucumber, Lotus Stem, Taro Roots, All Green Leafy Vegetables, Beetroot, Soybean and its Products, Raw Salad

Pumpkin, Carrot, Cabbage, Turnip, Boiled Peas, Bottle gourd, Bitter gourd, Ridge gourd, Potatoes, Cauliflower, Winter Squash, Onion, Radish, Ginger, Lettuce, Asparagus, Broccoli, Steamed Salad

PULSES

PULSES

Dried & Frozen Pulses, All Heavy Pulses - Black Gram / Horse Gram, Bengal Gram, Chickpeas, Kidney Beans

Freshly Home Cooked Pulses and Lentils, Yellow Moong Lentils, Green Gram, Pink Lentils, Split Pigeon Peas, Split Chickpeas

MILK PRODUCTS

MILK PRODUCTS

All Milk and Milk Products to be Avoided

Nil

DRY FRUITS & SEEDS

DRY FRUITS & SEEDS

Cashew Nuts, Pistachio, Peanuts, Raisins, Prunes, Figs, Dried Apricot, Flaxseed, Pumpkin Seed, Sunflower Seed

5 Almonds - Soaked Overnight

CEREALS

CEREALS

Brown Rice, Refined Flour and its Products

Whole Grains, White Rice, Wheat, Kodo Millets, Finger Millets, Foxtail Millets, Pearl Millets

Multigrain Flour: Wheat Flour 1 kg + Arrowroot Flour 250 gm

FATS / OILS

FATS / OILS

Oversaturated Fats, Hydrogenated Oil, Palm Oil, Soybean Oil, Coconut Oil

Olive Oil, Rice Bran Oil, Mustard Oil, Sunflower Oil, Cow Ghee

SPICES

SPICES

Excessive Salt, Red and Green Chilies

Note: If the Sodium Levels are less than Normal then can give Salt in Moderate Quantity

Coriander, Mint, Black Pepper, Cumin, Fennel, Carom Seeds, Cardamom, Rock Salt

NON-VEG / FLESH FOODS

NON-VEG / FLESH FOODS

All Other Non-Vegetarian

Egg White Only

OTHERS

OTHERS

Packaged, Processed, Fried and Bakery Products, Spicy Food, High-fat food, Chocolates, Sauces, Soda, Fruit Jellies, Jams, Refined Sugar, Ice-cream, Pickle, Coffee, Tea

Fresh Homemade Food, Vegetable Soups (limited), Moong Dal Khichdi, Jaggery, Herbal Teas, Sprouts, Veg Poha (Rice Flakes), Veg Idli, Veg Upma, Veg Wheat Porridge, Veg Wheat / Semolina Vermicelli, Sago Halwa, Sago Khichdi
IMPORTANT TIPS
Skipping Meals should be Avoided, especially Breakfast.
Avoid having Your Dinner after 8 PM.
Eat Light Food, Avoid Heavy Meals.
Alcohol, Smoking and Milk Tea are strictly Prohibited.
Herbal Tea: Boil 1/2tsp. each of Fennel, Dhaniya, Cumin in 3 cups of Water till it's reduced to 1 cup. Take this Herbal Concoction on an Empty Stomach (If there is gas formation, it is to be preferred)
Avoid Stale Food, Always eat Freshly Prepared Food
Walk for at least 30-45 min is recommended
Food items not mentioned in this diet chart can be consumed in moderation
As a General, all kinds of artificial, packed, industrial, and processed food items should be avoided
Behavior plays an important role in preventing diseases, so keep yourself away from negative thoughts, anger, greed, and Ego.
Avoid Suppression of Natural Urges such as Urination, Defecation, Sleep, Hunger, Sneezing, etc.
Avoid Stress, Long Travelling & excess Sleeping.
NOTE: A balanced healthy diet is helpful to control the excessive accumulation of waste products and fluid in the blood, thus lessen the workload of your kidneys.
Share On